After Texas experienced an uncharacteristically balmy Christmas Day, a massive blizzard struck the western half of the state. A dozen people died in the 48-hour-long storm that began Dec. 26, and the New York Times reported that a staggering 35,000 dairy cows were lost in the deluge.
But it was not the cold that killed most the cows. While some did freeze to death, it is likely that the majority starved to death. According to the Times, with snow drifts as high as 14 feet in some spots, many ranchers judged the trek to feed their herds to be impossible.
The Times reported that though farmers prepared as well as they could — layering extra bedding behind wind breaks, placing extra bales of hay in front of calf bungalows and in hutches where snow easily accumulates — many cows were buried alive in the storm.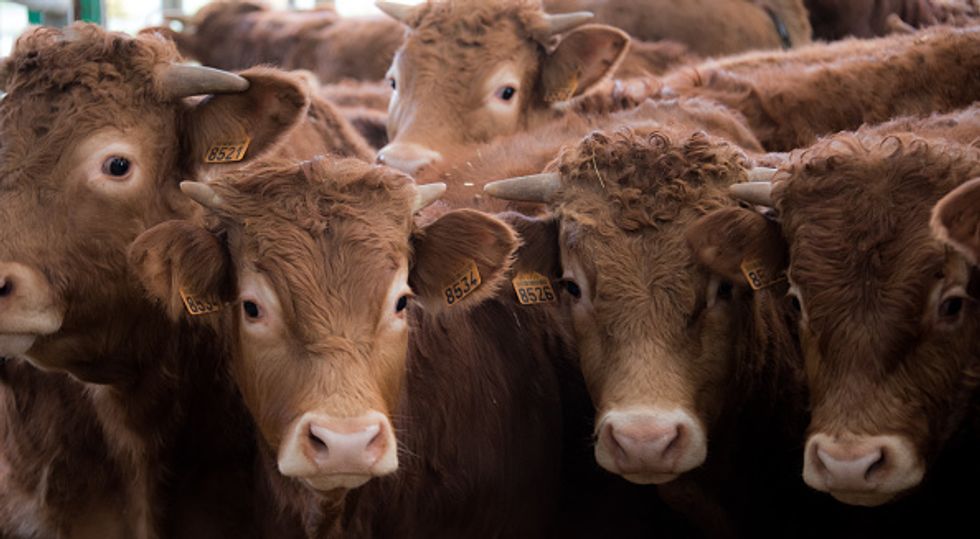 Denis Charlet/AFP/Getty Images
Calves that had been nestled inside stalls starved when no one was able to reach them. Some farmers who tried to retrieve their animals got lost and disoriented among the heavy blankets of white enveloping their own land.
Earlier reports estimated the cattle death toll to be about 15,000, but as farmers began to discover more cows and calves in the melting snow, the death toll surged to more than 35,000, or about 10 percent of dairy cows in the entire region.
The major problem that remains, aside from the enduring financial blow farmers now face, is the task of disposing of the dead cows. Since the cattle have been raised for dairy and not meat, the carcasses will likely be delivered to a rendering plant to be made into feed for other animals.
The cows that survived will likely produce less milk after not being milked for a few days in a row, but according to agricultural economist David Anderson from Texas A&M University, consumers should not expect a noticeable increase in the prices of milk or other dairy products as there is an ample supply.
The striking level of animal carnage brought to light a concerning factor regarding the welfare of outdoor farm animals. Dairy cows graze outdoors year-round but can be kept in barns during severe weather like that of El Niño.
(H/T: New York Times)