Glenn Beck took to radio Wednesday morning to chastise Republican presidential contender former Sen. Rick Santorum (Pa.) for going after GOP rival Sen. Ted Cruz (Texas), calling Santorum's attacks "ridiculous" and "so far beneath" him.
"It's just ridiculous, this hail Mary pass that he is doing. And he's in bed with Mike Huckabee and Marco Rubio to try to take apart Cruz," Beck said on The Glenn Beck Radio Program. "And, Rick, it's not going to work for you. It's just not going to work."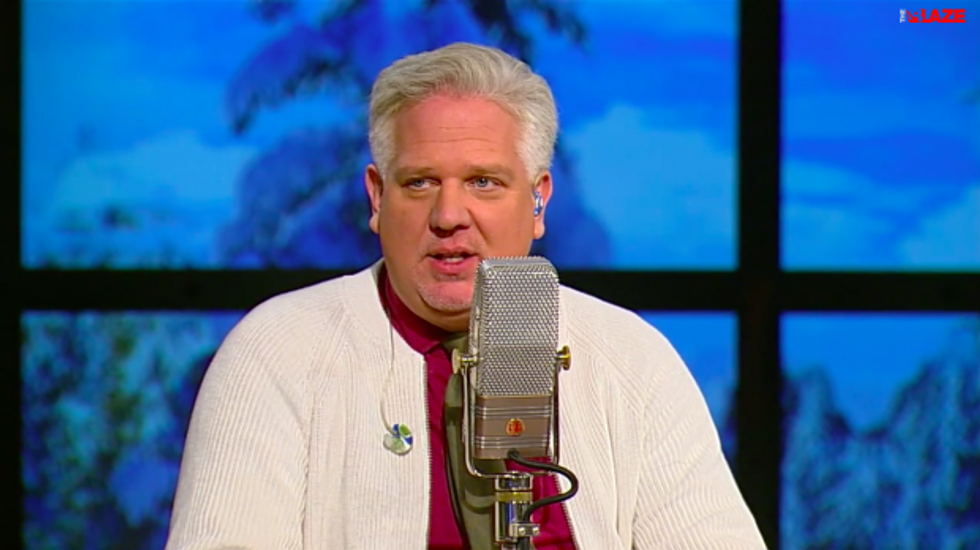 Image source: TheBlaze TV
Beck went after Santorum's comments after hearing audio from an exclusive interview the former senator gave TheBlaze's Josiah Ryan. During the interview, Santorum said that Cruz's famous filibuster against the Affordable Care Act was "a failure," adding that the move was "for his own personal aggrandizement" and "emblematic of someone who is out promoting himself."
Cruz's well-known 2013 filibuster is the centerpiece of Santorum's first attack ad, which is currently airing in Iowa just weeks ahead of the state's first-in-the-nation presidential caucus on Feb. 1.
"You want someone to read one hell of a bedtime story, Ted Cruz is your guy. If you want to protect America and defeat ISIS, Rick Santorum's your president, because serious times need serious people," the ad says.
It is, however, worth noting that in 2013, at the same time as Cruz's anti-Obamacare speech on the Senate floor during which he read from the children's classic "Green Eggs and Ham," Santorum said, if he were still in the Senate, "I would be with Ted Cruz."
According to Beck, Santorum's line of attack aimed at Cruz, who is currently leading the polls in Iowa, won't work because "this is not the way Americans see — conservatives see — Ted Cruz." Beck went on to compare Santorum's words to "everything we have heard from the left and the establishment on the right."
"That is Harry Reid and Mitch McConnell and MSNBC," the radio host said.
"Maybe it's only me that remembers this conversation that we had on the air, exactly this, except it wasn't Rick Santorum — it was Mitch McConnell who was saying these things," Beck later added.
Santorum is currently polling at 1 percent in Nevada and less than 1 percent nationally and in Iowa.
Complimentary Clip from TheBlaze TV The full episode of The Glenn Beck Program, along with many other live-streaming shows and thousands of hours of on-demand content, is available on just about any digital device. Click here to watch every Glenn Beck episode from the past 30 days for just $1!