With evidence that at least two Pakistani nationals listed on various terrorist watch lists were apprehended while entering the U.S. illegally, Rep. Duncan Hunter (R-Calif.) is warning Americans that the southern border is vulnerable to intrusion by terrorists.
According to records reviewed by TheBlaze, two Pakistani men, Mukhtar Ahmad, 25, and Muhammad Azeem, 20, surrendered to a U.S. Border Patrol agent Sept. 20, 2015, near Otay Mesa, California. A Terrorist Screening Database records check of Ahmad revealed that he is on a terror watch list as he's an associate of a known or suspected terrorist. A records check of Azeem revealed that he had been flagged as a positive match for derogatory information — it is unclear from the records what that "derogatory information" is.
Both men have been interviewed by the Joint Terrorism Task Force and are believed to still be in custody, according to information provided to TheBlaze. It is unclear what prompted the men to surrender.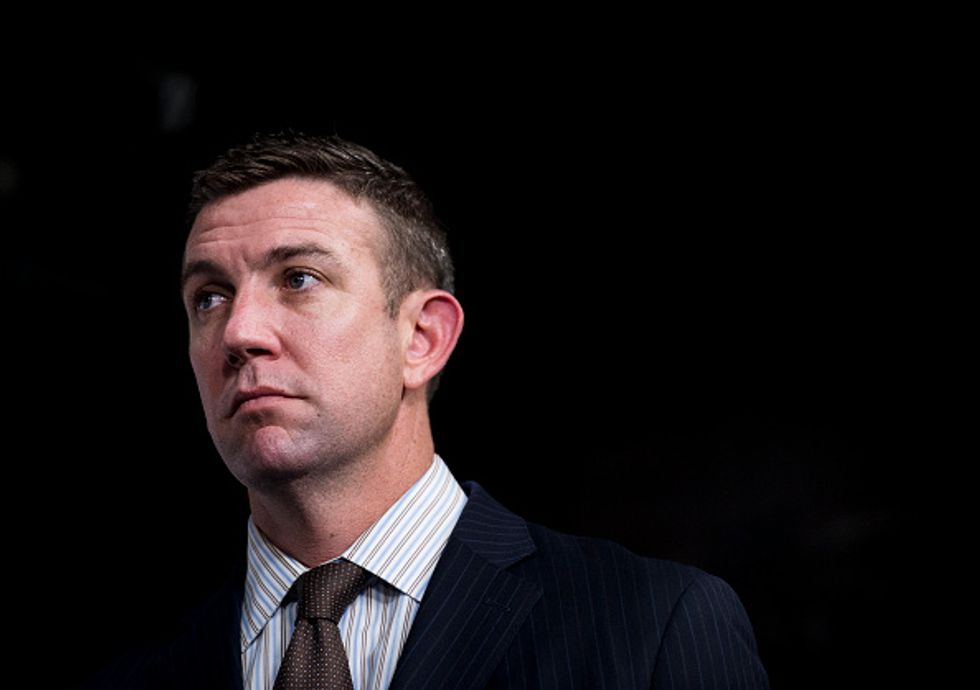 Rep. Duncan Hunter (R-Calif.) participates in a news conference with Republican members of the California congressional delegation Dec. 11, 2015. (Bill Clark/CQ Roll Call)
"It is routinely said there is no 'specific and credible information about an attack on the homeland.' Despite this assertion, the Southern land border remains vulnerable to intrusion and exists as a point of extreme vulnerability," Hunter wrote in a letter to Homeland Security Secretary Jeh Johnson that referred specifically to the case of Ahmad and Azeem. The letter, provided to TheBlaze, was dated Dec. 21.
"And evidently there are criminal organizations and individuals with the networks and knowhow to facilitate illegal entry into the United States without regard for one's intentions or status on a terrorist watchlist," Hunter continued. "The detention of the two Pakistani nationals underscores the fact that any serious effort to secure our homeland must include effective border security and immigration enforcement."
Joe Kasper, Hunter's chief of staff, told TheBlaze in an interview that as of Wednesday his office has still not received a response from Johnson or anyone else at the Department of Homeland Security — and expressed doubt that a response will come.
"That's why we're asking the question: How many people do we apprehend on the border who also have positive profile matches on the terrorist watchlist? Is this something that happens everyday?" Kasper said. "Is there anybody in the United States who did enter successfully and we don't know they're here, who might be on the terrorist watchlist?"
"This is just one small example, one single example, among hundreds of thousands of arrests that are happening annually on the border," Kasper added.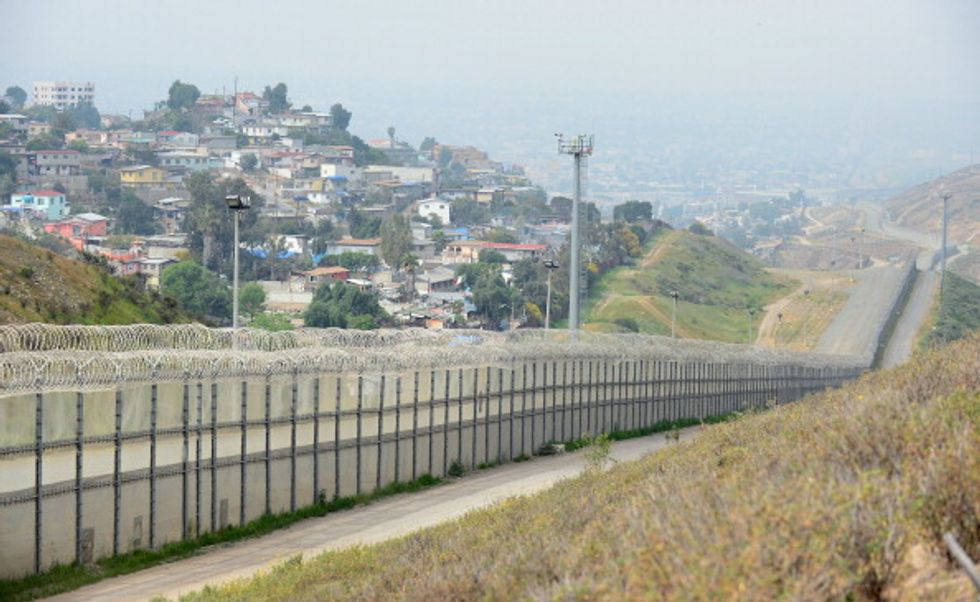 A fence runs along the US-Mexico border between the Otay Mesa and San Ysidro ports of entry in and near San Diego, California, across from Tijuana, Mexico (L). (Photo credit: Frederic J. Brown/AFP/Getty Images)
Kasper said that Hunter, who was elected in 2008, has worked on tightening border security since assuming office, and Kasper himself has worked on immigration since he worked for Hunter's father, former California GOP Rep. Duncan Hunter, who held office from 1981 to 2009.
"It's something we've been doing for a very long time as much as we possibly can — whether that's calling for more infrastructure, more personnel, and it's a big part and reason that ... Hunter continues to call for border security first because unless you are on the border, a lot of people don't understand what happens everyday down on that border unless they're from there," Kasper said.
Kasper reiterated his boss' criticism of the government's "no credible threat" mantra, saying that, "if that were the case, they would have been picked up in Mexico City" or elsewhere — not in the U.S.
"There is a network that is committed to facilitating illegal entry to anyone, regardless of their intent or country of origin. They don't discriminate in the human smuggling networks south of the border," Kasper said. "If you want to enter the United States illegally, this proves again, the easiest way to do that is cross the southern border."
Kasper said it was interesting to note when the Pakistani nationals were apprehended as "perhaps it was coincidence, perhaps not" that the men attempted to enter the country just a few weeks prior to the San Bernardino shooting. On Dec. 2, reportedly inspired by extremist groups, Syed Farook and Tashfeen Malik opened fire on a social services building, killing 14. Farook was born in the U.S. and of Pakistani descent; Malik was born in Pakistan.
"We know that there is some sort of planning that goes into these acts of terrorism. What these individuals were doing, why they were trying to enter the U.S., that's something you're going to have to try to figure out," he said.
Read Hunter's letter to Johnson below.