The former district attorney who prosecuted "Making a Murderer" subject Steven Avery revealed on Tuesday night the "most persuasive evidence" he felt filmmakers left out of the wildly popular Netflix documentary series.
Ken Kratz, who was later forced to resign his post in Wisconsin over a sexting scandal, spoke with Fox News host Megyn Kelly about the murder convictions of Avery and his nephew Brendan Dassey in the 2005 death of Teresa Halbach.
Since "Making a Murderer" was released in mid-December, Kratz has taken a number of shots at filmmakers, contending they intentionally didn't include certain elements of evidence the prosecution presented at trial.
On Tuesday night, Kelly asked him to elaborate.
— Scroll down for video —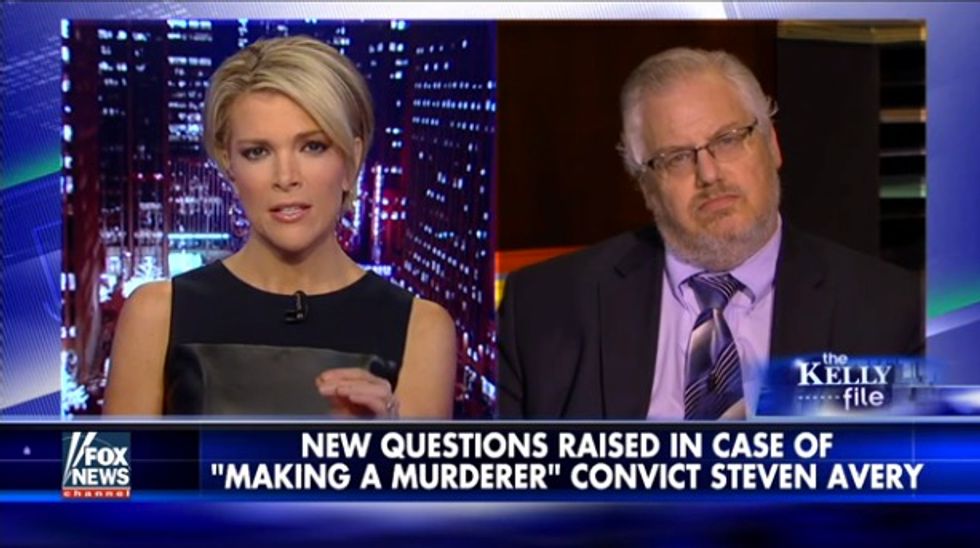 Image source: Screen grab
"What do you think is the most persuasive evidence that you had against him that the series makers left out?" she asked.
"Well, in my opinion, the most persuasive was the DNA that was found on the hood latch of the victim's car," Kratz replied. "The victim's SUV is hidden by Mr. Avery and Mr. Dassey."
The former DA stressed that the evidence was "non-blood DNA" linking Avery to Halbach's car. During the trial, the defense had contended that Avery's blood was planted in the vehicle using a blood vile stored as evidence in a prior sexual assault crime DNA evidence later exonerated Avery from.
Kratz also told Kelly that there was no blood evidence in the garage because Avery and Dassey likely used bleach to clean the scene of the crime.
"In fact, Brendan turned over to the police ... his bleach-stained jeans," he said.
Avery's former lawyer Dean Strang joined Kelly to discuss Kratz's claim and objected to the idea of perspiration being found on the hood of Halbach's vehicle.
"There was no evidence of sweat. There was evidence of DNA transferred — Steven Avery's DNA. The sweat idea is just Mr. Kratz's theory and has never been anything more than that," Strang said.
He continued, "The DNA from Steven Avery could have been transferred under the hood in any number of ways. Any surface that had his DNA, his skin or a DCI agent's glove, could have transferred that DNA to the underside of the hood. It's really much less powerful evidence than the blood would have been for the prosecution."
Strang also addressed Kratz's accusation Avery cleaned his garage with bleach.
"Steven Avery can be accused of being a lot of things, but a really good housekeeper doesn't make the list," he said.
"But what if you just committed a murder?" Kelly pressed. "And he said that Brendan, the nephew, had bleach all over his jeans which was turned over."
"I have no idea when the bleach got on the jeans. I can't imagine — especially as I recall there was dear blood left in the garage — that all traces of human blood would have been removed from that garage by anybody, let alone Steven Avery and Brendan Dassey," Strang said.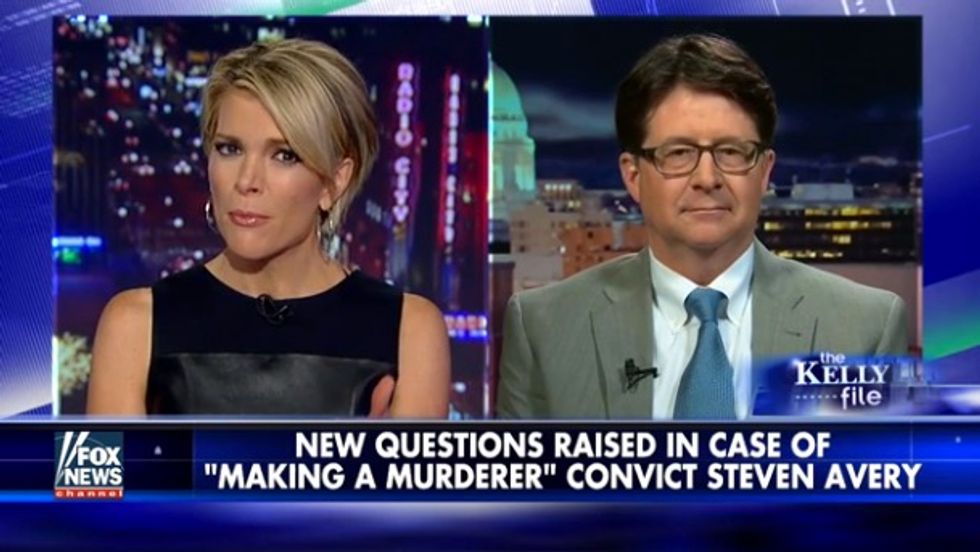 Image source: Screen grab
Throughout the interview, Kelly also asked the lawyer about other aspects of the case circulating in the media.
"What about the fact that she was allegedly tortured in Steven Avery's trailer? That she was handcuffed and had leg irons put on her as the rape took place ... and Steven Avery — this is not covered in the documentary, but was at trial, is my understanding — bought leg irons and handcuffs three weeks before the murder. Is that true?" Kelly asked.
"None of that was evidence at Steven Avery's trial," Strang said. "You've just described the prosecution's theory at the Dassey trial ... but none of that was evidence at the Steven Avery trial."
"But did Steven buy leg irons and handcuffs three weeks before Teresa's murder?" Kelly interjected.
[RELATED: Wisconsin Gov. Scott Walker responds to calls he should issue pardon or review case]
Shaking his head, Strang replied, "I don't recall that, honestly. I don't recall that. And there certainly was no evidence hat leg irons ... were used on Teresa."
Kelly then moved to ask Strang about the fact that Avery had called Halbach three times the day of the murder — twice with a star 67 number.
"That suggests he was unusually fixated on her," Kelly said.
"No, it doesn't. It suggests she had done a good job photographing a car that the family had sold earlier and now Steven's sister was selling another car and he thought she would be a good photographer," he replied. "The fact that he tried to protect his privacy with two star 67 calls tells us nothing about who killed Teresa Halbach. In fact, the last call from his phone wasn't a star 67 number."
Watch the Interviews: