The United States plans to seek a United Nations Security Council resolution imposing new sanctions on North Korea, following their unconfirmed test of a hydrogen bomb Tuesday.
According to one official who spoke to CNN, the resolution will be "fairly substantial."
"This is very concerning behavior, and we can't just issue some statement condemning it," the official added. "It has to be a resolution with teeth."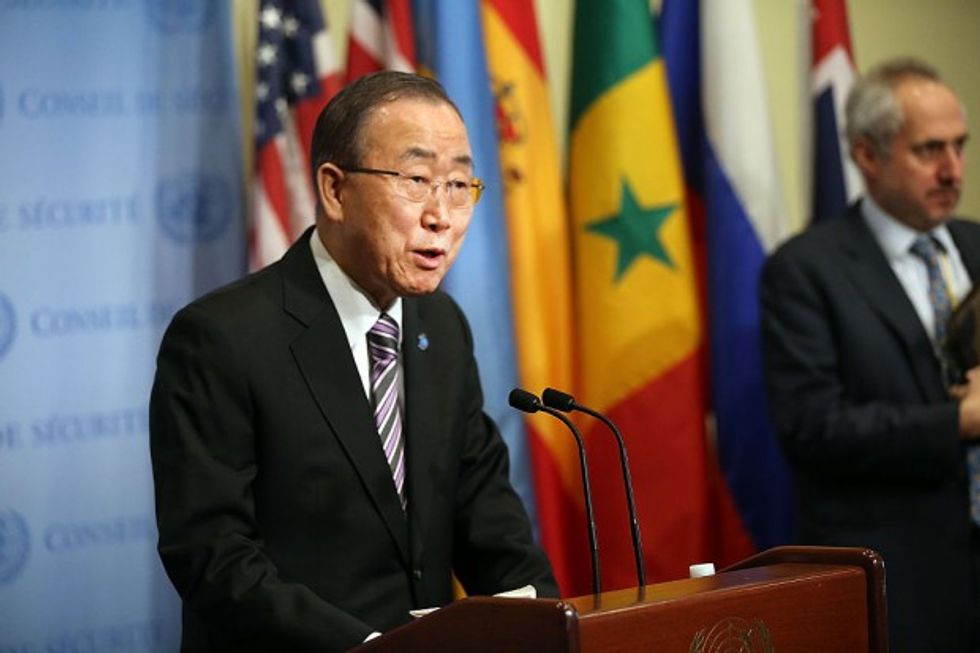 Ban Ki-moon makes comments to the media on the situation in North Korea Jan. 6. (Getty Images/Spencer Platt)
In addition, the U.S. plans to urge China, North Korea's biggest ally, to support the actions taken by the U.N.
Getting China to play along won't be difficult, according to another U.S. official, since Pyongyang didn't notify China of its intentions to test a bomb.
"The fact the North Koreans did this without giving China warning should be very concerning to Beijing," the official said. "It means we are dealing with a much more unpredictable leader. We are hoping this will energize the Chinese, not just to be helpful in New York but also with unilateral sanctions and pressure."
The sanctions would be the fifth round imposed on North Korea since the country's first nuclear test in 2006. The sanctions are aimed at reining in the regime's nuclear and missile development, but Pyongyang has ignored them and moved ahead with programs to modernize its ballistic missiles and nuclear weapons.
The Security Council held an emergency meeting after North Korea announced its first hydrogen bomb test, which would mark a major advance for its still-limited nuclear arsenal. The announcement was met with skepticism, however, with South Korea's spy agency saying the estimated explosive yield from the explosion was much smaller than what even a failed H-bomb detonation would produce.
The Security Council said North Korea's actions were a "clear violation" of the four previous sanctions resolutions "and therefore a clear threat to international peace and security continues to exist."
U.N. diplomats, speaking on condition of anonymity because talks have been private, said a new resolution would aim to add more people to the sanctions list, including those linked to a key procurement company, and limit the travel of senior North Korean officials.
However, the toughness of the new sanctions will depend on China and their willingness to punish the North Korean regime.
The Associated Press contributed to this report.
—
Follow the author of this story on Twitter and Facebook:
[facebook //www.facebook.com/plugins/like.php?href=