Islamic State technicians have been developing heat-seeking anti-aircraft missiles and driverless suicide car bombs with the aim of launching attacks in Europe, a video seized in Turkey from the laptop of a captured jihadist fighter revealed, Britain's Sky News reported.
Sky News, which obtained the disturbing video, reported that scientists in the Islamic State's de facto capital of Raqqa in Syria have been working tirelessly at what the British broadcaster described as the "jihadi university" to find ever more lethal and stealth ways to kill Westerners.
The most shocking revelation was footage showing how the group was converting a missile from a jet fighter into a surface-to-air missile. Sky reported that the video was designed to train foreign jihadists residing outside Syria to target their home countries.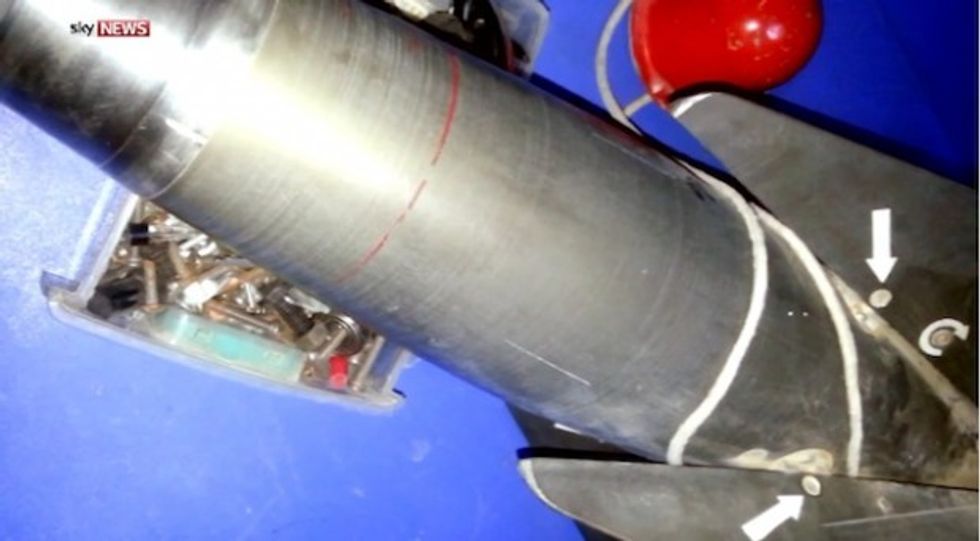 Developing the anti-aircraft missile. (Image source: YouTube/Sky News)
Using a homemade thermal battery, the missile's heat-seeking warhead could potentially take out a passenger plane, according to Sky's analysis:
It had been regarded as a virtually impossible feat for terror groups working without a military infrastructure.

But footage exclusively obtained by Sky News shows that IS can now recommission thousands of missiles assumed by western governments to have been redundant through old age.

Heat-seeking warheads can be used to attack passenger and military aircraft. They are 99% accurate once locked on.
The terrorists have also developed remote controlled cars "driven" by mannequins equipped with thermostats imitating human body temperature designed to fool scanning equipment protecting Western military and government facilities.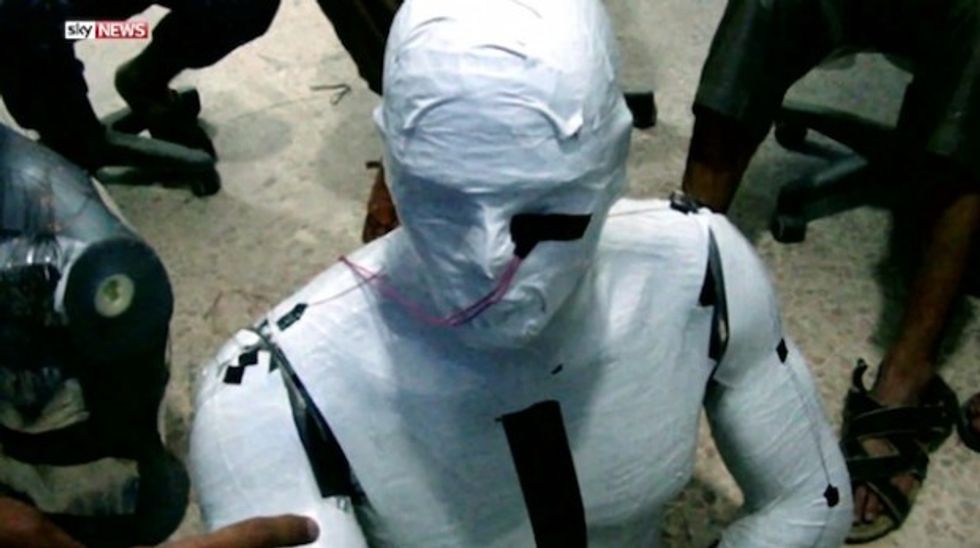 Sky News reported that the mannequin that would be heated to human temperature were being designed to "drive" car bombs to protected military and government facilities. (Image source: YouTube/Sky News)
Maj. Chris Hunter, a former bomb technician in the British special forces, said that the video kept him "awake all night."
"Without doubt, the most chilling aspect of watching this training video was the unprecedented levels of technical expertise and ingenuity of those weapons engineers," Hunter wrote on Sky's website.
"Their advanced knowledge of weapons engineering, coupled with their seemingly limitless ability to reverse engineer and recondition weapons (which until now intelligence agencies had considered obsolete and beyond repair) kept me awake all night," he added.