IOWA — These days, presidential candidates have to be entertainers as well as politicians.
While traveling between small towns in Iowa this week on a campaign bus tour, Sen. Ted Cruz (R-Texas) peppered his standard 2016 presidential stump speech with jokes poking fun at Hillary Clinton, Democrats in general and the media.
Here are some of Cruz's best laugh lines from his bus tour so far.
On the Democratic 2016 field:
"I'm pretty sure the first Democratic debate consisted of Hillary and the Chipotle clerk. Well now actually, that's not fair. We can't forget about Bernie Sanders. So now, the Democratic field consists of a wild-eyed socialist with ideas that are dangerous for America and the world — and Bernie Sanders."
How Democratic debates are held on weekends:
"Has anyone else noticed that the Democrats keep scheduling their debates at like 1:30 a.m. on a Saturday, airing on Alaska PBS?"
 While standing behind a counter at a diner in Missouri Valley: 
"I'll be taking breakfast orders: Eggs over easy, hash browns, bacon?"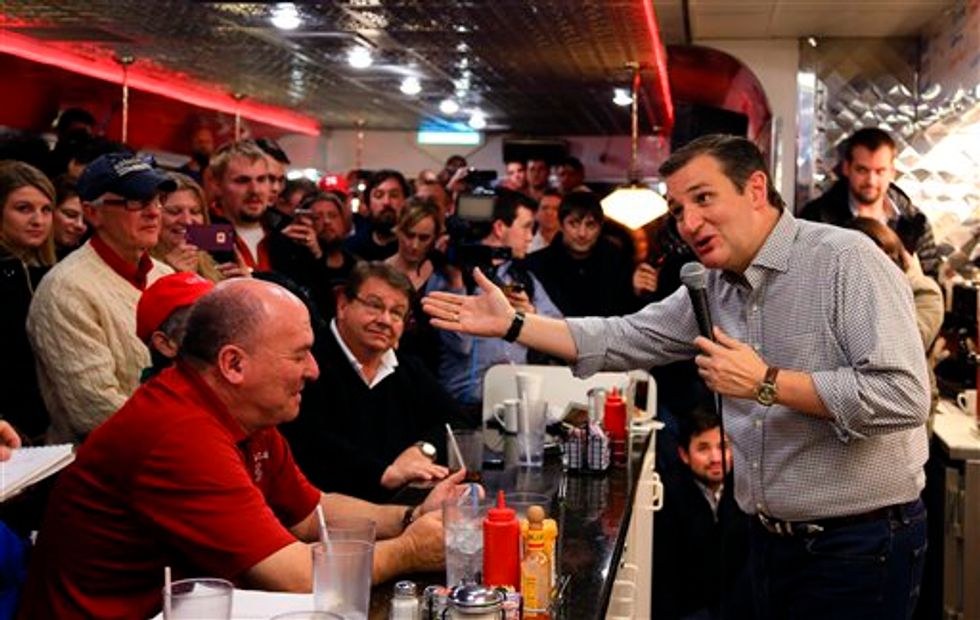 Ted Cruz, R-Texas, campaigns at Penny's Diner in Missouri Valley, Iowa. (AP/Nati Harnik)
 On the meaning of the word "politics":
"If you look at the etymology, the history behind the word 'politics,' there are two parts. Poly meaning many, and tics meaning blood-sucking parasites."
 On how journalists don't like him:
"By the end of eight years [of Cruz being in office], there are going to be a whole lot of newspaper reporters, editors and journalists that have checked themselves into therapy."
[sharequote align="center"]"I consider the Cruz campaign remedial therapy for journalists."[/sharequote]
During a campaign stop at a restaurant and bar:
"I'm pleased to tell you that there will be free drinks on the house. The New York Times is picking up the ticket."
On the value of campaign materials that get mailed to voters' houses:
"The nice thing about mailers is they make great kindling for your fireplace. They really do light up fast."
When James Dobson told him he has "beautiful children":
"Thank God they look like their mother. Proof that God is a benevolent God."
In response to a riled-up audience member concerned about Second Amendment rights:
Cruz: "If Hillary Clinton is elected president, the Supreme Court will rule that no individual American has any individual right to keep and bear arms whatsoever, and the government can make it a felony for you to own a firearm and protect your family."
An attendee shouts: "Come and take it!"
Cruz: "I think Iowa and Texas have some things in common."
—
Follow the author of this story on Twitter: