Former Libyan leader Muammar Gaddafi offered a "prophetic" warning about radical Islamic extremists who he said would attack Europe if his regime was toppled — claims that he made during a 2011 phone call with ex-U.K. prime minister Tony Blair, the Telegraph reported.
Gaddafi warned Blair — who had been out of office for a few years at that point — that extremists would attack following his regime's collapse during two phone conversations on Feb. 25, 2011, according to transcripts of the calls that have been made public by Parliament.
"They are armed gangs who have weapons. ... they keep saying things like Muhammad is the prophet. Similar to bin Laden," Gaddafi said of the militants he accused of being responsible for the chaos. "They are paving the way for him in North Africa. ... they want to control the Mediterranean and then they will attack Europe."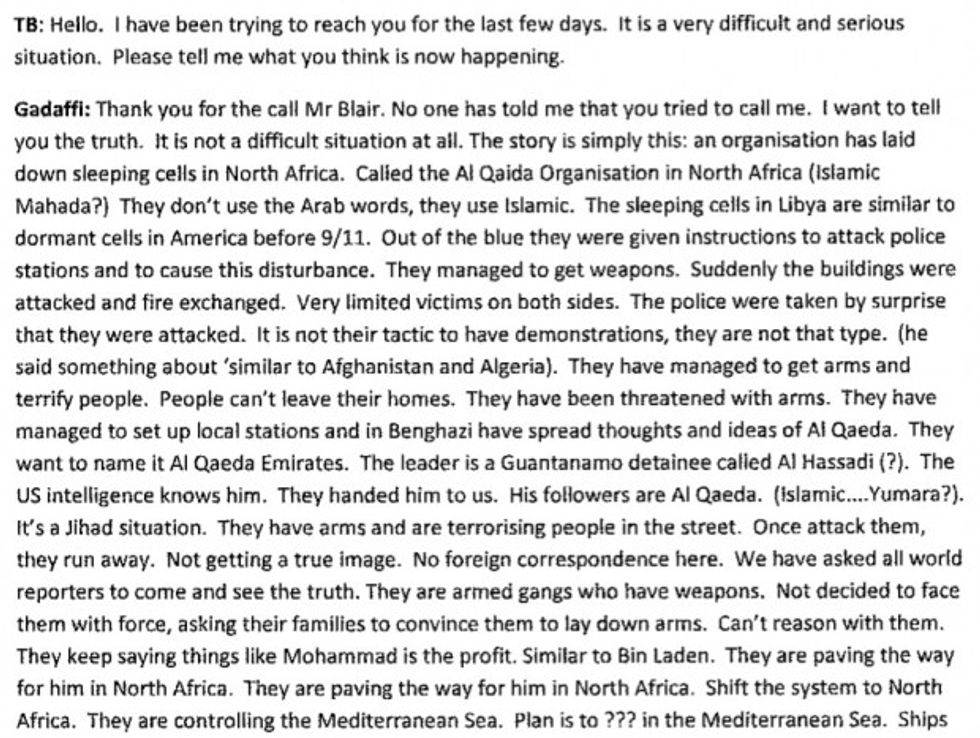 A portion of the call transcript between Blair and Gaddafi that was published by Parliament's Foreign Affairs Committee
The Libyan leader stressed the need to explain this dynamic to the international community, as his country was embroiled in a heated civil war at the time. Blair, who was sympathetic to his plight, urged him not to use violence against his people and pushed for pathways toward peace.
"The story is simply this: an organization has laid down sleeping cells in North Africa," Gaddafi said. "Called the Al-Qaeda Organisation in North Africa... The sleeping cells in Libya are similar to dormant cells in America before 9/11."
In a second phone call that same day, Gaddafi denied that bloodshed was unfolding at the hands of his regime, and said that the extremists were on a "campaign of colonization," telling Blair that it needed to be stopped.
Blair repeatedly said that a process of peace would need to be sought, with Gaddafi expressing that he felt compelled to arm his people to fight.
"Libyan people will die, damage will be on the med, Europe and the whole world," the Libyan leader said. "These armed groups are using the situation as a justification — and we shall fight them."
Gaddafi and Blair went back and forth about the process through which the situation could — at that point — hypothetically end peacefully, with the Libyan leader asking if military intervention would come if he didn't resolve the chaos in a calm and nonviolent way.
Former U.K. prime minister Tony Blair (AP/Lefteris Pitarakis)
"Absolutely not. No one wants that and it isnt on anyone's minds and it is not re-colonization," Blair responded. "Unless there is a peaceful process in place they are going to carry on. My desire is to put into place something that is peaceful rather than violent confrontation."
Gaddafi, though, said that the people would be given weapons if there wasn't intervention to stop the militants.
The transcripts were recently released as the Parliament's Foreign Affairs Committee investigates the collapse of Libya. Parliament Member Crispin Blunt, who chairs the committee, said that he sees value and insight in the contents of these transcripts.
"The transcripts supplied by Mr. Blair provide a new insight into the private views of Colonel Gaddafi as his dictatorship began to crumble around him," he said, according to the Telegraph. "The failure to follow Mr Blair's calls to 'keep the lines open' and for these early conversations to initiate any peaceful compromise continue to reverberate."
But the politician also noted that there's another element worth exploring, considering the Islamic State's rise in Libya, the chaos that the country continues to face, and recent extremist attacks that have unfolded in Europe.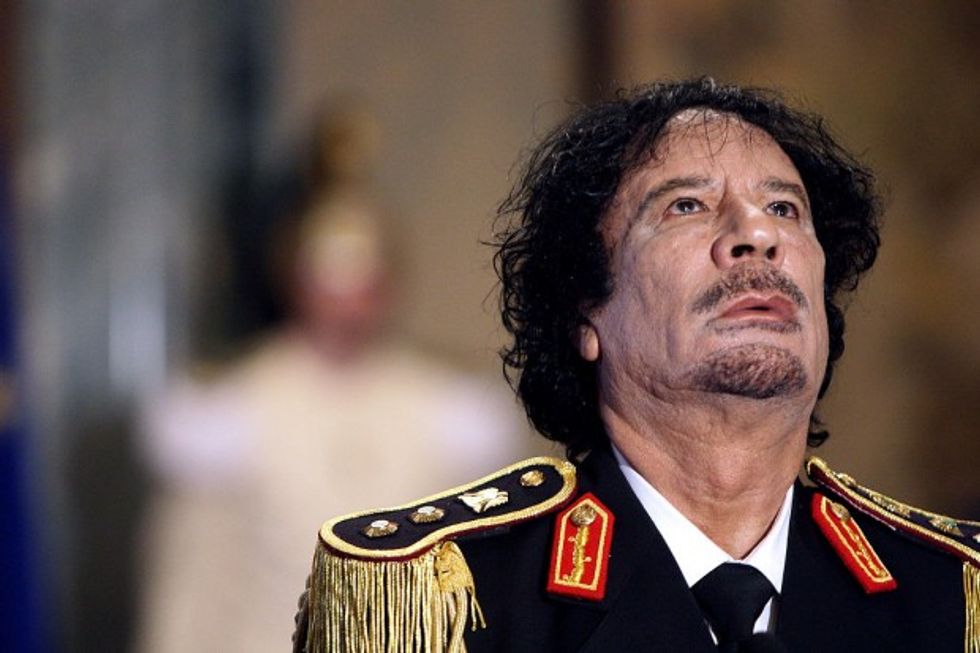 Ex-Libyan leader Muammar Gaddafi (Franco Origlia/Getty Images)
"The committee will want to consider whether Gaddafi's prophetic warning of the rise of extremist militant groups following the collapse of the regime was wrongly ignored because of Gaddafi's otherwise delusional take on international affairs," he said. "The evidence that the Committee has taken so far in this inquiry suggests that western policy makers were rather less perceptive than Gaddafi about the risks of intervention for both the Libyan people and the western interests."
Gaddafi's regime was eventually toppled in 2011, with the dictator's death coming at the hands of revolutionary forces just two months later in October of that year; Britain participated in the joint military action to help topple Gaddafi's regime.
Telegraph reporter Robert Mendick wrote that "Gaddafi's warnings appear to have been born out," with Libya's collapse following his regime's overthrow, and with war continuing today, as Islamic State-linked extremists wreak havoc inside of the North African nation.
(H/T: Telegraph)
--
Follow the author of this story on Twitter and Facebook: