LANSING, N.Y. — Seventeen miners trapped 900 feet underground at the deepest salt mine in the Western Hemisphere were rescued Thursday morning, ending an ordeal that officials said began about 10 hours earlier when their elevator got stuck.
A crane hoisted the last two miners to the surface at the Cayuga Salt Mine in central New York before 9 a.m., said Mark Klein, a spokesman for mine owner Cargill Inc.
The miners were descending to the floor of the 2,300-foot-deep mine — nearly deep enough to fit two Empire State Buildings stacked on top of each other — to start their shift when the elevator broke down around 10 p.m. Wednesday, Klein said.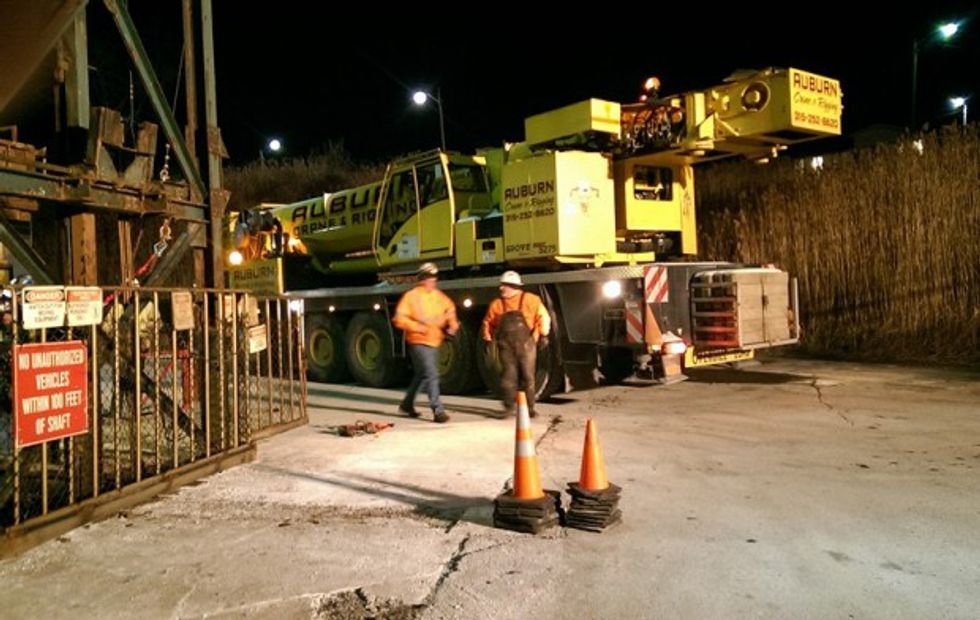 This photo provided by the Ithaca Fire Department shows a crane that will assist the rescue of seventeen miners stuck in an elevator underground at the Cargill Salt Mine in Lansing, N.Y. (Ithaca Fire Department via AP)
The first four were hoisted to the surface in a basket around 7 a.m. at the mine in Lansing, about 40 miles outside Syracuse. Another four were rescued about 30 minutes later and seven more were brought to the surface by 8:30 a.m., Klein said. The last two were rescued a few minutes later, he said.
The mine, which Klein said is the deepest salt mine in the Western Hemisphere, produces road salt that is shipped throughout the northeastern United States. The mine is located on the shore of Cayuga Lake and extends beneath its waters.
Mining at the Lansing site began 100 years ago. Minneapolis-based Cargill bought the mine in 1970 and today employs 200 workers at the operation, Klein said.
The company conducts evacuation drills annually, Klein said.
"While we hope to never make use of that practice, it's helping us today," he said.
Mining operations will be shut down for the rest of the week as company officials and federal government mine safety inspectors investigate what caused the elevator, one of several at the site, to malfunction, Klein said.
"We want to take a step back, check things out," he said.
Klein said the last serious accident at the mine occurred on the surface in March 2010, when a 150-ton salt bin collapsed, killing a contract truck driver and injuring another man. The U.S. Mine Safety and Health Administration later determined a piece of the bin corroded and caused it to give way.
___