In an interview with One America News Network, Charles Woods, the father of Tyrone Woods, one of the four men killed during the attacks on the American consulate in Benghazi, Libya, on Sept. 11, 2012, reiterated his account that Hillary Clinton told him that a YouTube video was responsible for the attacks.
During the interview, he issued a challenge to the Democratic presidential front-runner: take a lie detector test.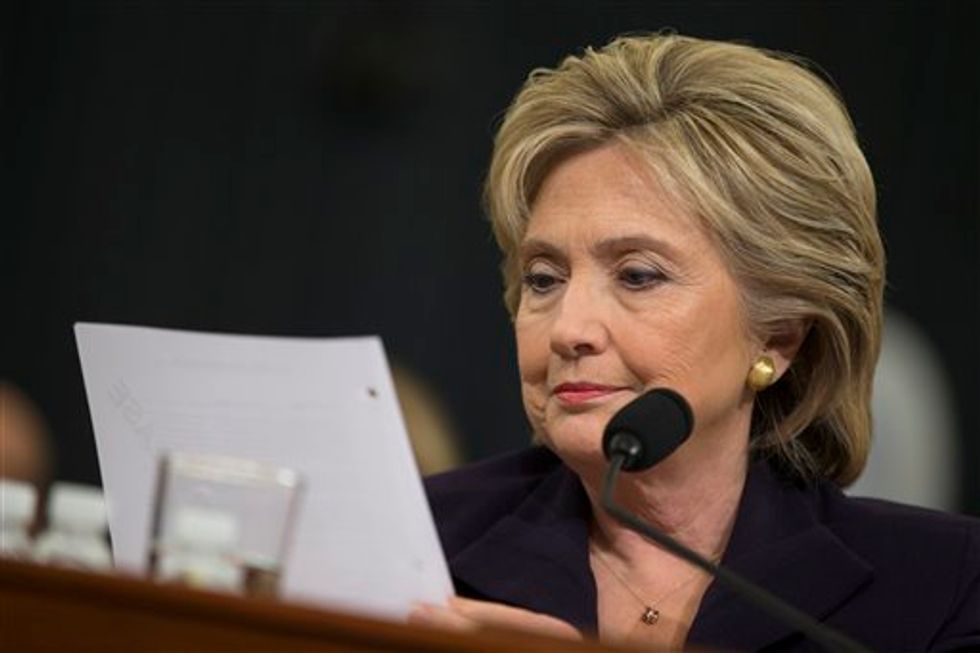 During her testimony before the House Benghazi Committee, Oct. 22, 2015, on Capitol Hill, Democratic presidential candidate former Secretary of State Hillary Rodham Clinton looks at an email sent by Ambassador Chris Stevens. (AP Photo/Evan Vucci)
"I would love to sit down with Hillary Clinton, if she'd agree to do it as well, you know at the same table, by the same operator and have a lie detector test," Woods said.
"Ty, he lived a life of integrity and courage," Woods said. "When he accepted that decision, to go against the stand-down orders, he knew there was a very high probability that he was signing his own death warrant."
The former secretary of state has denied telling the families of the victims that the video was responsible.
Woods said he has tried "to take the high road," but that Clinton "basically called me and the other family members liars."
"There's been four different family members representing three of the families that were victims, and they all said basically the same thing: that she blamed the attack on the video," Woods said. "She said, 'we're going to have that person responsible for that video put in jail.'"
Woods said he felt that the comment about the video was odd, as well as dishonest. "Is this how you comfort someone?" he asked.