A North Dakota man who traveled to Washington, D.C., and claimed to be Jesus Christ allegedly planned to dognap Bo Obama, one of the Obama family's two Portuguese waterdogs.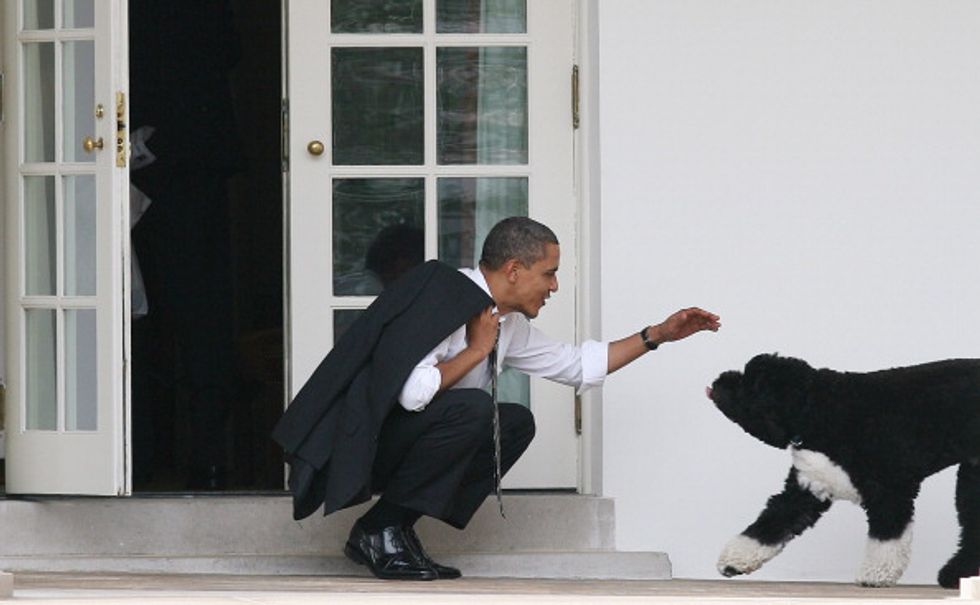 President Barack Obama greets his dog Bo outside the Oval Office of the White House March 15, 2012. (Photo by Martin H. Simon-Pool/Getty Images)
Scott D. Stockert, 49, was arrested Wednesday night after being questioned by Secret Service agents in downtown Washington. Stockert told the agents that in addition to kidnapping the president's dog, he also planned to go to the U.S. Capitol to advocate for $99 per month health care, WRC-TV reported.
Stockert said his parents were President John F. Kennedy and Hollywood actress Marilyn Monroe. He also claimed he was about to announce his candidacy for president.
Stockert's truck allegedly contained an unloaded 12-gauge shotgun and a bolt-action rifle, along with 289 rounds of .22-caliber long-rifle bullets, 71 rounds of 12-gauge shotgun ammunition and two rounds of .223 rifle ammunition. Authorities also uncovered a "machete with a 12-inch blade and an 18-inch bully club," WRC reported.
Stockert was charged with carrying a rifle or shotgun outside a home or business, according to WRC, but released under high-intensity supervision. He is barred from going near the White House or the Capitol and is not allowed to possess any weapons.
(H/T: NBC News)