During stops in two Iowa cities in two days, Democratic presidential candidate Hillary Clinton offered two different positions on tax hikes for middle-income Americans.
On Monday in Des Moines, Clinton said that she would not veto a proposal to increase the payroll tax on all Americans. But on Tuesday in Ames, she asserted that she would not raise taxes on the middle class.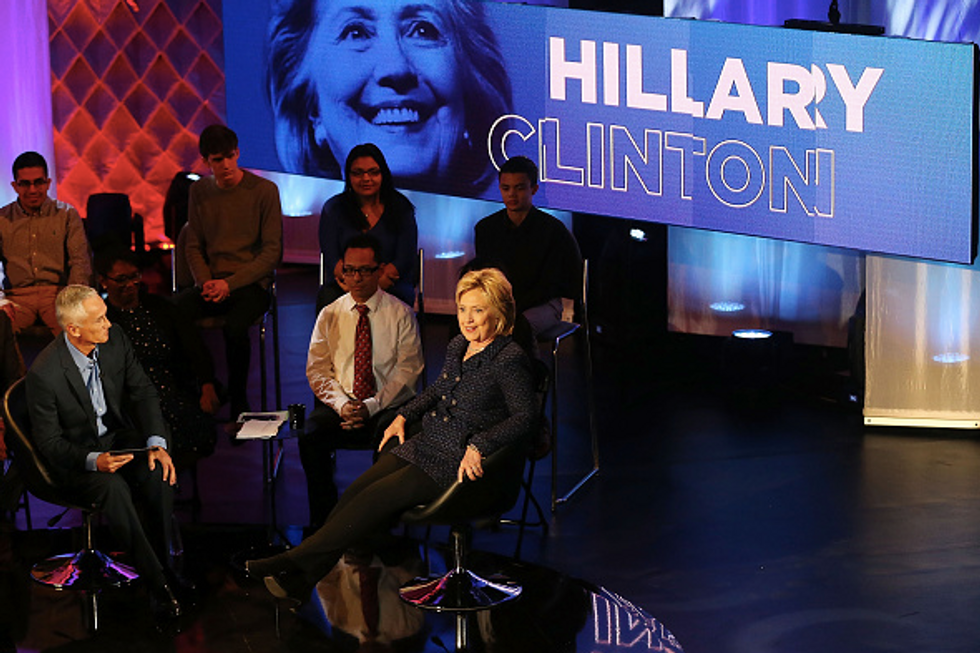 Democratic presidential candidate Hillary Clinton sits next to moderator Jorge Ramos during the the Iowa Brown & Black Forum sponsored by Fusion and broadcasted from Drake University Jan. 11 in Des Moines, Iowa.  (Joe Raedle/Getty Images)
Speaking Monday at the 2016 Brown & Black Democratic Presidential Forum at Drake University in Des Moines, a moderator asked Clinton about whether — in order to keep her pledge to not raise taxes on the middle class — she would veto the Family and Medical Insurance Leave Act, a bill to guarantee paid family and medical leave and pay for it by raising payroll taxes.
"No, no," Clinton responded.
"Here's what – I don't in anyway oppose the plan," Clinton said, further trying to explain her position. "I'm for the substance of it, the substance being 12 weeks of paid leave, seven days of paid sick leave. … So, I have the same plan but paid for by closing loopholes and raising taxes on the wealthy."
Though offering an alternative means to pay for it, she didn't threaten a veto. That's juxtaposed to what she told ABC News' George Stephanopoulos Dec. 6, when he asked, "You are also saying no tax increases at all on anyone earning $250,000. Is that a rock solid read-my-lips promise?" Clinton responded, "Well, it certainly is my goal. And I've laid it out in this campaign."
Americans for Tax Reform President Grover Norquist said this represented dishonesty by the former secretary of state. "Hillary is up-front saying, 'I'm going to lie my way into office,'" Norquist said.
On Tuesday in Ames, Clinton repeated a claim the Washington Post gave her "four Pinochios" for.
"I'm the only candidate on either side saying that my goal is to raise incomes on the middle class, not taxes on the middle class," Clinton told the Ames crowd. "That's where I think our greatest need is right now."
The Post returned Tuesday to point out that practically every Republican candidates pledges to cut taxes and raise incomes. It characterizes Sanders payroll tax increase as modest.
"As we said before, this is rhetorical hooey. Clinton should stop making this claim," the Post Fact Checker column said.
At Drake University, the portion on taxes begins at 1 hour and 47 minutes into the forum.