Kentucky Republican Sen. Rand Paul has lofty hopes for President Barack Obama during his final State of the Union address Tuesday night.
Speaking on the "Good Morning With Dan Mitchell" radio show Tuesday morning, Paul said that he would like to see Obama admit that his presidency has been a failure and then resign from the White House.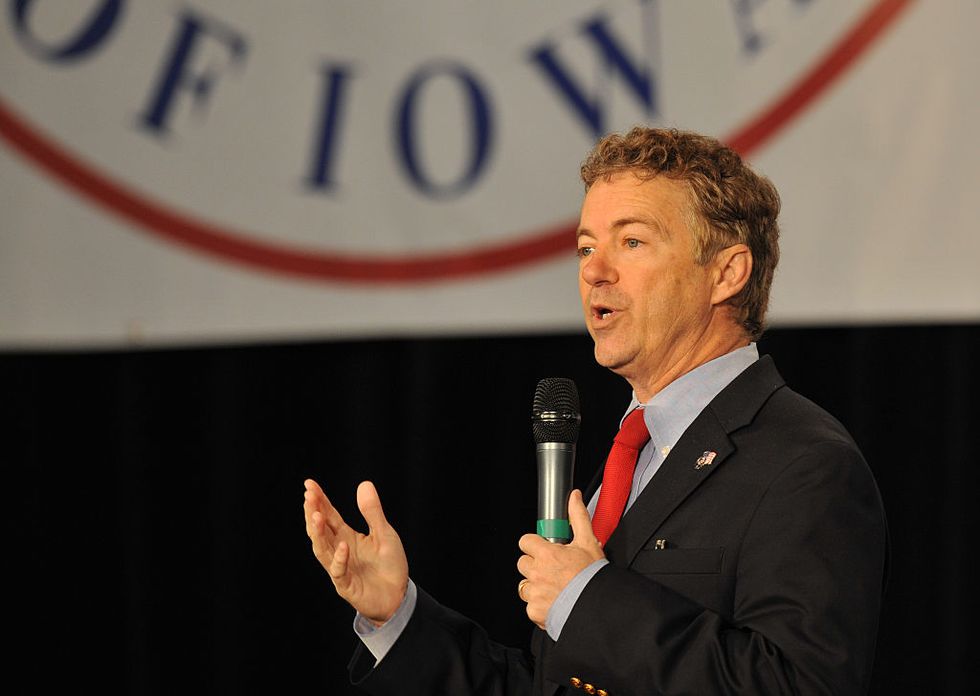 Rand Paul speaks at the Growth and Opportunity Party at the Iowa State Fair on Oct. 31, 2015. (Getty Images/Steve Pope)
"Well, I think from President Obama's perspective, the best thing he could do would be to leave office early," the GOP presidential candidate said, as captured by Buzzfeed's Andrew Kaczynski. "I wish that tonight he would announce, 'Hey guys, I've really been a failure as a president over the last seven years and I'm gonna take off early so cause I want to go play golf.'"
Paul said that he believes Obama has it "all wrong" when it comes to managing an economy.
"It would be nice if he could own up to that, but his worldview is that government is the answer," Paul remarked, noting that Obama likes to intervene in the economy.
Paul, who made headlines Monday night after pledging to boycott Thursday's Republican debate because he was relegated to the "undercard debate," also touched on that pledge during the interview.
"Well, we don't think it's fair, we think it's a mistake on their part. Just last week, a CNBC national poll had me one point out of fourth, so how we can be sort of artificially designated as not being in the first tier we think is not really fair and is inappropriate," Paul said. "A lot of people look at the polls and think they're science but many of these people never really had a science class or a math class."
"There's no difference between being three, four, five, six, seven, eight in a poll because the standard of error is often three or four in these polls," he added. "So we think it's arbitrary, capricious, a big mistake and we've chosen to take our debate and our campaign directly to the people."
Listen to the interview below:
—
Follow the author of this story on Twitter and Facebook:
[facebook //www.facebook.com/plugins/like.php?href=