At least 10 people were killed and 15 wounded Tuesday in a bombing attack in the historic center of Istanbul in Turkey.
Turkish President Recep Tayyip Erdogan said a suicide bomber with links to Syria is believed to be behind the attack, the Associated Press reported. The news agency also quoted a government source who spoke on condition of anonymity who described the attack as "terror-linked."
Reuters quoted two senior Turkish security officials who said there is a high probability that Islamic State fighters were behind the blast.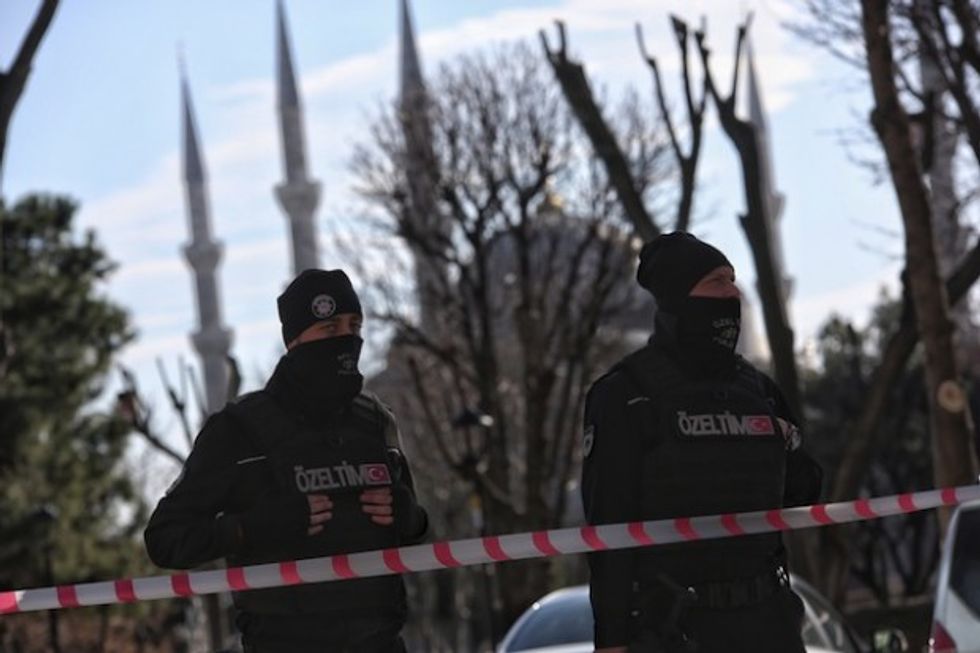 Turkish police secure the area after an explosion in the central Istanbul Sultanahmet district on January 12, 2016 in Istanbul, Turkey. At least 10 people have been killed and 15 wounded in a suicide bombing near tourists in the central Istanbul historic Sultanahmet district, which is home to world-famous monuments including the Blue Mosque and the Hagia Sophia. Turkish President Erdogan has stated that the suicide bomber was of Syrian origin. (Photo by Can Erok/Getty Images)
The attack took place in Sultanahmet district, an area teeming with tourists visiting the famous historic and religious sites including the Blue Mosque and the Hagia Sophia.
Photos from the scene showed bodies strewn in the street following the attack.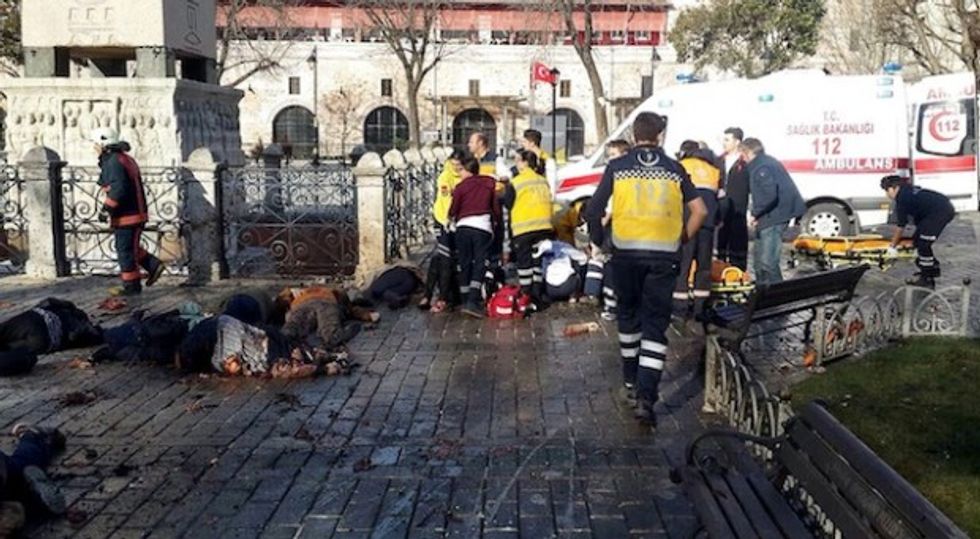 Graphic content / Emergency responders work beside victims at the site of a blast in Istanbul's Sultanahmet district, the city's main tourist hub, on January 12, 2016. (Photo: STR/AFP/Getty Images)
Erdogan said the dead included both Turkish and foreign citizens.
"The explosion was so loud, the ground shook. There was a very heavy smell that burned my nose," a German tourist identified only as Caroline told Agence France-Presse.
"I started running away with my daughter. We went into a nearby building and stayed there for half an hour. It was really scary," she said.
A Turkish man told AFP, "I saw a ball of fire, and started to run away. I saw about 10 people wounded, one of them was being helped by the tourists."
Reuters quoted the Dogan news agency which reported that six Germans, one Norwegian and one Peruvian were among the wounded.
Those in other neighborhoods said the explosion was so powerful they were able to hear it.
Wow. It shook my windows miles away in Cihangir. My neighbor scrambled outside on their balcony for a look. https://t.co/dvg6tvSSM5

— Sarah A. Topol (@satopol) 12 Janvier 2016
This is a breaking news story.