TEHRAN, Iran (TheBlaze/AP) — Footage of Iran's arrest of 10 U.S. Navy sailors and the takeover of the two boats has been released by Iran state television.
In the footage, the sailors are seen on their knees with their hands behind their heads.
Video out now RT @Hassanvand: BREAKING VIDEO: Iran state TV footage of moment of arresting 2 US boats & personnel pic.twitter.com/AW20dD5lT6

— Michael Rusch (@weeddude) January 13, 2016
In a subsequent video, on of the sailors issues an apology, but it is not clear what for exactly.
"It was a mistake, it was our fault and we apologize for our mistake," he said.
#Iran state TV showed a footage in which the commander of #US sailors made an apology. #navy #Pentagon pic.twitter.com/VCdjEZiY54

— Abas Aslani (@abasinfo) January 13, 2016
The sailors and their boats were apprehended by Iran after the boats allegedly drifted into Iranian territorial waters around one of Iran's Persian Gulf islands. The sailors, captured on Tuesday, have been freed as of Wednesday.
The sailors' swift release quickly diffused what could have escalated into an international crisis days before Iran is expected to meet the terms of last summer's nuclear deal with world powers. The deal gives Iran significant relief from painful economic sanctions.
The nine men and one woman were held at an Iranian base on Farsi Island after they were detained nearby on Tuesday. The tiny outpost has been used as a base for Revolutionary Guard speedboats as far back as the 1980s.
The sailors were picked up by Navy aircraft following their release as other sailors took control of the two small boats for the return to Bahrain.
The Revolutionary Guard's official website published images of the detained U.S. sailors before their release, showing them sitting on the floor of a room. They look mostly bored or annoyed, though at least one of the sailors appears to be smiling. The sole woman had her hair covered by a brown cloth. The pictures also showed what appeared to be their two boats.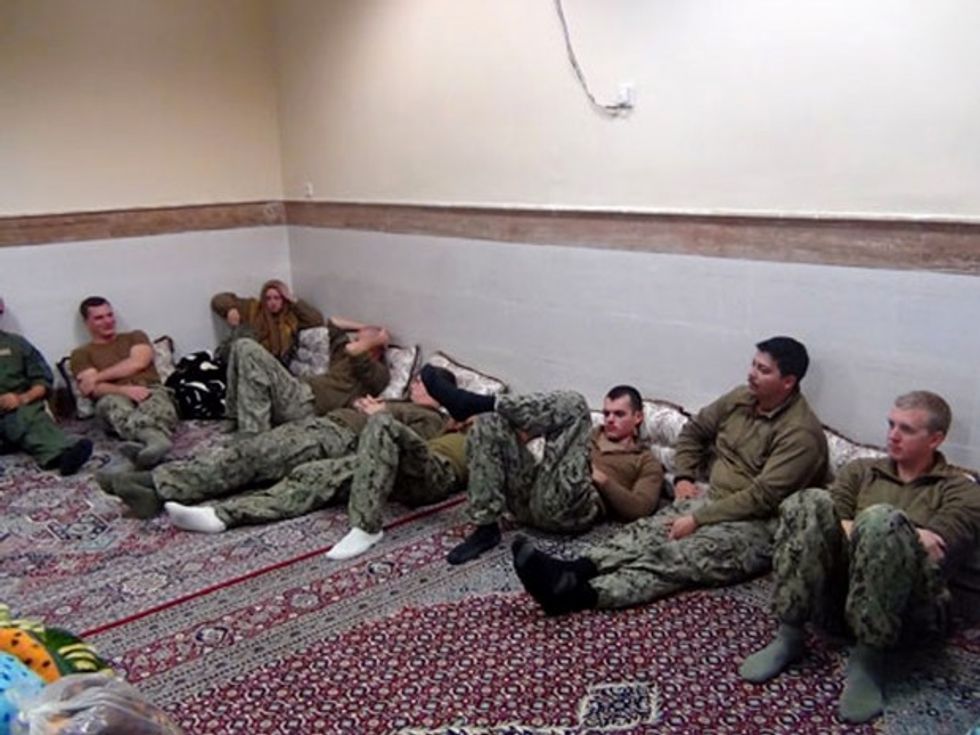 This picture released by the Iranian Revolutionary Guards on Wednesday, Jan. 13, 2016, shows detained American Navy sailors in an undisclosed location in Iran. Iranian state television is reporting that all 10 U.S. sailors detained by Iran after entering its territorial waters have been released. Iran's Revolutionary Guard said the sailors were released Wednesday after it was determined that their entry was not intentional. (Sepahnews via AP)
"After determining that their entry into Iran's territorial waters was not intentional and their apology, the detained American sailors were released in international waters," a statement posted online by the Guard said Wednesday.
Vice President Joe Biden, speaking later to "CBS This Morning," denied that Americans made any apology.
"There's nothing to apologize for," Biden said. "When you have a problem with the boat you apologize the boat had a problem? No, and there was no looking for any apology. This was just standard nautical practice."
Gen. Ali Fadavi, navy chief of Iran's Revolutionary Guard, said the American boats had shown "unprofessional acts" for 40 minutes before being picked up by Iranian forces after entering the country's territorial waters. He said Tehran did not consider the U.S. Navy boats violating Iranian territorial waters as an "innocent passage."
This story has been updated.