A woman blasted Republican presidential candidate Mike Huckabee at a campaign stop in Iowa Wednesday, saying the former Arkansas governor supports child abuse because he defended the Duggar family in the wake of the Josh Duggar scandal last summer.
According to video taken by the Democratic opposition research group American Bridge, the woman charged that because Huckabee said he felt sorry for the Duggar parents when news of Josh Duggar's sexual molestation surfaced, that meant he must support child abuse.
Huckabee, however, was quick to defend his actions and continued to defend the Duggar parents.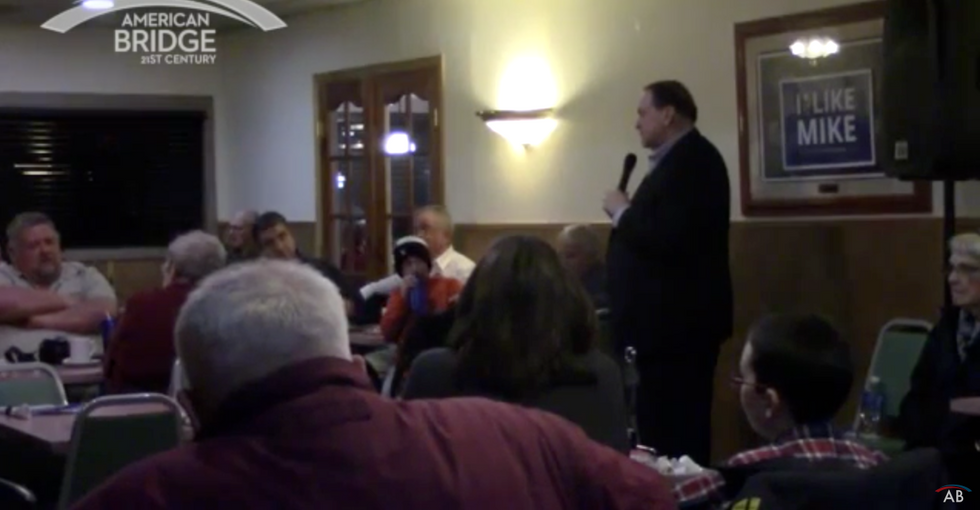 Republican presidential candidate former Arkansas Gov. Mike Huckabee speaks to voters during a stop in Iowa. (Image source: Youtube)
"You do not know that family, and I do," he told the woman. "I never supported anything that happened to those daughters. ... I've known them since they were babies."
Huckabee's defense did not stop the woman, though, as she continued to pepper the former governor with attacks on him and the Duggar family — but Huckabee didn't back down.
"You come in here to confront me, which is fine," Huckabee said. "But you cannot abuse the reputation of a Godly family who had been through hell because a son of theirs — one of their many children — did something evil and sinful that nobody is backing up and supporting."
"We're finished with you — you're done," he finally told the woman, as she continued to derail his campaign event.
As the woman was escorted out of the event, Huckabee quipped, "I'm going to mark her down as undecided," to an applause from the small crowd.
Watch the exchange below:
—
Follow the author of this story on Twitter and Facebook:
[facebook //www.facebook.com/plugins/like.php?href=