Fox News host Sean Hannity and two Muslim scholars battled it out on television Thursday night, while discussing modern Islam and a poll from 2015 that said up to 25 percent of Muslim-Americans believe jihadi violence is justified.
Dr. Zuhdi Jasser, a moderate Muslim who advocates for a reformation in Islam, was on the side of Hannity. The two agreed that modern Muslims around the world typically use literal translations from the Qur'an to wage jihad.
Hannity's other guest, Imam Kashif Abdul Karim of the Muhammad Islamic Center of Greater Hartford, disagreed vehemently, even calling the polls Hannity cited "shoddy."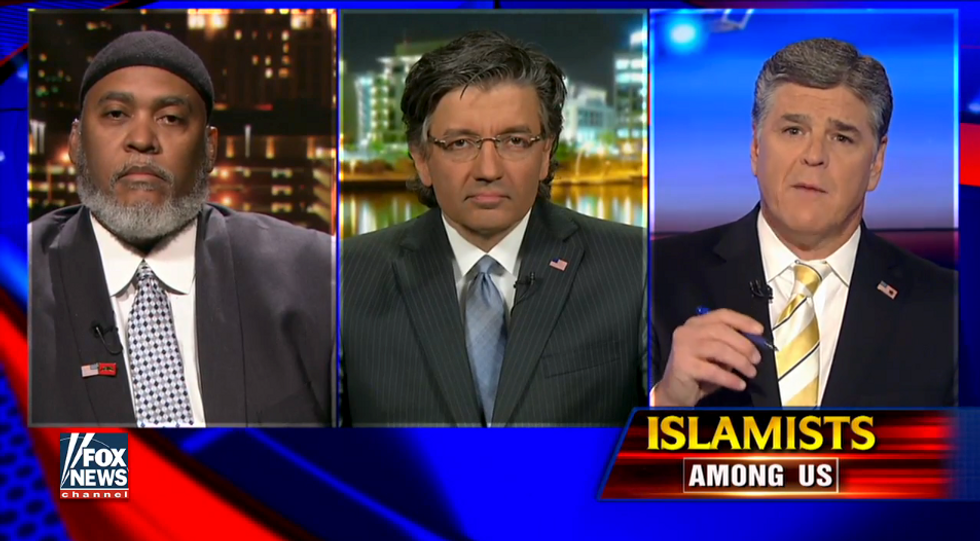 Image credit: Hannity/screenshot
"Well, first off, we don't agree with that particular poll," Karim said. "That particular poll was denied as being shoddy by the Washington Post."
When pressed further by Hannity, who said that Muslims are getting their radicalism from the Qur'an and the Hadiths because they're "taking it literally," Karim invoked Christianity.
"Just like when there were Christians in American lynching black people for years," Karim said, "right minded people understood that was not Christianity."
"But radical Islam is now the world's problem," Hannity quickly shot back. "That is what we're dealing with."
Dr. Jasser added to the conversation that Karim was either being "ignorant, delusional, or deceptive."
"The apologetics that you're providing actually proves Sean's point, and prove the poll," Jasser hit back, "which is most Muslims reject or simply accept that somehow as part of God's law, when in fact, we have to reform the literal interpretations and say that the majority of the leadership of our faith are archaic and medieval in their interpretations, and we need to reject it openly."
"The fact that you're denying it, actually proves the poll, because you're not allowing a conversation to admit we have a problem," he added.
"We don't have a problem, and I'm not ignorant or delusional. I did say, first of all, that the poll was not accurate—," Karim shot back, before being interrupted by Hannity.
"Wait, are you saying we don't have a problem with radical Islam?" Hannity asked.
"We have a problem with people who are claiming Islam as a tool to do bad things in the world," Karim answered as the segment came to an end. "Yes, we do have a problem."
Watch the tense exchange below:
—
Follow the author of this story on Twitter and Facebook:
[facebook //www.facebook.com/plugins/like.php?href=