UPDATE 11:14 p.m. ET: Vancouver police said the "three Middle Eastern-looking men" seen photographing inside a downtown mall in the western Canadian city are "completely innocent" of any crime, CBC-TV reported.
"All three men were cooperative with investigators and they had a very logical explanation regarding their behavior," Const. Brian Montague told the outlet. "The investigation has conclusively determined that their actions were completely innocent."
—
UPDATE 2:21 p.m. ET: Vancouver police on Friday said the images of the "three Middle Eastern-looking men" photographing inside a mall were part of an internal bulletin sent to departments in the province of British Columbia but were sent to the media "via an unknown source" — an action a police spokesman said was "not authorized."
In fact, the spokesman said police would never have gone public with the information had the media not been sent the bulletin.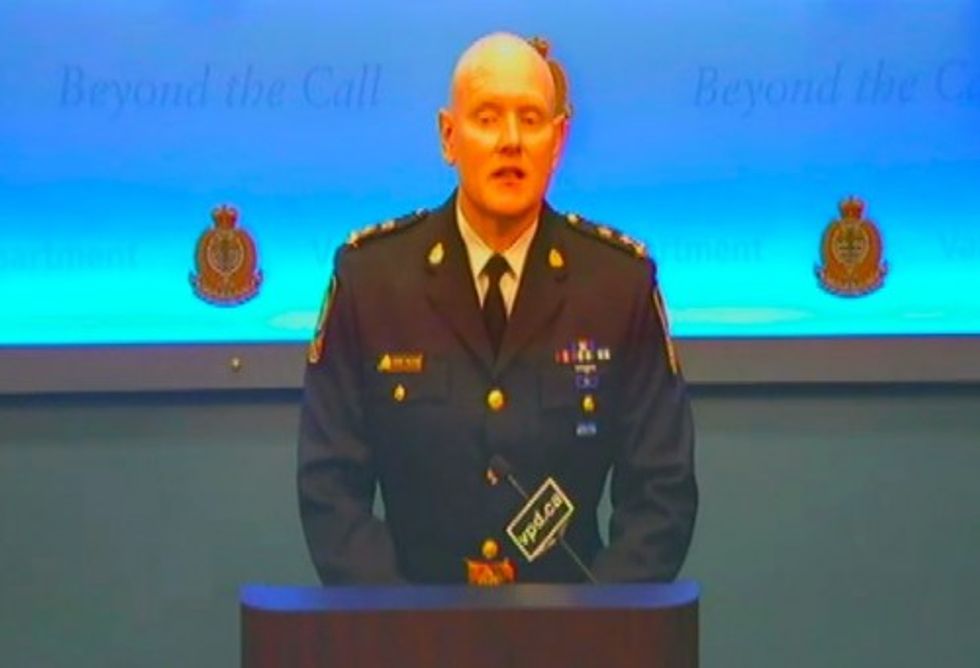 Image source: Vancouver police
When police were asked during Friday's press conference why the department didn't release the photos in the first place, the spokesman said photos in cases like this aren't released "unless we think there's an imminent threat or public safety risk."
The spokesman added that the men in the photos are "not arrestable" at this time, and that given the heightened public concern their jobs could be affected when there "may be reasonable explanations" for their actions, such as if they are contractors or tourists.
When it was asked "is there not a concern here" given terrorism "all over the world," the spokesman said "we do keep an open mind" but that people shouldn't "jump to conclusions. We don't know what we're dealing with." Police are following up on tips.
Original story below
Vancouver police said "three Middle Eastern-looking men" were spotted in a downtown mall in the western Canadian city photographing entrances and exits Tuesday evening — and the department is investigating it as a "suspicious incident."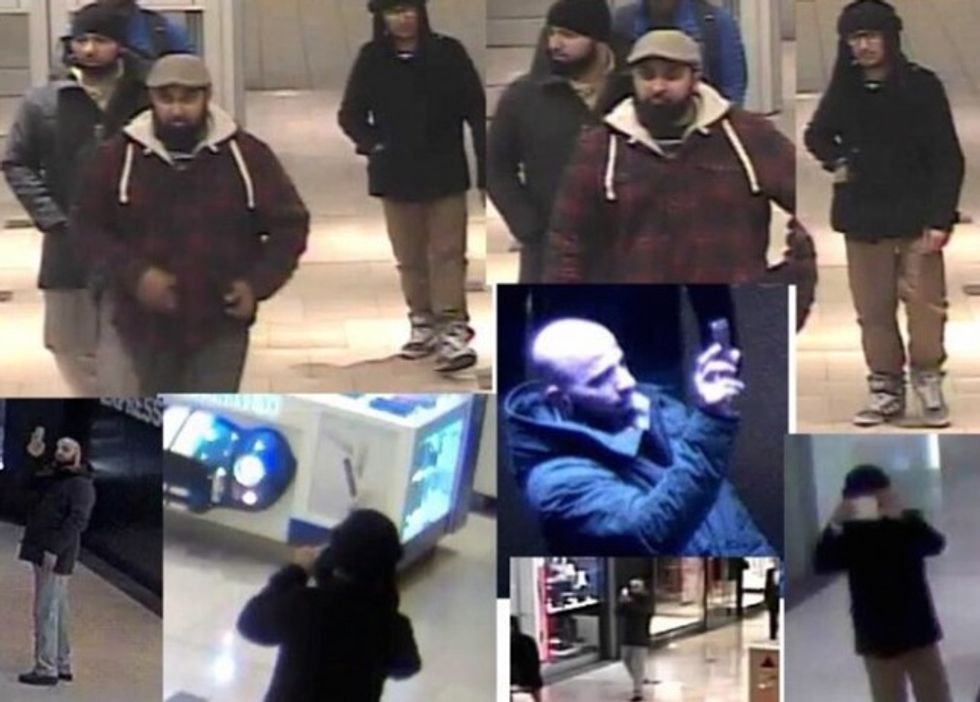 Images of the three men seen photographing in the Pacific Centre Mall were from a Vancouver police internal memo and sent to the media by an unknown source within the department, a police spokesman said Friday. (Image source: VanCity Buzz)
"There is no information to believe that these men have committed a crime," the police statement said regarding the what was seen at Pacific Centre Mall. "Nor do we have information to believe that the public is currently at risk."
But CTV News spoke to an international terrorism and security expert who said the men's actions are troubling.
"Looking at the pictures, these people are not tourists, obviously," Andre Gerolymatos told the station. "And they're not taking pictures for their families. They're checking out the area, and it could be consistent with what terrorists do before an attack. I'm not saying it is a pre-attack, but it's pretty close."
Mall security "tried locating [the] males but were unsuccessful," Global News reported, citing a Vancouver police internal memo. The outlet added that the trio were focusing "in particular on the Dunsmuir Street exit."
VanCity Buzz reported that the men were taking "360 video" of the locale, which is the city's primary shopping mall with about 100 stores over three city blocks in the Central Business District and direct footpath connections to SkyTrain's Expo, Millennium, and Canada lines.
Police are holding press conference at 1:30 p.m. ET Friday hat can be viewed on livestream. They've also asked anyone with information about these men to call 604-717-3235.