Sheriffs across the country are becoming more vocal about the need for U.S. citizens to arm themselves as they prepare for possible terrorist attacks and shootings, according to an article published by the Washington Post on Monday.
Many proponents of the Second Amendment speculate that sheriffs' increased calls for arming citizens have arisen from the recent terror attacks both at home and abroad, as well as rising fears concerning President Barack Obama's calls for changes in gun control policies and legislation, according to Fox News.
"That has helped play into it, and there's no doubt the active shooter scenario has, too. You're seeing people say, 'How do you respond?'" said Alan Gottlieb, the founder of the Second Amendment Foundation, according to Fox News. "Historically, sheriffs have been very pro-gun rights. But they've stepped out of the box and they're now publicly making it known that firearms are good for self-defense."
Brevard County Sheriff Wayne Ivey in Florida gained widespread media attention last month when he urged U.S. citizens to arm themselves against terrorist and criminal attacks as a necessary course of action.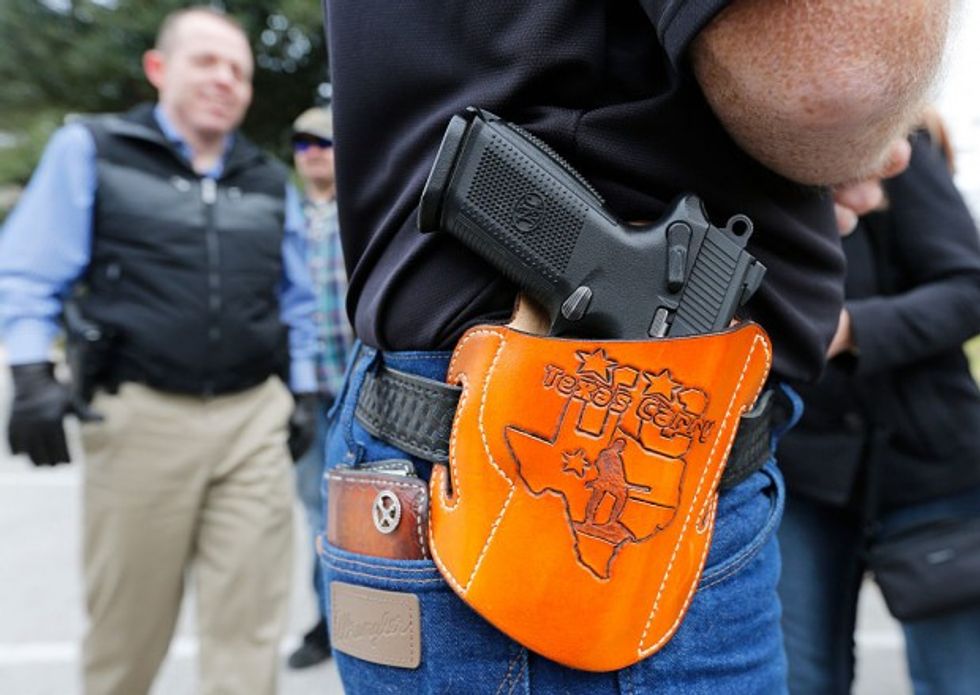 AUSTIN, TX - JANUARY 1: On January 1, 2016, the open carry law took effect in Texas, and 2nd Amendment activists held an open carry rally at the Texas state capitol on January 1, 2016 in Austin, Texas. (Photo by Erich Schlegel/Getty Images) 
"You have to already be prepared to be that first line of defense," Ivey told Florida Today. "Nothing in [Obama's] gun regulation does anything to stop any of the active shootings that have taken place. The Second Amendment is very clear in what it says."
Other U.S. sheriffs have continued to add their voices to Ivey's call. The Washington Post noted that one sheriff in Wisconsin is urging "as many law-abiding citizens to arm themselves in this country as we can get," while another one in New York has told all citizens licensed to carry a gun to "please do so." A sheriff in Florida even went so far as to add, "I can tell you the probability of needing a firearm is remote, but it's more important to have a gun in your hand than a cop on the phone."
Despite these increased calls for encouraging legally licensed citizens to carry their weapons, anti-gun groups still maintain that allowing guns into the home will incur more risks than rewards.
"Removing all of the ideological issues, it's just bad advice," said Ladd Everitt, the director of communications for the Coalition to Stop Gun Violence, according to the Washington Post. "It's asking people to incur risk. To us, it reflects this reckless view of firearms that's common in this pro-gun movement today."
Nevertheless, Dave Workman, a spokesman for the Second Amendment Foundation, told the Washington Post that sheriffs, as elected officials, are supposed to "do what's best for their constituents."
"It's kind of an honest way to approach things – you can't have deputies everywhere at once," Workman said. "Sheriff's departments can't field as many deputies as they'd like to...For sheriffs to make that suggestion, I think, it points to the fact that we're responsible for our own safety."
(H/T: Washington Post)
–
Follow Kathryn Blackhurst (@kablackhurst) on Twitter