As rumors swirled Tuesday morning about a possible Sarah Palin endorsement of billionaire businessman Donald Trump for president, CNN political commentator S.E. Cupp said she was baffled by the possibility.
During an interview on CNN Tuesday, Cupp wondered aloud why Palin wants Democratic front-runner Hillary Clinton to "win so badly."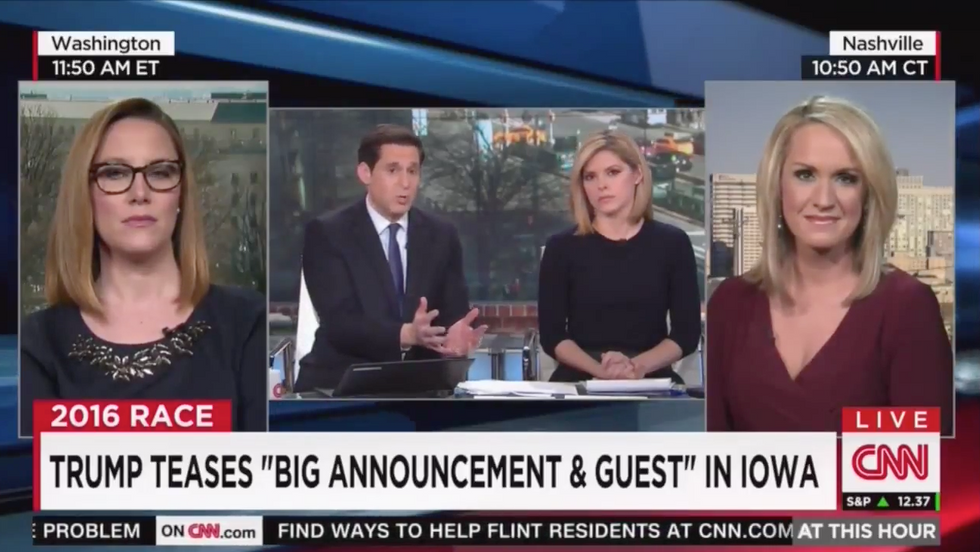 Image source: Youtube
"Frankly, as much as I like Sarah Palin, I'm just wondering why she wants Hillary Clinton to win so badly," Cupp said. "Because I think if Trump is the nominee, as others have said, I think Trump gets creamed by Hillary."
Cupp added that Palin still has a good bit of credibility among the Tea Party crowd but predicted that a Palin endorsement wouldn't bring many more conservatives, or moderates, into the Trump bandwagon.
However, Cupp did concede that any time Trump receives an endorsement or other "trappings of a traditional campaign," it lends more credibility to his campaign.
Cupp has been very critical of Trump and his campaign over the last few months. In early December, she penned a column urging Trump to run as an independent, because if he does, he'll "likely pull enough votes away from Republicans to ensure a Democratic victory." And according to Cupp, four years under Clinton would not be as bad as four years under Trump.
Trump's "special announcement" will take place in Ames, Iowa, Tuesday evening at 6 p.m. EST.
Watch Cupp's comments below:
—
Follow the author of this story on Twitter and Facebook:
[facebook //www.facebook.com/plugins/like.php?href=