The Center for Medical Progress has released another recap video of their findings, just days after Planned Parenthood announced that they have filed a federal lawsuit against the pro-life group.
The video, titled "‪'COVER-UP' — Planned Parenthood's Attempt to Hide Their Baby Body Parts Scheme‬," showcases footage of Planned Parenthood executives appearing to negotiate the sale of aborted fetal body parts and expressing that they do not wish "to get caught."
The controversial undercover videos have raised allegations that the nation's largest abortion provider is trafficking in body parts, a claim Planned Parenthood's spokespersons have denied.
"Planned Parenthood cannot deny that its own senior leadership is caught on camera participating in a widespread and organized violation of state and federal laws against fetal body parts trafficking," David Daleiden, the founder of the Center for Medical Progress, said in a statement. "Instead, Planned Parenthood can only attempt to distract the public and cover up the evidence of its lawlessness."
"Planned Parenthood is organized like a franchise, with over 50 local branches, or 'affiliates,' sharing the Planned Parenthood brand name and receiving operations support from the national office," Daleiden continued. "Planned Parenthood executives repeatedly told CMP investigators that the national office attempts to minimize its own liability for violations of fetal tissue laws by refusing to keep any written policy or guidelines around the payments and having local affiliates independently handle contracts and negotiations to sell body parts without any oversight. Planned Parenthood's dubious new 'policy' not to take any money for supplying fetal parts is exactly the sort of policy that top-level Planned Parenthood executives told CMP investigators could never be implemented."
"Planned Parenthood's feigned innocence about its affiliates' baby parts sales is in reality nothing more than a coordinated cover-up to avoid prosecution," Daleiden added. "This should be a red flag for law enforcement and public officials, and they must listen to the broad public mandate for Planned Parenthood to be held accountable under the law and intensify their scrutiny of this lawless and unaccountable abortion business."
Last week, Planned Parenthood Federation of America and all seven Planned Parenthood affiliates in California filed a federal lawsuit over what they called in their complaint a "complex criminal enterprise" orchestrated by the Center for Medical Progress.
Troy Newman, the president of Operation Rescue and a former board member for the Center for Medical Progress, was also named on the lawsuit.
"Planned Parenthood lawsuits will not make me quit," Newman said in a statement. "I have read too many autopsy reports of women they have murdered, I have held the remains of babies they butchered, I have read the lies they spew in depositions, and I have witnessed their gruesome crimes against humanity. Nothing short of my life will stop me from the relentless pursuit of the truth to expose the barbaric bloodshed of Planned Parenthood. I will not stop, I will not relent. May God empower me to fight this treachery of human life to my last breath."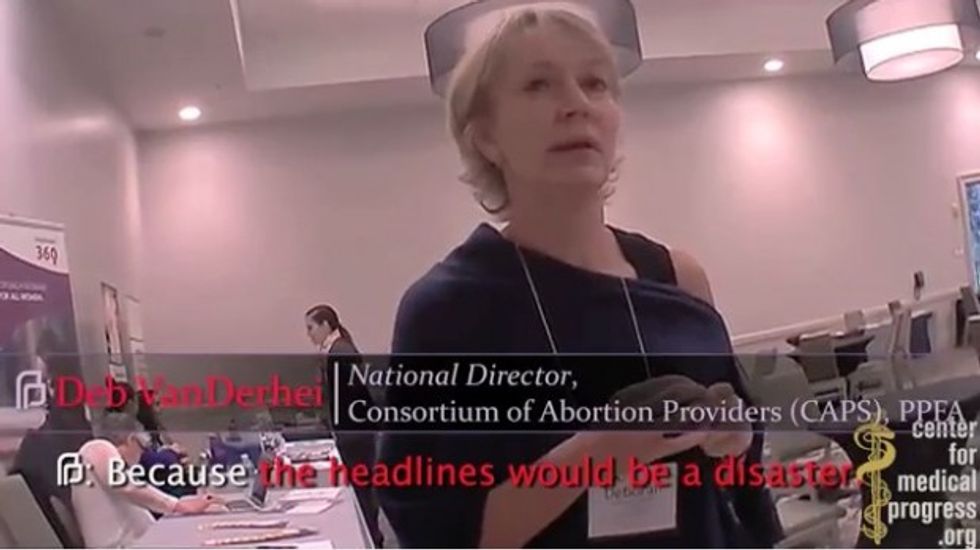 Image source: Center for Medical Progress
Spokespersons for Planned Parenthood have dismissed the videos as "heavily edited," denied making a profit from illegal transactions and claimed that they are merely "reimbursed" for expenses associated with "tissue donation."
"The people behind this fraud lied and broke the law in order to spread malicious lies about Planned Parenthood," Dawn Laguens, the executive vice president of Planned Parenthood Federation of America and Planned Parenthood Action Fund, said in a statement regarding the lawsuit. "This lawsuit exposes the elaborate, illegal conspiracy designed to block women's access to safe and legal abortion, and we filed the case to hold them accountable."
"Daleiden and his co-conspirators' goal in releasing these grossly misleading videos was to disrupt Planned Parenthood's operations to prevent millions of women and men from getting the care we provide," Laguens continued. "But their ultimate goal is to make all abortion illegal and they will stop at nothing — including breaking the law and lying — to pursue their misguided and deeply unpopular agenda."
This post has been updated to reflect that Troy Newman is a former board member for the Center for Medical Progress. 
—
Follow Kate Scanlon (@kgscanlon) on Twitter