The Payne family thought that dog, Liam, was long gone after he ran away from their Bentonville, Arkansas, home two years ago. But two years and 2,000 miles later, the beloved pet has been reunited with his family, thanks to the help of a friendly neighbor — on the West Coast.
Liam covered a lot of ground during his two years as a vagabond pooch, trekking all the way to Ontario, California.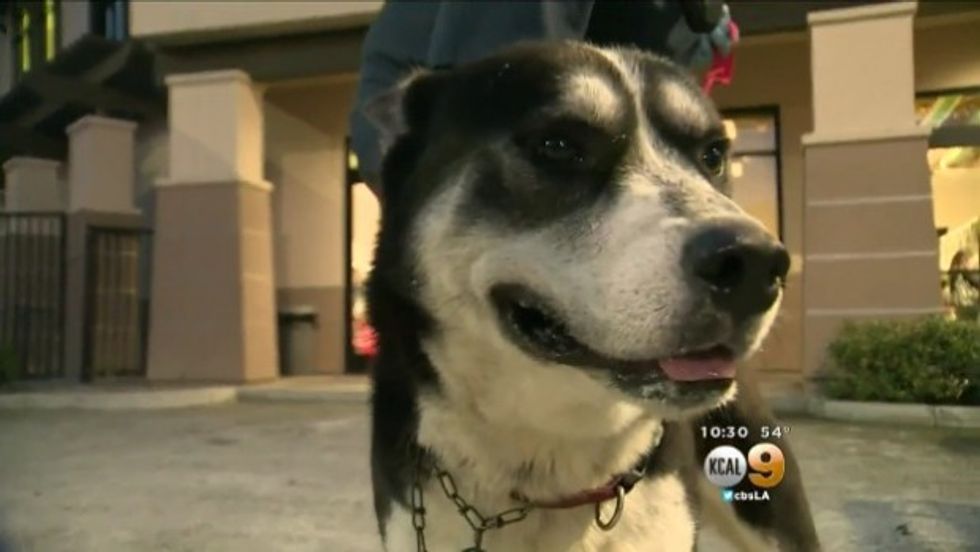 Image source: KCBS-TV
The 4-year-old husky mix, who has spent half his life wandering westward, was found a week ago roaming the streets of Ontario by a kind stranger who called the Inland Valley Humane Society, KCBS-TV reported.
When an animal control officer arrived to retrieve Liam, he discovered he was microchipped and was able to trace him back to Arkansas.
"Fortunately for the dog owner, they have the same address, the same phone number," James Edward of the Inland Valley Humane Society told KCBS. "He was completely shocked and beside himself at the fact that his dog two years later was out here in California."
Billy Payne told the outlet that after Liam wandered off, his daughters spent months searching for him, with no luck. But now, their luck has shifted.
The Paynes had no idea how Liam got all the way to California or how long he'd been there, but they were certainly eager to be reunited.
Payne provided KCBS with video of him breaking to miraculous news to his daughters. One daughter was completely speechless, while the other jumped up and down, ecstatic and screaming, "Yes! I knew it!"
According to The Humane Society, the Paynes can't afford to bring Liam home yet and have asked the public for donations to help fly him back to Arkansas.
(H/T: KCBS-TV)