The International Monetary Fund said nearly 4 million migrants will arrive in Europe by the end of 2017 — a rate of 1.3 million per year from 2015 to 2017.
For perspective, the three-year migration figure equals the population of Oklahoma.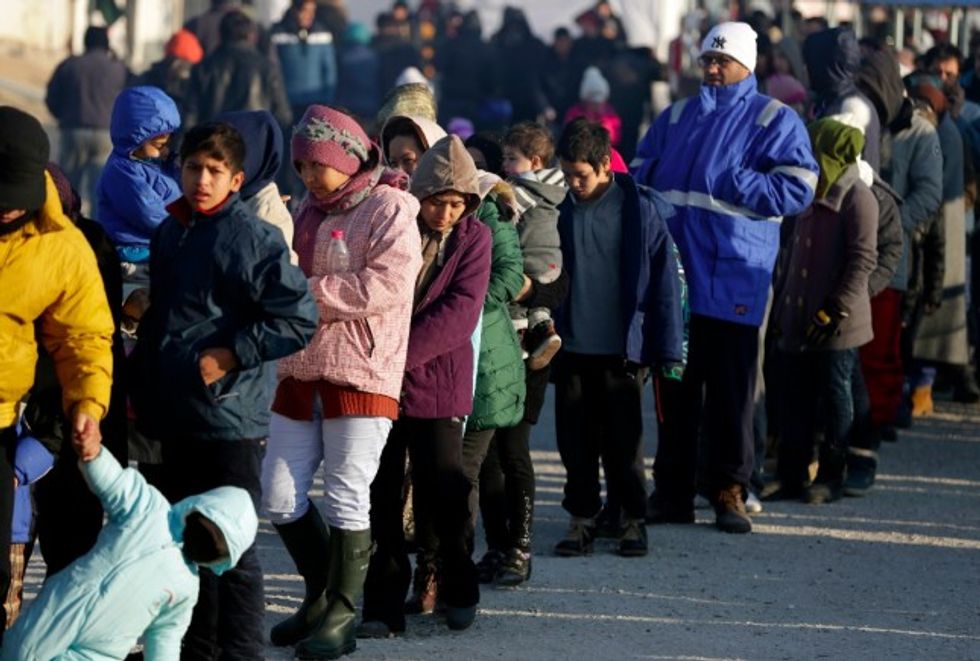 People form a line as they wait to receive food distributed by non-governmental organizations at a refugee camp in the northern Greek village of Idomeni Thursday, Jan. 21, 2016. About 1,000 refugees from Syria, Afghanistan and Iraq are stranded at Greece's northern border with Macedonia, after Macedonian authorities stopped letting them through citing problems with transit flows further north on the Balkan route which have caused a chain reaction. (AP Photo/Thanassis Stavrakis)
That IMF prediction exceeds the numbers forecasted by the European Union, Britain's Telegraph reported Wednesday.
The international agency warned of difficulties the newcomers face in finding work due to language barriers and job qualifications.
"International experience with economic immigrants suggests that migrants have lower employment rates and wages than natives, though these differences diminish over time," the IMF said in a statement quoted by the Telegraph.
"Slow integration reflects factors such as lack of language skills and transferable job qualifications, as well as barriers to job search," the IMF added.
The IMF also expressed concern that migrants could take away local jobs, especially given high unemployment rates in some areas, Britain's Daily Mail noted. The agency recommended easing travel restrictions on migrants to allow them to find jobs.
An IMF study is to be formally presented this week at the World Economic Forum meeting in Davos, Switzerland, the Daily Mail reported.
A German newspaper reported Wednesday that 200 migrants had sued the German government over delays in processing their asylum applications which in turn thwarted their efforts to seek public assistance and jobs.