More than 200 migrants have sued the German government over claims that their asylum applications are not being processed quickly enough, German media reported.
The German newspaper Rheinische Post discovered the lawsuits after surveying all seven administrative courts in the state of North Rhine-Westphalia, the English-language website The Local reported Wednesday.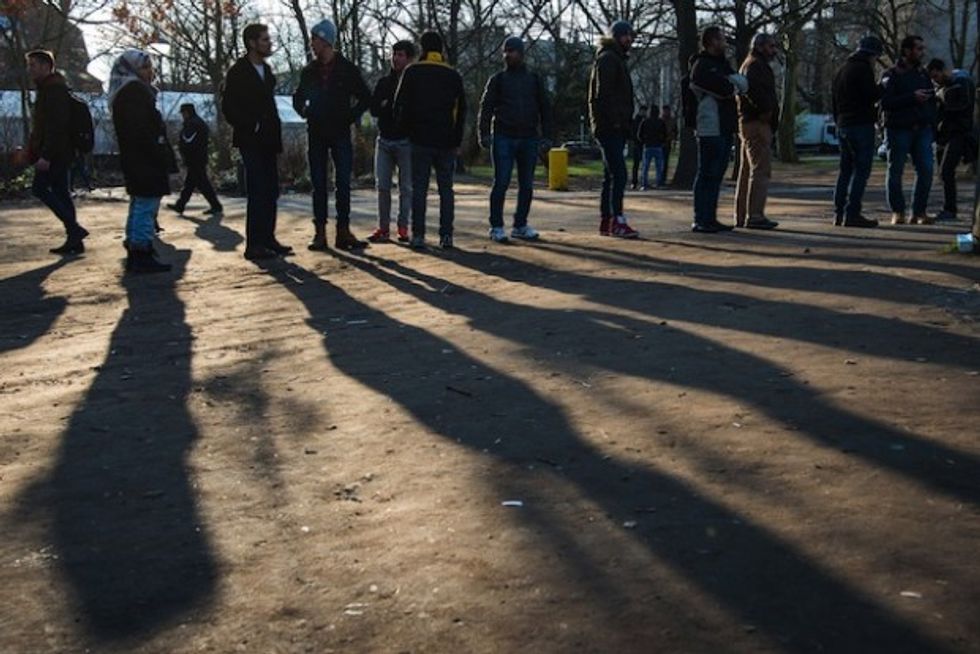 Asylum-seekers line up outside the State Office of Health and Social Affairs registration center in Berlin Dec. 29. Germany's federal states plan to spend about 17 billion euros (around $18 billion) in 2016 for the country's record refugee influx, said a newspaper survey Tuesday of their finance ministries. (John MacDougall/AFP/Getty Images)
Among the migrants suing the Federal Office for Migration and Refugees, some have been waiting on their asylum status ruling for more than a year.
Rheinische Post noted that the number of asylum cases the office had not yet ruled on last year was 250,000; however, the figure has now grown to 360,000.
German media reported in October on previous lawsuits filed by asylum-seekers against Berlin's largest registration center, claiming they had not been registered promptly, a prerequisite for receiving social benefits.
The German news outlet DW reported then that one of the benefits registered migrants receive is housing.
"Uncertainty about when an asylum application will finally be decided drives many people to despair," North Rhine-Westphalia Justice Minister Thomas Kutschaty told Rheinische Post.
"It can't be the case that asylum seekers are forced to take legal action against the state after crossing the border, so that it finally makes a decision about their application," Kutschaty said.
Some 1.1 million migrants arrived in Germany in 2015, as Chancellor Angela Merkel's government struggles to cope with the massive influx.
Vice Chancellor Sigmar Gabriel earlier this week threatened to cut off aid to North African countries which do not agree to take back their citizens, nearly all of whom would not qualify for asylum.