UPDATE — 8:44 p.m. ET: Police revised the death toll to four, not five as was previously stated by the prime minister.
Update: RCMP says 4 people dead following La Loche school shooting, not 5 as previously reported - Newstalk1010, CBC https://t.co/gf1FYEqWqB

— Breaking News (@BreakingNews) January 23, 2016
—
TORONTO (AP) — A shooter opened fire at a high school and a second location in a northern Saskatchewan community on Friday, leaving five dead and two others critically injured, Canada's prime minister said.
Prime Minister Justin Trudeau said from Davos, Switzerland that a suspect was in custody.
"This is every parent's worst nightmare," Trudeau said. "The community is reeling."
PM says Canadians grieve with people of #LaLoche, #Saskatchewan after 5 killed in school shooting. Says 'the country's heart is breaking.'

— CBC News Alerts (@CBC News Alerts)1453505552.0
Trudeau said the shootings occurred at a high school and another location but did not release any information on the second location. School shootings are rare in Canada.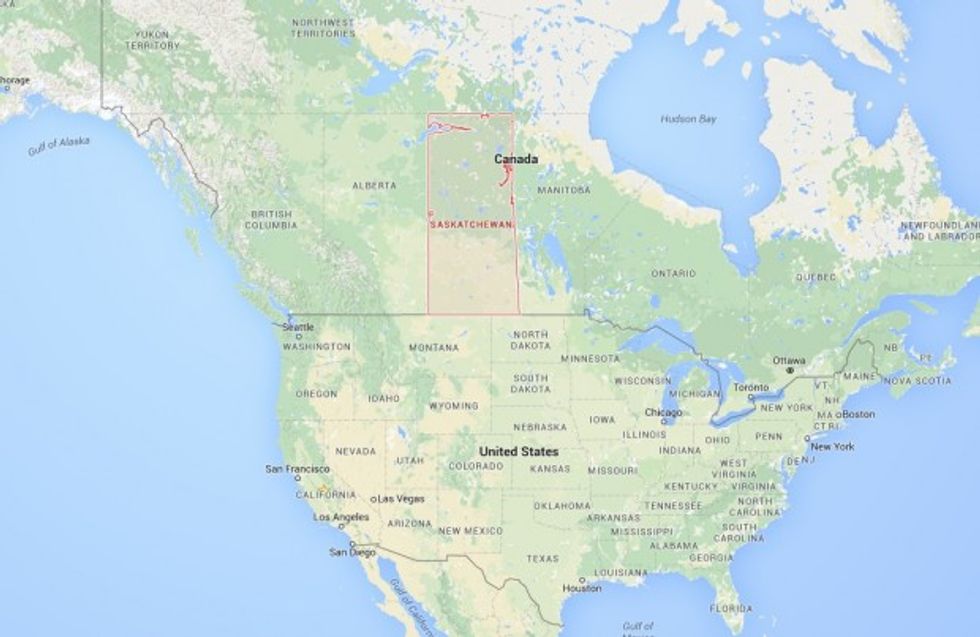 Image source: Google Maps
The grade 7 through 12 La Loche Community School is in the remote aboriginal community of La Loche, Saskatchewan. The school's Facebook page said it would remain on lockdown until the Royal Canadian Police resolve the matter. It asked the public to stay away.
It was unclear how many died at the school. Police have yet to announce any details.
Saskatchewan Premier Brad Wall earlier confirmed the shooting.
"Words cannot express my shock and sorrow at the horrific events today in La Loche. My thoughts and prayers are with all the victims, their families and friends and all the people of the community," he said in a statement.
[sharequote align="center"]"Words cannot express my shock and sorrow at the horrific events today..."[/sharequote]
The area's representative in parliament, who attended the same school, was setting up a constituency office in the community when the shooting occurred.
"We're fairly shaken up. It's a sad day," said Georgina Jolibois, who was mayor of La Loche until she was elected to parliament last fall. "My own nieces and nephews were inside the school."
Jolibois said she went to the school and spoke with some of her family members, who were unharmed. She wouldn't reveal details of the shooting, saying she preferred that police release the information.
—