Democratic presidential candidate Hillary Clinton has secured endorsements from several of President Barack Obama's Cabinet members, including Agriculture Secretary Tom Vilsack, Housing and Urban Development Secretary Julian Castro, Labor Secretary Tom Perez and Transportation Secretary Anthony Foxx.
These officials and any others should proceed with caution, warned former Iowa U.S. Attorney Matthew Whitaker in a letter to each Cabinet secretary Monday.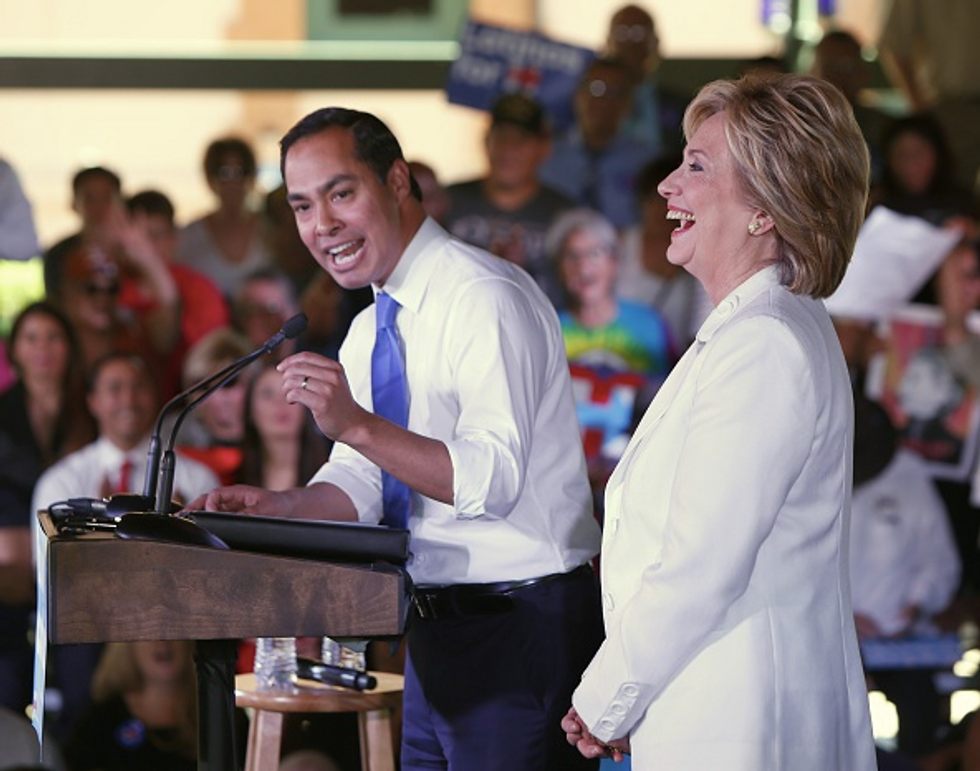 Secretary of Housing and Urban Development Secretary Julian Castro introduces Democratic presidential hopeful Hillary Clinton at a "Latinos for Hillary" event Oct. 15 in San Antonio. (Erich Schlegel/Getty Images)
In 2012, the U.S. Office of Special Counsel cited then-Health and Human Services Secretary Kathleen Sebelius for violating the Hatch Act, which restricts political activity of federal employees. Sebelius, while giving a speech in North Carolina under her official capacity as a Cabinet secretary, called for voters to support President Barack Obama's re-election and to back the state's Democratic candidate for governor.
In citing the violation, the Office of Legal Counsel advised the White House to "remind federal employees of the complex Hatch Act restrictions."
"Reports that the White House has not given any formal guidance to Cabinet members when it comes to engaging in presidential politics is very troubling," said Whitaker, executive director of the Foundation for Accountability and Civic Trust.
The letter comes just a week before the Iowa Caucus while Clinton is campaigning relentlessly to win the first presidential nominating contest.
"As an employee of the federal government, you are subject to the Hatch Act, under which federal employees are prohibited from using their official authority or influence to interfere with or affect the outcome of an election," the letter to cabinet officials said. "Violations of the Hatch Act are a serious offense for government officials, particularly at the cabinet level."
The White House did not immediate respond to questions from TheBlaze on this story.