A Harris County grand jury indicted David Daleiden, the founder of the Center for Medical Progress and Sandra Merritt for their roles in the release of undercover videos of Planned Parenthood executives on Monday.
Both Daleiden and Merritt were indicted for tampering with a governmental record.
The grand jury issued an additional indictment for Daleiden for prohibition of the purchase and sale of human organs.
The grand jury did not indict Planned Parenthood Gulf Coast.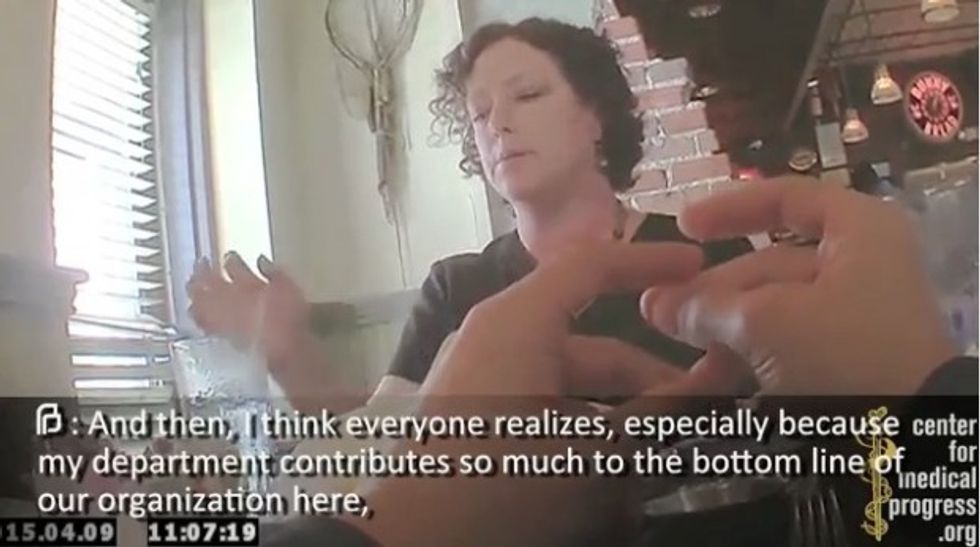 Image source: The Center for Medical Progress
"The Center for Medical Progress uses the same undercover techniques that investigative journalists have used for decades in exercising our First Amendment rights to freedom of speech and of the press, and follows all applicable laws," Daleiden said in a statement. "We respect the processes of the Harris County District Attorney, and note that buying fetal tissue requires a seller as well. Planned Parenthood still cannot deny the admissions from their leadership about fetal organ sales captured on video for all the world to see."
"We were called upon to investigate allegations of criminal conduct by Planned Parenthood Gulf Coast," Harris County District Attorney Devon Anderson said in a statement. "As I stated at the outset of this investigation, we must go where the evidence leads us. All the evidence uncovered in the course of this investigation was presented to the grand jury. I respect their decision on this difficult case."
The Center for Medical Progress has released a series of controversial undercover videos depicting senior executives at Planned Parenthood appearing to negotiate the price of aborted fetal body parts. Profiting from the sale of human organs – including those of the unborn – is a felony in the United States. Planned Parenthood has denied illegal conduct and recently filed a lawsuit against the group.
During the course of the Center for Medical Progress' investigation, actors portraying buyers from a human biologics company recorded their conversations with the Planned Parenthood employees.
In one of the videos released by the pro-life group, Melissa Farrell, the director of research for Planned Parenthood Gulf Coast, says, "If we alter our process, and we are able to obtain intact fetal cadavers, we can make it part of the budget that any dissections are this, and splitting the specimens into different shipments is this."
"It's all just a matter of line items," Farrell added.
"I think everyone realizes, especially because my department contributes so much to the bottom line of our organization here, you know we're one of the largest affiliates, our Research Department is the largest in the United States," Farrell continued. "Larger than any the other affiliates' combined."
"As we have always said, Planned Parenthood provides high-quality, compassionate health care and has done nothing improper. Planned Parenthood has never 'sold' fetal tissue or facilitated fetal tissue donation in order to profit. These claims are completely false and unfounded," Melaney Linton, the president and CEO of Planned Parenthood Gulf Coast, said in a statement.
"The people behind this fraud lied and broke the law in order to spread malicious lies about Planned Parenthood to advance their extreme anti-abortion political agenda," Linton added. "As the dust settles and the truth comes out, it's become totally clear that the only people who engaged in wrongdoing are the criminals behind this fraud, and we're glad they are being held accountable."
A spokesperson for Planned Parenthood Federation of America did not immediately return TheBlaze's request for comment.
In an op-ed for USA Today published on Monday, Daleiden wrote that the videos reveal the "ugly truth" about the nation's largest abortion provider.
"Not a single Planned Parenthood executive caught on camera has come forward to deny that it is her voice, image or statements being depicted," he wrote.
"The truth will continue to come out through the congressional probe, through the ongoing state investigations and through the frivolous lawsuit Planned Parenthood now brings in retaliation for its exposure," he added.
After the indictment, Gov. Greg Abbott (R-Texas) tweeted:
Despite today's decision in Harris Co. about Planned Parenthood Texas will continue to protect life & investigate @PPact practices. #txlege

— Greg Abbott (@Greg Abbott)1453762291.0
"The Health and Human Service Commission's Inspector General and the Attorney General's office have an ongoing investigation into Planned Parenthood's actions," Abbott said in a statement. "Nothing about today's announcement in Harris County impacts the state's ongoing investigation. The State of Texas will continue to protect life, and I will continue to support legislation prohibiting the sale or transfer of fetal tissue."
This story has been updated to include a statement from David Daleiden.
—
Follow Kate Scanlon (@kgscanlon) on Twitter