News of an additional debate in New Hampshire for Democratic presidential contenders was celebrated by a group of the Granite State's Democrats Tuesday night, even as the debate's future remains uncertain.
The New Hampshire Debates group — a coalition of progressives upset over the DNC's official debate schedule — applauded the news of the additional debate that will be hosted by NBC News and the Union Leader. Yet as the DNC has not showed signs of officially sanctioning the debate, Vermont Sen. Bernie Sanders' campaign has already declined to participate.
"DNC has said this would be an unsanctioned debate, so we would not want to jeopardize our ability to participate in future debates," Jeff Weaver, a Sanders spokesman, said. "We think there should be at least three or four more debates following the ones that are currently scheduled. We will be working with the DNC and other campaigns to schedule additional debates."
Democratic presidential candidates, left to right, Vermont Sen. Bernie Sanders, Hillary Clinton and former Maryland Gov. Martin O'Malley take part in a presidential debate in Las Vegas Oct. 13. (Joe Raedle/Getty Images)
Sanders' opposition to the debate came as a shock to many within the group, one New Hampshire lawmaker who wished not to be named told TheBlaze Wednesday morning.
In an email sent to TheBlaze, the coalition, comprised of a myriad of supporters of Sanders, former Secretary of State Hillary Clinton and former Maryland Gov. Martin O'Malley, urged all three candidates to participate in the upcoming event.
New Hampshire state Rep. Susan Almy (D), who has endorsed Clinton, told TheBlaze Wednesday that she was initially worried that it would be her candidate who would opt out of the debate.
"I do think that it's very disingenuous of the Sanders campaign that at this point they have decided they aren't going to go through with it," Almy said.
Another member upset with Sanders' decision and wishing to remain anonymous pointed out that more than a dozen members of the senator's New Hampshire steering committee actually worked on the New Hampshire group that set up the unsanctioned debate.
"Sen. Sanders has been out there talking about a 'political revolution,' but at this time, it's not politically expedient for him to have a debate between Iowa and New Hampshire, so he's decided not to join in," a campaign staffer for one of the other Democratic candidates told TheBlaze. "I don't think that you can have it both ways. I don't think that you can be the candidate who casts yourself as starting a political revolution and being beyond politics, and then at this moment where literally all that's standing between the voters of New Hampshire having another debate ... is Sen. Sanders."
"The reason why he's doing that is because it's not politically expedient for him anymore," the staffer continued. "A week ago, he was wanting to have more debates. I'm not sure what's changed in a week for him."
According to RealClearPolitics' aggregated polling data, Sanders leads Clinton by 14.7 points in New Hampshire.
On Wednesday, Clinton, who has stated a willingness to participate in the debate, publicly urged Sanders to follow suit.
"Look, I'm ready for the debate, and I hope Sen. Sanders will change his mind and join us," Clinton said during an interview with MSNBC. "I think the DNC and the campaigns should be able to work this out. I've been for, you know, for a long time, that I'd be happy to have more debates, and I hope we can get this done."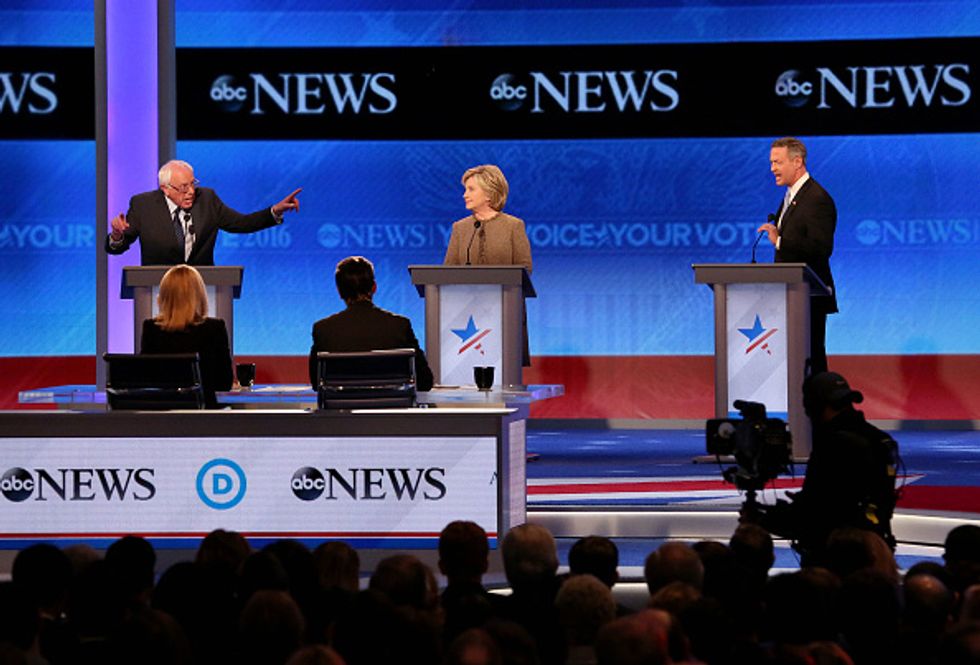 Democratic presidential candidates, left to right, Vermont Sen. Bernie Sanders, Hillary Clinton and former Maryland Gov. Martin O'Malley debate at Saint Anselm College in Manchester, New Hampshire, Dec. 19. (Andrew Burton/Getty Images)
The DNC and its chairwoman, Rep. Debbie Wasserman Schultz (Fla.),  have faced harsh criticisms this election for the small number of debates scheduled as well as the fact that some of the debates were scheduled for weekends. One of the most vocal critics of the DNC's handling of the debates all along has been O'Malley.
"From the second this debate schedule was put out, there were leaders from across all the campaigns raising their voices over how absurd it was, and in particular how crazy it was that for the first time in over 30 years there wouldn't be a debate between Iowa and New Hampshire," John Bivona, a spokesman for O'Malley's campaign told TheBlaze.
"We can't be afraid to talk about the issues that we care about as Democrats," Bivona said. "We can't be afraid to put that in the public. The governor likes to say, 'How you campaign is an indication of how you're going to govern.' And if you're not willing to talk about the issues that you care about in front of the American people, then are you really going to be able and willing to go to bat for them?"
Bivona applauded O'Malley's stance that the party should not be able to limit the number of debates between candidates during the election cycle and said the governor showed "courage" by not backing down from that belief.
Several of the New Hampshire Debates' members also criticized the DNC's debate schedule.
State Rep. Jackie Cilley (D) told TheBlaze that New Hampshire voters are notorious for deciding on their candidates at the very last minute and are serious about the state's traditions — including the tradition of holding a debate between the Iowa caucuses and the New Hampshire primary.
"Many of us, and myself included, have been extremely disappointed at the party structure, the DNC, having such a limited number of debates and holding them at such an incredibly poor time," Cilley said. "It's sort of hard to look [at the debate schedule] and say there wasn't some design behind it. I hear from folks that there's a lot of skepticism for the motivation to clinging to that debate schedule."
Because of the different structure of the debate schedules, Cilly said that Republican presidential candidates have been able to get their messages out to voters "incredibly well" in comparison to her party's candidates.
"Their party has been able to vet their candidates quite clearly by having a robust debate schedule held at times when they can maximize the exposure," she said, adding that it's a "disservice to Democratic voters" not to have the same kind of coverage and exposure.
Almy said that, as she's gone door to door to speak with voters, she has noticed that no one has paid attention to the debates because "they were at such awful times."
"A number of [voters] that I've been talking to do not go online much or at all and so are dependent on the airways and newspapers for information; we are an older community," she said. "There are a lot of things about all the candidates that they do not know."
"Who's going to go watch a debate on television on a Saturday night the week before Christmas," she said.
And while Almy said she hopes a debate would continue even with just Clinton and O'Malley, Cilley said she hoped all three candidates would participate, saying, "It's bigger than them. It's really an issue of service to voters in the state of New Hampshire."
In a statement Tuesday, Wasserman Schultz said the DNC has "no plans to sanction any further debate."
"We have consistently worked with our campaigns to ensure a schedule that is robust and that allows them to engage with voters in a variety of ways, whether through debates, forums, town halls, but also leaving them the flexibility to attend county fairs and living room conversations in states like Iowa and New Hampshire where direct voter contact matters so much," the DNC chairwoman said.
The Sanders campaign did not respond to multiple requests for comment from TheBlaze.