© 2023 Blaze Media LLC. All rights reserved.
He Should Know Better': Glenn Beck Reacts to Liberty University President Jerry Falwell Jr.'s 'Disappointing' Trump Endorsement
Beck says Falwell's endorsement of Donald Trump is "beyond me."
Glenn Beck offered mixed emotions Wednesday morning in response to Liberty University President Jerry Falwell Jr.'s endorsement of billionaire businessman Donald Trump for the Republican presidential nomination.
"It's disappointing," Beck said on The Glenn Beck Radio Program, adding that he believes Falwell is a "great man" and that he "can't say anything bad" about Liberty.
Beck, who delivered the commencement address at Liberty in 2010 and spoke at the university's convocation in 2014, went on to praise the college, saying that even though he is Mormon he would send his children to the evangelical school "because Liberty University teaches the fundamental principles."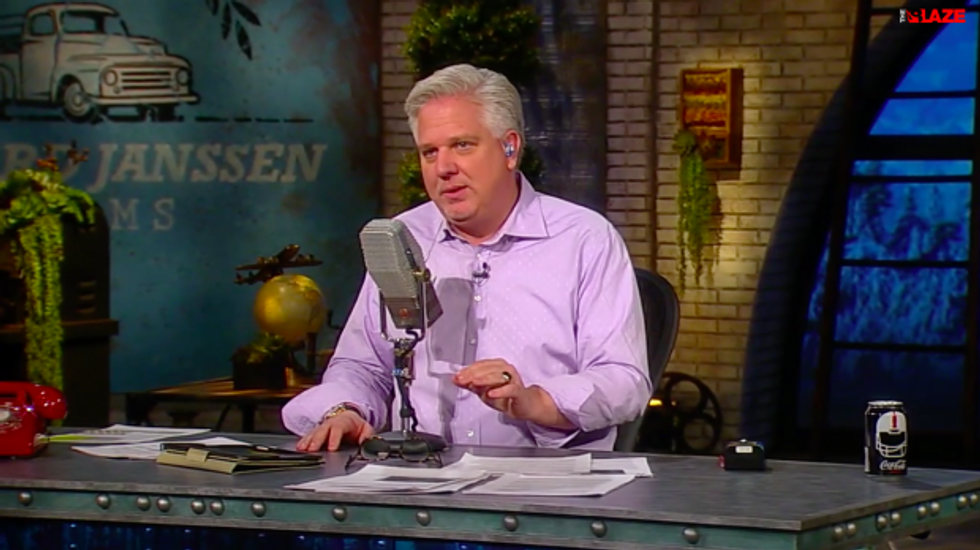 Glenn Beck discusses Jerry Falwell Jr.'s endorsement of Donald Trump Jan. 27. (Image source: TheBlaze TV)
Though the radio show host had nothing but high praise for Falwell personally, he did seem to find the university leader's endorsement troubling, claiming that Falwell's choice to back Trump is "beyond me."
The main reason Beck is bothered by Falwell's endorsement seems to be his lack of confidence in Trump to protect religious liberty, should he become president.
"How [Falwell] can think that Donald Trump is going to be the guy who is going to pick four Supreme Court justices that will protect religion is beyond me," Beck said.
There is the possibility that the incoming president could make several Supreme Court appointments over his or her term in office because the average age for a Supreme Court justice is 75. A few justices are in their late 70s and Justice Ruth Bader Ginsburg is currently 82.
Beck went on to suggest that because Liberty has "one of the best law schools in the country" and even houses a mock Supreme Court, he believes Falwell "should know better."
According to Beck, voters are "crying out for a king right now," which he says "never ends well."
Ultimately, though Beck is very much at odds with Falwell's endorsement, he said Falwell is a man "I love and adore."
Beck concluded by saying that it's "not in" Trump to select justices who will defend religious freedom but that he and Falwell will just have to agree to disagree.
"To each his own," Beck said.
Complimentary Clip from TheBlaze TV The full episode of The Glenn Beck Program, along with many other live-streaming shows and thousands of hours of on-demand content, is available on just about any digital device. Click here to watch every Glenn Beck episode from the past 30 days for just $1!
—
Follow the author of this story on Twitter:
Want to leave a tip?
We answer to you. Help keep our content free of advertisers and big tech censorship by leaving a tip today.
more stories
Sign up for the Blaze newsletter
By signing up, you agree to our
Privacy Policy
and
Terms of Use
, and agree to receive content that may sometimes include advertisements. You may opt out at any time.