For the first time in 11 years, five planets have aligned in the morning sky.
Some are dubbing it "the Parade of Planets." It is the phenomenon of Mercury, Mars, Venus, Saturn, and Jupiter all being visible in the sky at the same time and being bright enough to see with the naked eye.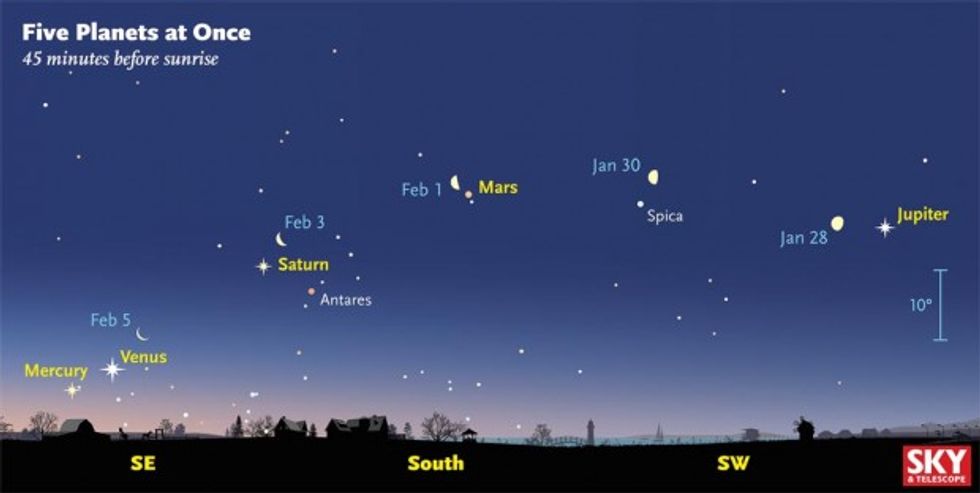 Image source: Sky and Telescope
The phenomenon occurs in the 45 minutes prior to sunrise, according to the Sky and Telescope. It has been visible for about a week, and it will continue to be in the sky until around Feb. 20.
From Vox:
Mercury will appear lowest to the horizon, and its faint light will be hardest to spot in the southeastern sky (in the Northern Hemisphere). Then, from left to right (from southeast to southwest), you'll be able to see Venus, Saturn, Mars, and Jupiter, in a line that roughly traces the path the sun will take through the day.

You may be able to identify Venus first, as it will be the brightest object in the array (the only brighter objects in the sky overall are the sun and the moon). The five planets will cover a large swath of sky, so to view them all at once you'll need to either be up high or have a view unobstructed by trees or buildings.
The planets appear in a line because they orbit on a similar plane to the Earth's orbit around the sun.
Five planets line up in the A.M. sky for 1st time in a decade - https://t.co/Fi2aUrDUsn #astronomy #skywatching https://t.co/3rbDhbJ7hO

— Scott Sutherland, Meteorologist/Science Writer @🏠 (@Scott Sutherland, Meteorologist/Science Writer @🏠) 1453227578.0
The next time the planets will align will be in August. But during that time, Mercury and Venus will be difficult to see from the Northern Hemisphere due to their location in the horizon. After that, it won't be until 2020 that the planets align again.
—
Follow the author of this story on Twitter and Facebook:
[facebook //www.facebook.com/plugins/like.php?href=