DES MOINES, Iowa — In the absence of Donald Trump, the Republican debate moderators and GOP candidates found a new punching bag — the frontrunner's closest competition in Iowa, Sen. Ted Cruz.
Thursday night's Fox News debate at the Iowa Events Center had some competition for ratings, after the field's frontrunner decided not to show. Trump instead held his own event less than three miles from the venue, raising money for veterans and ensuring sole access to the spotlight with just four days until Iowa voters head to the caucuses on Monday.
But in the meantime, Fox News's moderators and the other six remaining candidates spent much of Thursday's debate going after Cruz for voting against national defense authorization bills, opposing ethanol subsidies prized by Iowans — and his historic stance on immigration.
The timing couldn't have been worse for Cruz, who's hoping to pull out a victory in Iowa on Monday despite Trump's continued lead in the polls.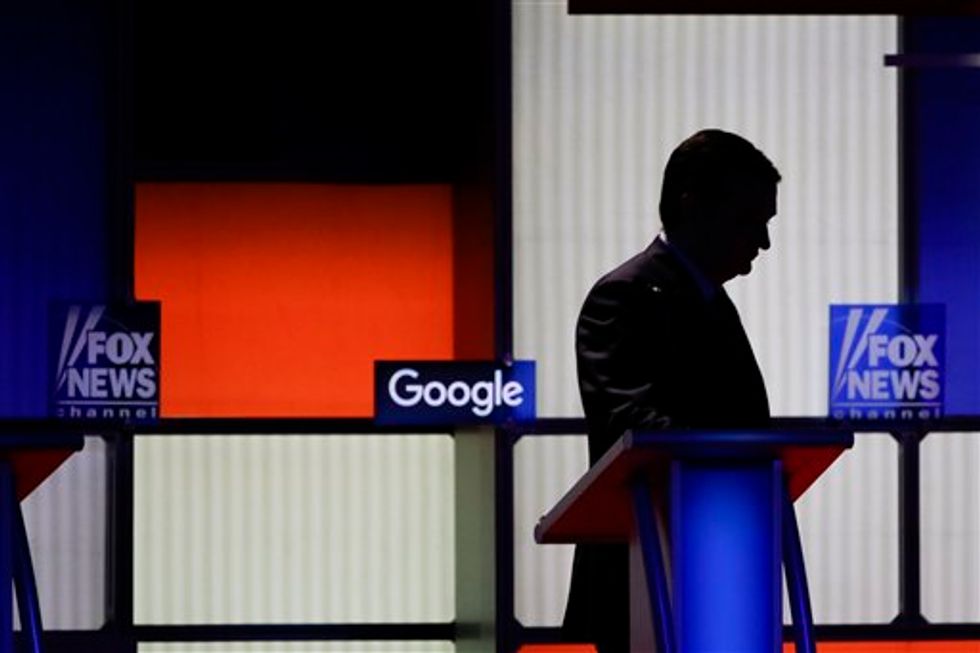 Sen. Ted Cruz leaves the stage after Thursday's debate in Des Moines. (AP/Charlie Neibergall)
In a rarely-seen debate format, Fox News played clips of Cruz defending an amendment to the 2013 bipartisan immigration reform effort in Congress. Cruz has portrayed his role in that debate as inserting a "poison pill" meant to sink the legislation, which he viewed as too lenient on illegal immigrants.
But in the clips Fox News showed, Cruz appeared to be an avid supporter of the reform package he now takes credit for helping kill.
After showing the clips, Fox News moderator Megyn Kelly asked, "Was that all an act?"
Other candidates piled on, including Sens. Rand Paul of Kentucky and Marco Rubio of Florida, who both had reason to distinguish themselves at Thursday's debate, in hopes of emerging as the clear Trump alternative.
Cruz argued that his amendment removed a pathway to citizenship for illegal immigrants and wasn't an endorsement of the Gang of Eight's immigration plan, but he was fighting an uphill battle against the combined voices of Kelly, Rubio and Paul.
But if Cruz had taken offense at the barbs tossed his way, he didn't show it after the debate. Cruz told Kelly on her show following the end of the debate that the level of civility on stage was a nice change of pace from previous debates with Trump.
"The exchanges were much more civil," Cruz said. "You didn't have any gratuitous insults."
Trump's campaign sent an email right after the debate ended with the total sum raised at the candidate's alternate event: Trump himself gave $1 million, and he raised an additional $5 million by the end of the one-hour event.
In some ways, Trump's decision not to show up worked in his favor.
He didn't have to face tough questions like the ones hurled at Cruz and Rubio, and in a Google Trends graphic that flashed on the screens in the media filing center, Trump clearly was the most-searched candidate throughout the two-hour debate nationally as well as in Iowa, New Hampshire, Nevada and South Carolina.
—
Follow the author of this story on Twitter and Facebook:
[facebook //www.facebook.com/plugins/like.php?href=