DUBUQUE, Iowa — It was a tale of two candidates in one Iowa city on Friday night — and to hear both Marco Rubio and Bernie Sanders tell it, it's the worst of times in America.
The sitting senators and presidential contenders are about as far apart on the political spectrum as they could be, but their messages to Eastern Iowan voters Friday were startlingly similar.
In Dubuque, a nearly 60,000-person city that lies at the junction of Iowa, Illinois and Wisconsin, the hunger for change was palpable. And at two well-attended campaign events held just blocks from the banks of the frigid Mississippi River, the Florida and Vermont senators promised voters just that.
Picking up on the populist anger with an increasingly divided Washington, Rubio and Sanders made the case just days ahead of the Iowa caucuses on Monday that they offer the United States a chance to choose a different path.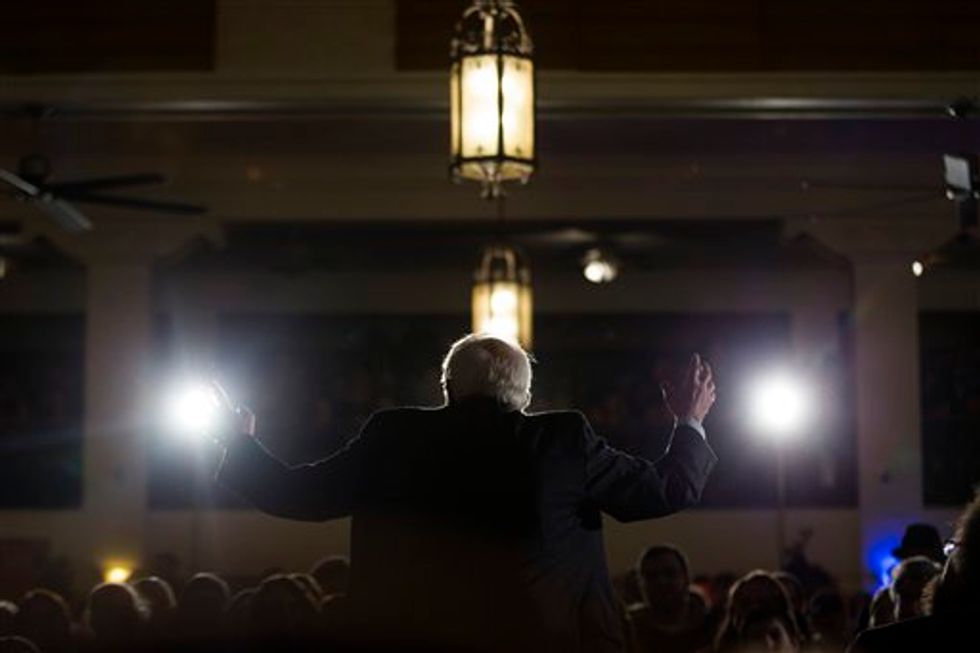 Sen. Bernie Sanders, I-Vt., speaks on Friday in Iowa. (AP/Evan Vucci)
"It sounds like Dubuque is ready for a political revolution," Sanders said, reacting to the noisy crowd at the Grand River Event Center. "The only way we transform America, the only way we make this country the kind of country we know we can be, is when we have a political revolution. ... When millions of people stand up together and say, 'Enough is enough.'"
"Real change never takes place from the top on down," said Sanders, a self-described socialist running a long-shot bid against former Secretary of State Hillary Clinton for the Democratic nomination. "It always takes place from the bottom on up."
Rubio took the stage at the Hotel Julien in front of a packed room and a sign proclaiming "A New American Century" — a hopeful slogan similar in tone to Sanders': "A Future to Believe In."
But his assessment of America's current trajectory was far less sunny.
"It just feels like the country is slipping away," Rubio said Friday night in Dubuque. "Why is this happening? In 2008, we elected a president who wasn't interested in fixing America's problems, we elected a president that wanted to change America. We elected a president that wanted to make America more like the rest of the world."
Rubio told Iowa voters that they have a unique say in what comes next for the nation after seven years with President Barack Obama in office and Republicans' ineffectuality at stopping him.
"The result is this incredible frustration in our country — the frustration is real," Rubio said. "And I'll be fair, it's not just frustration with Democrats, people are frustrated with Republicans too.
"Because seven years has gone by and things have gotten worse, not better."
Dubuque County went to then-Sen. Barack Obama in 2008, and again in 2012 by 14.5 percentage points.
Whether it can be attributed to a Democratic County or Sanders' populist appeal or both, Sanders' crowd at Friday's event was a big one by Iowa town hall standards. Attendees did "the wave" with their campaign signs and chanted "Bernie" while waiting for the candidate, who was more than an hour late to the event.
But when he did arrive, the voters were happy to see him.
For Kyle Strosahl and his wife Alisha Ohlert, who met on Obama's campaign in 2008, Sanders represents a chance to gain back the idealism they've all but lost.
"To be honest, I was very very fired up in 2008 and I was even volunteering for the [Obama] campaign at one point," said Kyle Strosahl, a 34-year-old voter from Jackson County just to the south of Dubuque. "With Bernie, it seems like we can't let that dream die. We might have hit a wall with a Republican Congress, but we can't just let them beat us down."
The couple attributed the rise of Republican frontrunner Donald Trump to emotions they're entirely familiar with.
"There's a lot of anger and frustration in the electorate, and it gets expressed in both extremes," Strosahl said. "There's some frustration, but hopefully not a complete loss of hope."
Within the Democratic party, candidates have been promising "hope and change" since Harold Washington ran and became the first African-American mayor of Chicago in 1983.
"Hell, that was [almost] before I was born," Strosahl said, adding that he has less faith in Washington to fix the nation's problems than he used to.
Ohlert chimed in realistically that voters don't need a candidate to completely change the direction of the country in one presidency, they're just looking for someone they can trust to do their best.
"Iowans don't expect campaign promises to actually come true," she said.
—
Follow the author of this story on Twitter and Facebook:
[facebook //www.facebook.com/plugins/like.php?href=