Virginia's Democratic Gov. Terry McAuliffe and Republican lawmakers are announcing a compromise on gun laws Friday to lift a restriction on concealed carry in the state, while also placing state police at gun shows in the commonwealth.
The compromise is an early settlement of what threatened to bottle up the legislative session after Virginia Democratic Attorney Mark Herring's determination to not to recognize concealed carry permits from 25 states.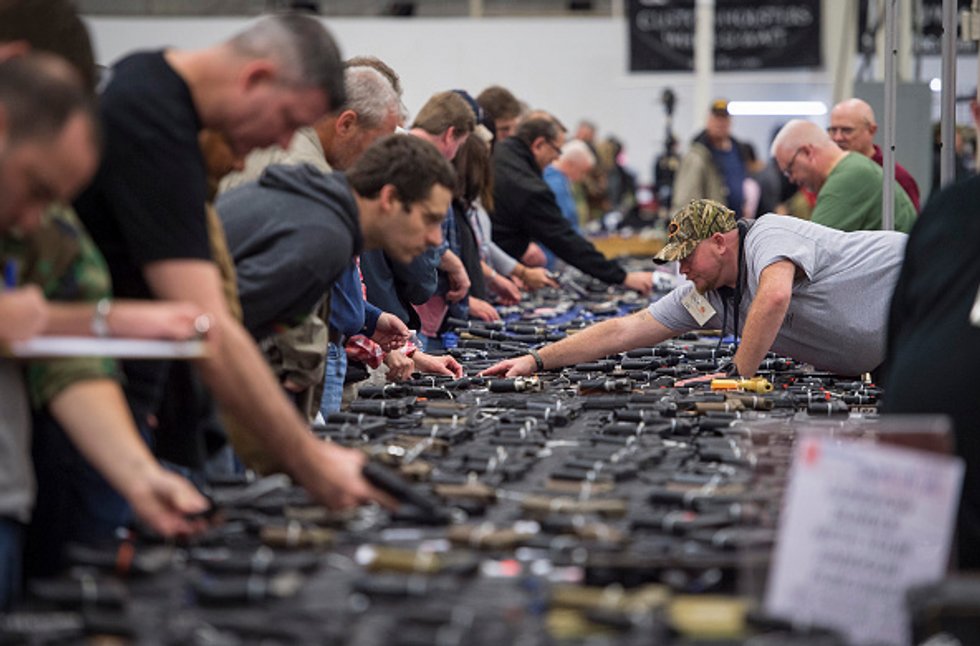 People look at handguns as thousands of customers and hundreds of dealers sell, show, and buy guns and other items during The Nation's Gun Show at the Dulles Expo Center Oct. 3. (Jabin Botsford/The Washington Post via Getty Images)
McAuliffe is expected to announce he will sign a bill that requires Virginia to recognize concealed carry permits from nearly all states. In return, Republicans agreed to pass bills to revoke weapons for someone who was under a two-year protective order for domestic violence and to require state police to attend all of the state's gun shows.
"This bipartisan deal to keep guns out of the hands of domestic abusers and people who cannot pass background checks will save lives," McAuliffe said in a statement. "Give and take is essential to every negotiation, but the balance of this deal changes Virginia law permanently in ways that will keep guns away from people who would use them for harm. I want to thank all of the leaders who put politics aside and stood up for this bipartisan compromise to make our families safer."
Virginia House Speaker William Howell also expressed enthusiasm for the deal.
"This is not an area where many people would have predicted an accord, but we are here because of their hard work," Howell said. "Protecting reciprocity for Virginia's law-abiding citizens was a major priority for the House of Delegates. We have achieved an agreement that will ensure the constitutional rights of Virginians are protected. We are also sending a clear signal about the mutual willingness of both parties to protect victims of domestic violence."
Though both sides seemed to frame it as a victory, the pro-Second Amendment advocates seemed more satisfied than the pro-gun control side, the Washington Post reported.
The NRA strongly opposed Herring's initial decision but was supportive of the deal.
"The National Rifle Association commends leaders in the commonwealth for moving forward on a bipartisan package that will benefit Virginia citizens," Chris Cox, executive director of NRA's Institute for Legislative Action, the organization's lobbying arm, said.
However, the Coalition to Stop Gun Violence complained on its Facebook page: "As far as we are aware, there is not a single gun violence prevention advocate in Virginia who was informed about this deal before it was done. We all stand in opposition to it."
From the McAuliffe's office, here are the details of the deal:
Voluntary Background Checks at Firearms Shows:

- Currently, only firearms dealers with a federal firearms license (FFL) can access the National Instant Checks System (NICS) to perform background checks on firearms purchases/transfers.

- The Virginia State Police cannot access the system on behalf of private citizens selling or transferring firearms.

- This bill would give the Virginia State Police statutory authority to perform background checks on behalf of private citizens at firearms shows, which is required by the FBI.

- Private sellers feel it is their civic duty to obtain the results of a background check prior to selling or transferring a firearm and they currently do not have the ability to access background checks for this purpose. This would allow them access on voluntary cases.

- This bill requires the Virginia State Police to be present at every firearms show in the Commonwealth to perform background checks on a voluntary basis.

Protective Orders:

-Currently, a person subject to a protective order is prohibited from purchasing or transporting a firearm, but not from possessing a firearm.

- This bill would prohibit a person subject to a permanent protective order from possessing a firearm for the duration of the order.

- Permanent protective orders are issued by a judge and are served to the subject. They can last up to 2 years and can be extended by the judge as necessary.

- This bill allows the subject of the protective order 24 hours to transfer or sell the firearm to a non-prohibited person. The subject of the protective order may possess or transport the firearm during that 24-hour period only for the purposes of selling or transferring the firearm.

- If a person violates this section, they could be guilty of a class 6 felony.

Reciprocity:

- Reciprocity for all states with a concealed carry permitting process.

- Prevents state-shopping. If a person has ever been revoked in Virginia, they cannot go to another state to get a permit and have that permit be recognized in Virginia.

- Retains the 24-hour verification clause for law enforcement purposes which allows the VSP or other law enforcement agencies to verify the validity of a permit for an out-of-state person 24 hours a day when states that offer that process. Permit-holders must carry another valid state-issued ID for the purpose of verification.

- Governor McAuliffe will also extend the effective date for the planned implementation of the revocation of reciprocity agreements with other states to March 1.
This post was updated to include comments from McAuliffe and Howell and additional details about the legislation.