A former field organizer for Republican presidential candidate Donald Trump is accusing the billionaire businessman's presidential campaign of sexual discrimination, according to a report from the New York Times.
Elizabeth Mae Davidson, 26, was fired in mid-January from her job as a paid field organizer for the Trump campaign in Davenport, Iowa, the state's third largest city. On Thursday, Davidson filed a discrimination report with the Davenport Civil Rights Commission.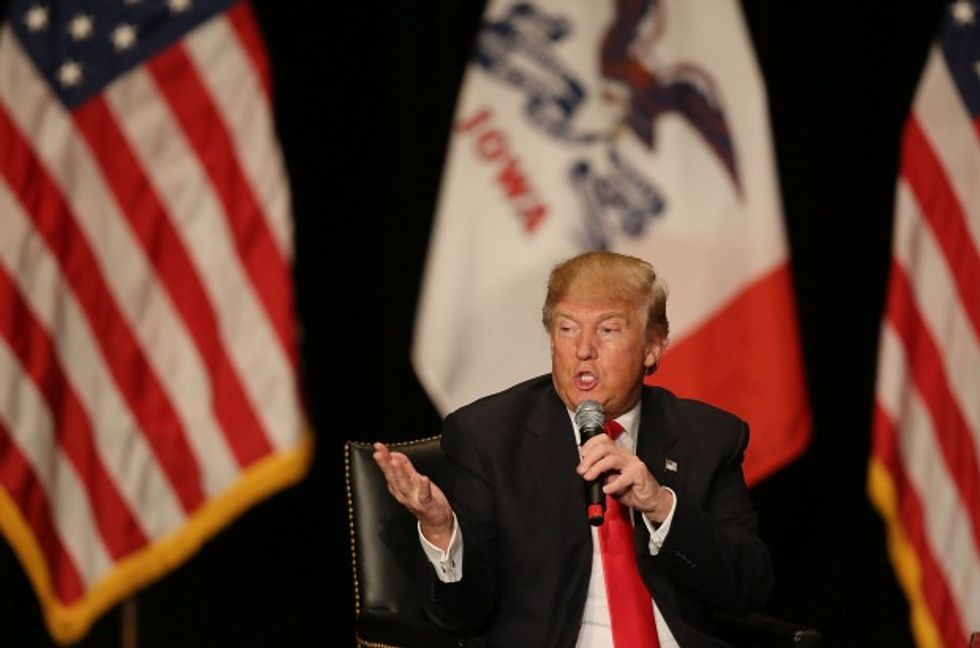 Donald Trump attends a Jan. 31 campaign rally at the Sioux City Orpheum Theatre. (Getty Images/Joe Raedle)
According to the complaint, Davidson alleged that the men in the campaign were paid more than the women who were doing the same job. She also said that men were the only staffers allowed to speak at rallies, despite her multiple requests to do so. Davidson also alleged that Trump once told her and another female volunteer that they "could do a lot of damage," allegedly referring to their appearances.
Davidson told the Times that she was paid $2,000 a month for her work as a "district representative," in addition to being classified as just "part-time" due to her day-job as a paralegal. But she said that men with the exact same job and job title earned as much as $3,500 or $4,000 a month, despite also having full-time careers.
Davidson said she was fired following an article in the Times that documented problems with the campaign's senior leadership in Iowa. Campaign officials said she made "disparaging comments about senior [Trump] campaign leaders to third parties," in essence breaking nondisclosure agreements and her employment contract, though she denied such claims.
The campaign, along with Trump himself, have flat out denied Davidson's allegations.
"That is not the worst thing that could be said," Trump said of the comments Davidson alleged he made. "But I never said it. It's not in my vocabulary."
He added that Davidson was fired because she was a bad, disgruntled employee. "My people tell me she did a terrible job," Trump told the Times.
The real estate mogul went on to blast the Times for running the report Sunday evening, one day before the coveted Iowa caucuses, saying the report could do damage to his campaign. "A story like this could damage my chances," he said.
Campaign spokeswoman Hope Hicks echoed Trump's sentiment in comments to Reuters.
"These claims from a disgruntled former part-time employee are without merit," Hicks said. "She is in violation of her contract and continues to disparage the campaign with falsehoods, which, in addition to doing a terrible job, is why she was terminated weeks ago."
(H/T: New York Times)
—
Follow the author of this story on Twitter and Facebook:
[facebook //www.facebook.com/plugins/like.php?href=