The most "Bible-minded" city in America in 2015 was Chattanooga, Tennessee, with Albany, Schenectady and Troy, New York, tying as the least Bible-minded locations in the country — but what, exactly, does that mean?
Each year, the American Bible Society teams up with the Barna Group to commission a study asking residents in the top 100 media markets across the country a few key questions about their Bible reading habits as well as their stance on biblical accuracy.
"What we're doing is we're looking at ... two things: attitudes and actions," American Bible Society communications director Andrew Hood told The Church Boys podcast. "What are their attitudes about the Bible ... do they believe that the Bible's principles are true? And do they have a positive attitude about it in general?"
Hood said that respondents are also asked if they read the Bible outside of church, with "Bible-minded" individuals being considered those who have read the Bible in the past seven days and believe its contents to be accurate. So, the cities that have the largest proportion of citizens who fit that category are considered the most Bible-minded.
Listen to Hood speak about the most and least Bible-minded cities at the 28:30 mark below:
In the end, the survey found that only 25 percent of the American population overall is considered Bible-mined, with 70 percent of people saying, though, that they wish they read the Bible more.
The most Bible-minded cities in 2015 were (from most to least): Birmingham/Anniston/Tuscaloosa, Alabama, Roanoke/Lynchburg, Virginia, Shreveport, Lousiana, and Tri-Cities, Tennessee.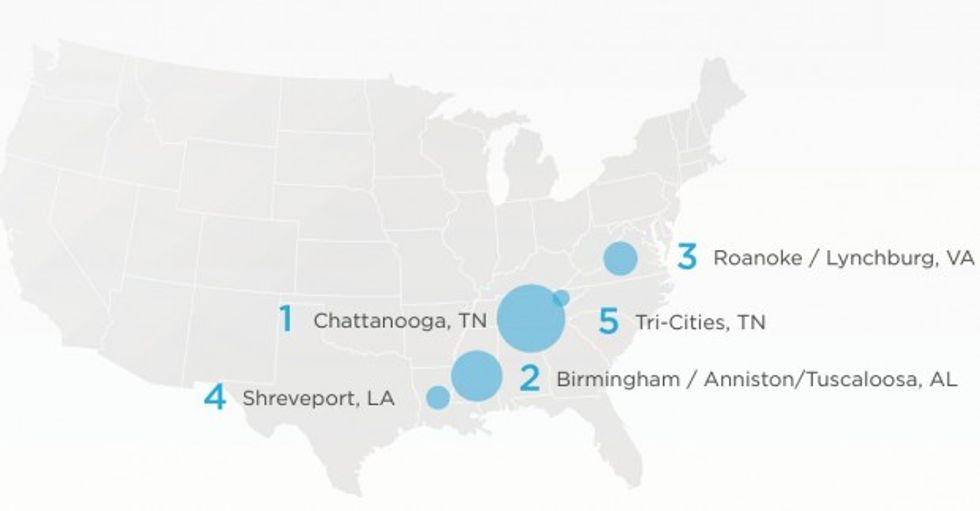 American Bible Society
And the least Bible-minded cities came in as follows (from most to least): Buffalo, New York, Cedar Rapids/Waterloo, Iowa, Providece, Rhode Island, New Bedford, Massachusetts, Boston, Massachusetts, Manchester, New Hampshire and Albany/Schenectady/Troy, New York.
See the entire list of most and least Bible-minded cities here.
--
Front page image via Shutterstock.com.
--
Follow the author of this story on Twitter and Facebook: