When he saw an officer's life in danger, his Marine instincts immediately kicked in.
Scott Perkins, a Marine veteran in Bastrop, Texas, was driving through town when he witnessed a suspect allegedly fighting with a sheriff's deputy and trying to gain control of the officer's firearm.
Not even thinking about his own safety, Perkins pulled over and drew his concealed handgun. Then he issued a warning to the suspect.
"Freeze!" he shouted.
The suspect, identified as 32-year-old Kenton Desean Fryer, ran away in fear from the armed Marine. The heroic act by Perkins likely saved the deputy's life.
That fact isn't lost on Bastrop Deputy Dylan Dorris, who is just 23 years old.
"I'm alive today because of him," he told the Statesman. "There are no words to explain it. He's such an outstanding citizen. He's here for our country, our community and you really feel the love."
The suspect was later arrested and charged with aggravated assault of a public servant, taking an officer's weapon, evading arrest or detention with a vehicle and driving while under the influence with a child under 15. He's currently in jail.
The Statesman has more details on what led to the potentially deadly confrontation:
Before Perkins intervened, Dorris arrived at the scene at Watterson Road off Texas 304 close to 9:45 p.m. on Jan. 16 in response to a report of a man driving erratically with one of his children in the vehicle, officials said. When Dorris tried to stop the vehicle, the man drove away and then pulled into a gas station.

The man then resisted arrest and that's when the fight ensued, Dorris said.
Though everyone who hears about his actions will disagree, Perkins said he doesn't consider himself a hero.
"Anytime somebody is in need of help you should assist them," he said. "It doesn't matter whether your life is in danger or not, you should always assist anybody who is in need."
Here's one more thing: Perkins' mustache matches his military service and heroism in overall epicness.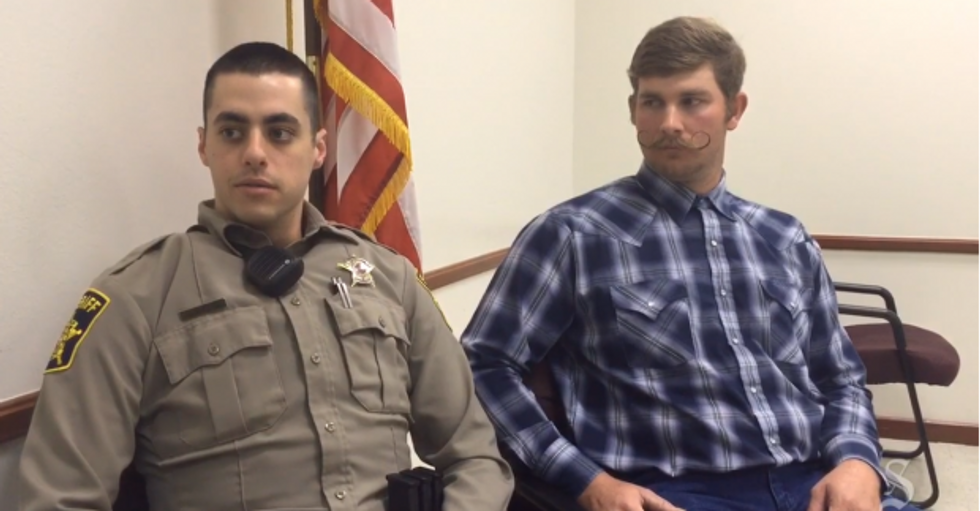 The Statesman
Bastrop County sheriff spokeswoman Sissy Jones made sure to note that concealed carry saved a man's life.
"I think it's important to note, with the uproar that we have on gun laws, that had Mr. Perkins not had his concealed gun on him, that suspect would have likely not paid attention to him," Jones added.
(H/T: Bearing Arms)
---