Former Sen. Scott Brown (R-Mass.) will endorse Republican presidential candidate Donald Trump at a rally in New Hampshire Tuesday evening, according to the Washington Post.
The endorsement will take place the day after Trump came in second in the Iowa caucus behind Sen. Ted Cruz (R-Texas).
In 2010, Brown won his Senate seat in an upset victory in a Massachusetts special election to replace deceased Sen. Ted Kennedy. Brown was defeated by Sen. Elizabeth Warren (D-Mass.) in 2012.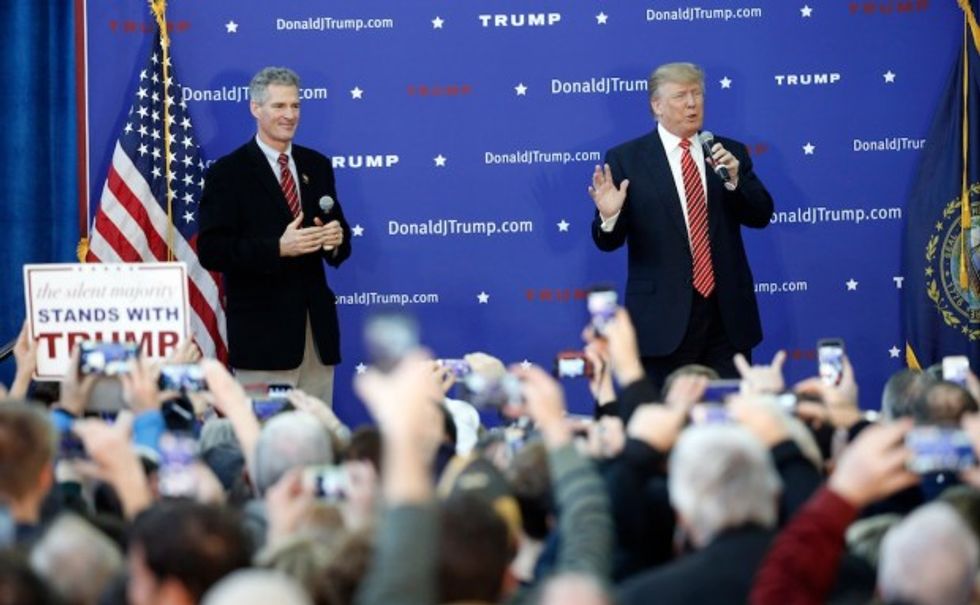 Former Massachusetts Sen. Scott Brown (R) listens as Republican presidential candidate Donald Trump speaks during a campaign stop Jan. 16 in Portsmouth, New Hampshire. (AP Photo/Matt Rourke)
The former Massachusetts senator also lost a 2014 Senate bid in New Hampshire.
The Washington Post noted that Brown is "a favorite of many establishment Republicans" due to "his centrist positions" such as his support for abortion and an assault weapons ban.
Brown recently hosted an event for Trump — among other candidates — in New Hampshire during his "No BS Backyard BBQ" series.
Last month, Brown was asked by TheBlaze if he would be willing to become Trump's running mate after Trump floated the idea.
According to The Hill, when an audience member at Brown's rally for Trump suggested to Trump that he should select Brown for his running mate, Trump replied, "Vice president — hey, that sounds like it could, hey, hey, very good."
"Hey, you know what? And he's central casting. Look at that guy. Central casting," Trump said. "He's great. Great guy and a great, beautiful, great wife and family. So important."
Brown told TheBlaze that it is an "honor" to be considered for a vice presidential nomination, but it is still too "early in the process" to seriously contemplate accepting the position.