U.S. airstrikes conducted in Afghanistan destroyed an Islamic State-operated radio station and killed at least 21 supporters in the province of Nangaharon Monday.
The station, the "Voice of the Caliphate," had been established in late 2015 following intense fighting in the region between the Islamic State and the Taliban, the Associated Press reported. The station arose in the wake of ideological conflicts between the Taliban, whose focus is on controlling Afghanistan itself, and the Islamic State, who wishes to impose its version of Islamic rule through a worldwide caliphate.
Of the 21 militants who were killed in the airstrikes, five of them were employees of the Voice of the Caliphate.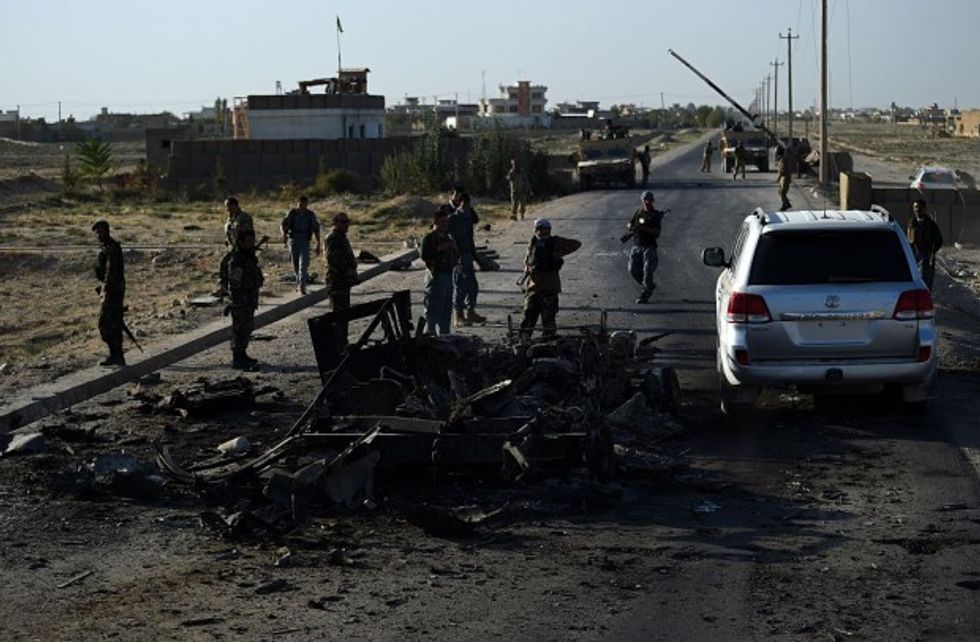 Afghan security forces battle with the Taliban Oct. 1. (Getty Images/Wakil Kohsar/AFP)
The airstrikes' destruction of the station, which the U.S. State Department had recently added to its IS Afghan affiliate foreign terrorist organizations list, marks a significant victory in a country where only 10 percent of the population has access to the Internet and very few people own televisions, according to the AP. Almost every family has access to a radio, however, and with more than 175 stations currently operating within Afghanistan, radio is a powerful medium for spreading propaganda.
Attaullah Khogyani, a provincial spokesman for Nangahar, released further details Tuesday regarding the attacks, saying that the airstrikes took place in the mountainous portions of the Achin district where the Islamic State had established its headquarters, according to Voice of America. The location had been the focal point from where the Islamic State had been attempting to expand its influence across Afghanistan and foment other attacks across the country.
Although the Voice of the Caliphate had been airing daily two-hour programs over the past three months, Nangarhar officials have since stated that no broadcasts have occurred since the strikes, according to Voice of America.
—
Follow Kathryn Blackhurst (@kablackhurst) on Twitter