ABOARD THE CRUZ CAMPAIGN AIRCRAFT (AP) -- Except for the crumbs on his shirt, Ted Cruz's doughnuts are gone.
And as midnight nears during a flight to New Hampshire, the newly minted winner of Iowa's presidential caucuses begins telling a story of the 2000 election, when he worked as a "mid-level kid" on George W. Bush's presidential campaign.
Bush scored a solid victory in Iowa and his confidence was surging, Cruz tells the group of reporters gathered in the back of a campaign plane he named Constitution One. He had just shared a box Krispy Kreme doughnuts with those who had flown with him from New Hampshire to South Carolina and back again on the same day.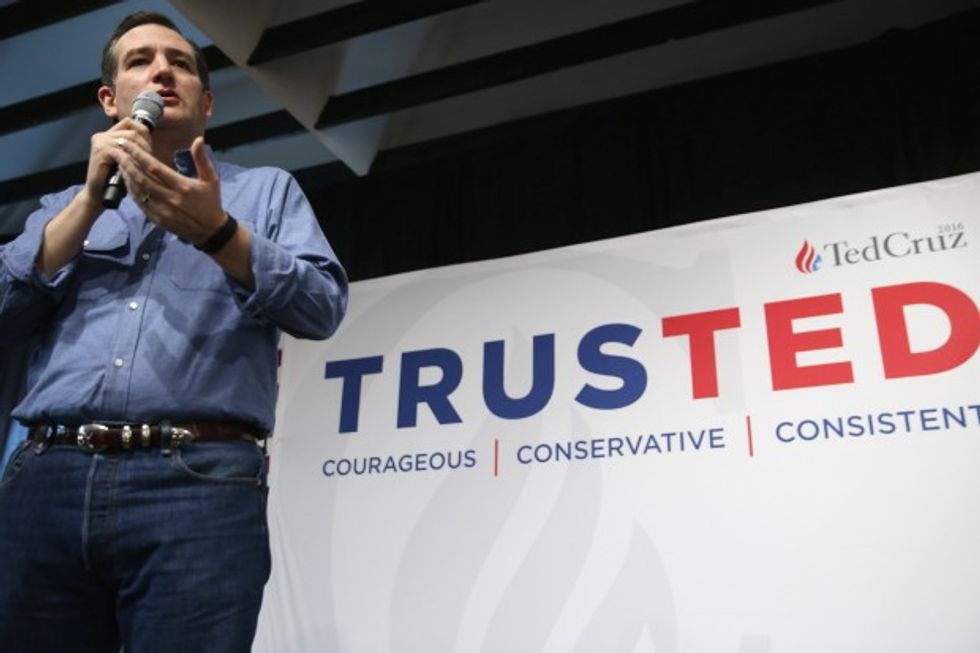 Ted Cruz answers questions during a campaign town hall meeting at the Crossing Life Church Wednesday. (Getty Images/Chip Somodevilla)
Coming off the 2000 win, Cruz reflected, Bush "got killed" in the New Hampshire primary, badly beaten by an Arizona senator named John McCain.
"Best thing that happened to the campaign was getting killed in New Hampshire," Cruz says. "We needed to get our teeth kicked in."
The campaign would, of course, recover. Bush would go on to claim his party's nomination and ultimately the presidency after a high-stakes recount that Cruz watched from the inside as a young Republican lawyer. But 16 years later, Cruz says he doesn't want to forget the lessons of 2000 as he eyes his own widening path toward the GOP presidential nomination.
"We aren't getting overconfident. We are scared," he said. "I'm trying to learn the lesson from that."
Cruz, a freshman Texas senator, won the opening contest in the 2016 primary season Monday night in Iowa. New Hampshire hosts the nation's first primary election next Tuesday. South Carolina follows 11 days later.
His fiery conservative politics may not seem a great fit for New Hampshire, whose voters usually favor political moderation over ideological purity. That's why Cruz is already peeking ahead to South Carolina, where he campaigned Tuesday night after an afternoon rally in New Hampshire.
He's not writing off the Granite State. And based on his experience with Bush, he's not taking anything for granted.
"I don't know if we'll win New Hampshire," he says. "I hope we will. We're going to try to."
About 10 minutes into the conversation, Cruz's staff encourages him to return to the front of the plane - far from the reporters enjoying a few moments of unscripted time with the presidential candidate. But he shows no interest in leaving as the conversation turns to his experience with South Carolina.
It started on the 2000 campaign.
"I spent the whole week on the bus with Bush 43 in South Carolina," he says as he describes a deep sense of comfort with the people who will host the South's first primary contest.
"They're Southerners, they're evangelicals, they're military veterans, they're gun owners. There's just a feel that is similar," Cruz says. "They feel like Texans."
He ends the discussion only after a senior aide whispers into his ear, "Senator, we're truly about to land."
But before he retreats, Cruz says there will be more late-night conversations - if not doughnuts - as the campaign moves forward.
"We're gonna have fun," he says. "I hope we're going to win. I believe we're going to win. But whether we win or not, we're gonna have fun."