Hillary Clinton said tonight that she still believes there's a "vast right-wing conspiracy" — a phrase she used in 1998 to defend her husband in the midst of the Monica Lewinsky scandal.
Anderson Cooper asked the former secretary of state during tonight's CNN town hall in New Hampshire whether she still thinks the "vast right-wing conspiracy," which she blamed for attacks on then-President Bill Clinton, is alive and well.
"Don't you?" Clinton quipped. "Yeah, it's gotten even better-funded. You know, they brought in some new multi-billionaires to pump the money in."
Later, she added: "At this point it's probably not correct to say it's a conspiracy, because it is out in the open. There is no doubt about what they're doing."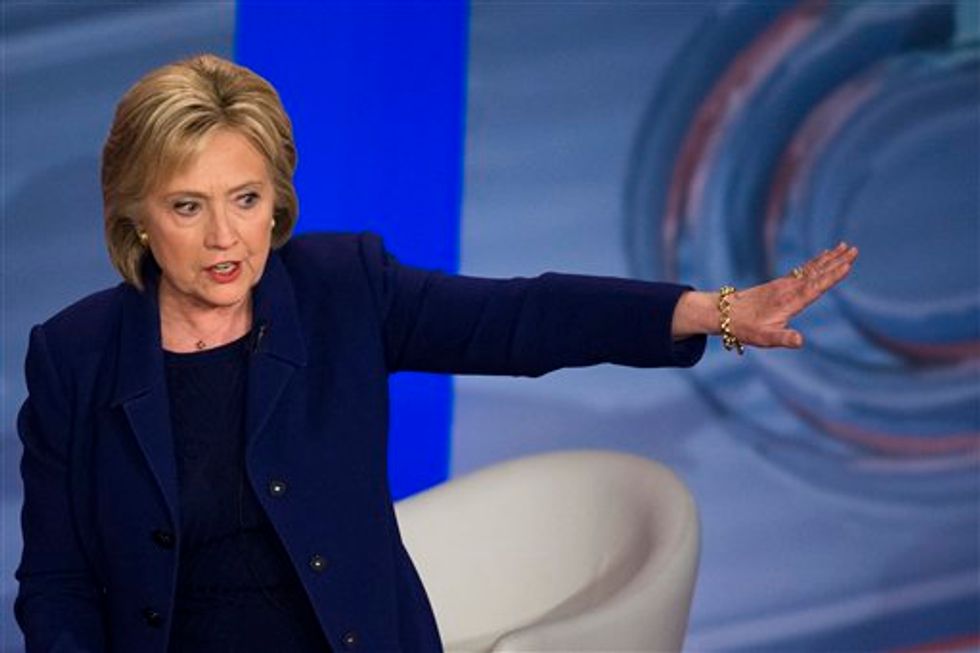 Hillary Clinton speaks during a Democratic primary town hall Wednesday. (AP/John Minchillo)
Clinton went after big Republican donors like Charles and David Koch, whose oil money props up a number of Republican candidates.
"Look, these guys play for keeps," she said. "They want to control our country. Sen. [Bernie] Sanders and I agree on that completely. They want to rig the economy so they continue to get richer and richer, they could care less about income inequality. ... They want to go after any economic interests that they don't believe they can control, they want to destroy our balance of power, they want to go after our political system and fill it with people who do their bidding."
Clinton added that she doesn't think powerful Republicans are being straightforward about their views on climate change.
"I don't think all of the Republican candidates are so ill-informed about climate change that they say they don't know because they're not scientists," she said. "They're just doing the bidding of the Koch brothers. They're told, 'Don't you dare say climate change is real, because we are in the fossil fuel business.'
"[J]ust know what we're up against because it is real and we're going to beat it."