Update -- The Israel Police announced later Wednesday that one of its officers who sustained wounds in the attack died of her injuries. It tweeted this photo of 19-year-old Israel Border Policewoman Hadar Cohen.
19 year old Hadar Cohen dies in Jerusalem hospital after being shot by Palestinian terrorists in attack today. pic.twitter.com/j3Pq3fH4PV

— Micky Rosenfeld (@MickyRosenfeld) February 3, 2016
Original story below.
--
Three Palestinian men reportedly tried to stage a spectacular and deadly attack in Jerusalem Wednesday using guns, knives and explosives. All three were shot dead by police after wounding two Israeli policewomen, the Israel police said.
The female officers were shot and stabbed near Damascus Gate, not far from the city's major holy sites. One officer sustained critical wounds, while the other was seriously wounded.
The Times of Israel, quoting police sources, reported that the three Palestinians between the ages of 20 and 21 went to Damascus Gate carrying Carl Gustav rifles, knives and two pipe bombs.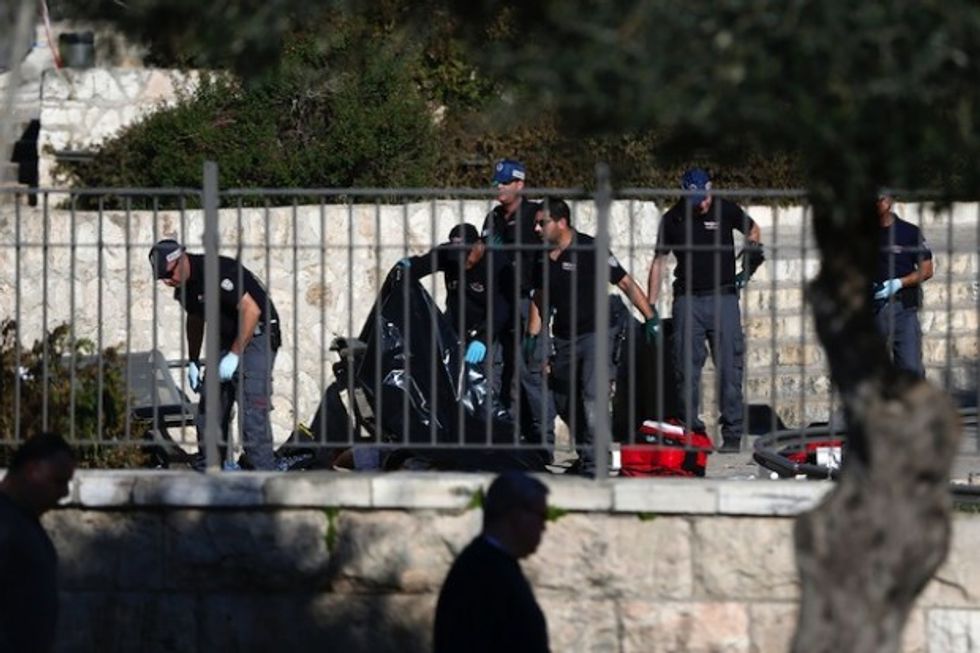 Israeli police officers investigate the body of one of the reported Palestinian assailants killed during an attack at Damascus Gate, a main entrance to Jerusalem's Old City Wednesday. Three Palestinians armed with a gun, knives and explosives attacked Israeli police outside Jerusalem's Old City, leaving at least two officers seriously wounded and the attackers shot dead, police and medics said. (Ahmad Gharabli/AFP/Getty Images)
Israeli border police approached them and asked for their identity cards. When one of the Palestinians showed his identity card, another started shooting, the Israel Police said via Twitter.
Members of the police unit quickly fired back and killed all three assailants.
Jerusalem police spokesman Assi Aharoni said that the team's rapid response prevented a more deadly attack.
Israel police spokesman Micky Rosenfeld said that bomb disposal experts arrived at the scene where they neutralized two pipe bombs brought by the assailants that had not exploded.
Bomb disposal experts at the scene neutralize 2 pipe bombs that didn't explode. Attack carried out by 3 terrorists. pic.twitter.com/fA7jhycCga

— Micky Rosenfeld (@MickyRosenfeld) February 3, 2016
United Hatzolah, a volunteer first responders organization, posted this video showing the mayhem moments after the attack.
DRAMATIC FOOTAGE: Moment after the combined shooting and stabbing attack wounding 2 Israeli Police officers. pic.twitter.com/tRQnmNSh0N

— Israel News Feed (@IsraelHatzolah) February 3, 2016
Paramedic Nissan Hefetz described the condition of the wounded to Israel's Channel 2, saying, "When we arrived at the scene we saw two young women, approximately 20 years old, lying on the ground with puncture wounds to the upper body. One was unconscious, the other was still conscious, but dazed."
Israel has faced nearly five months of daily stabbing, shooting and car-ramming attacks carried out by Palestinians. Many of the stabbing assailants have been teenagers who later won wide praise in the Palestinian community.