WASHINGTON (TheBlaze/AP) -- Rand Paul is dropping out of the 2016 race for president.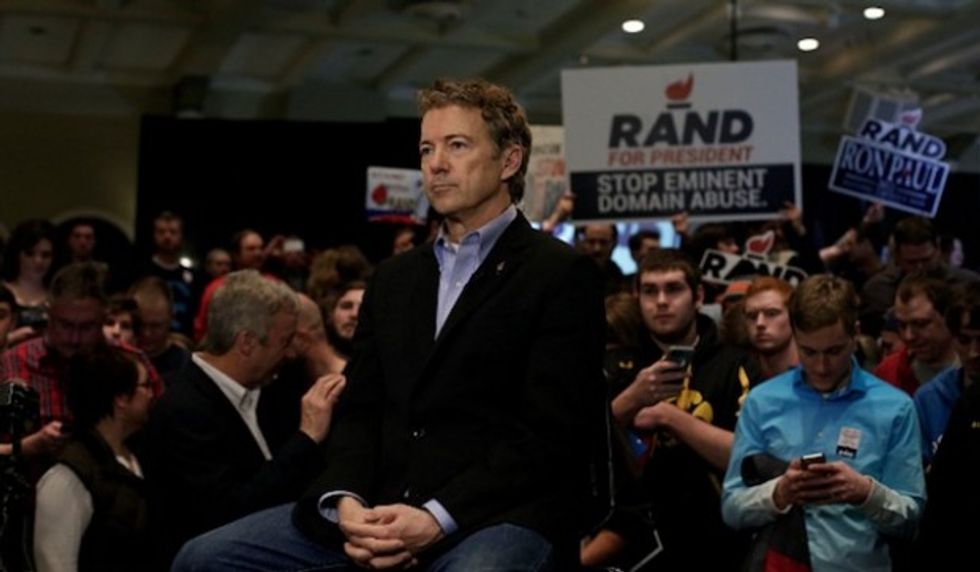 IOWA CITY, IA - JANUARY 31 : Republican presidential candidate, U.S. Sen. Rand Paul (R-KY) waits to do a television interview during a campaign event at the University of Iowa Memorial Union January 31, 2016 in Iowa City, Iowa. The Iowa caucuses kick off the presidential selection process tomorrow. (Photo by Joshua Lott/Getty Images)
Campaign spokeswoman Eleanor May confirmed his decision Wednesday to The Associated Press.
"Although, today, I will suspend my campaign for president, the fight is far from over. I will continue to carry the torch for liberty in the United States Senate, and I look forward to earning the privilege to represent the people of Kentucky for another term."
Full statement from Rand Paul pic.twitter.com/QoGrG1WZWo

— Ben Jacobs (@Bencjacobs) February 3, 2016
The first-term senator from Kentucky exits the race having never caught on with Republican voters, who have made billionaire businessman Donald Trump the front-runner in the race for the party's nomination.
Paul was determined to improve the GOP's popularity among younger voters and minorities. But his message failed to catch on and his appeal never broadened beyond the small group of libertarian-leaning Republicans that backed the previous White House bids of his father, Ron Paul.
The decision came just a week before the New Hampshire primaries, where Paul was expected to perform better than in Iowa, mostly due to the number of libertarian Republicans there.
He is now expected to turn his full attention to his Senate re-election campaign in Kentucky, which he ran simultaneously with his presidential bid. The 52-year-old ophthalmologist is favored to win that race.
---