The taxi driver who was abducted and held captive by three Orange County fugitives spoke with the L.A. Times Tuesday about the week he spent helping them flee from authorities.
Two inmates who remained at large after breaking out of an Orange County jail Jan. 22 were arrested over the weekend, more than a week after their escape launched a massive manhunt. Jonathan Tieu, 20, and Hossein Nayeri, 37, were taken into custody by the San Francisco Police Department Jan. 30.
The arrests came after a third inmate, 43-year-old Bac Duong, who had escaped with Tieu and Nayeri, walked into an auto repair shop Jan. 29 and said he wanted to surrender. He informed investigators that he had last seen the other two inmates Thursday afternoon in San Jose, moving the manhunt 400 miles to the north.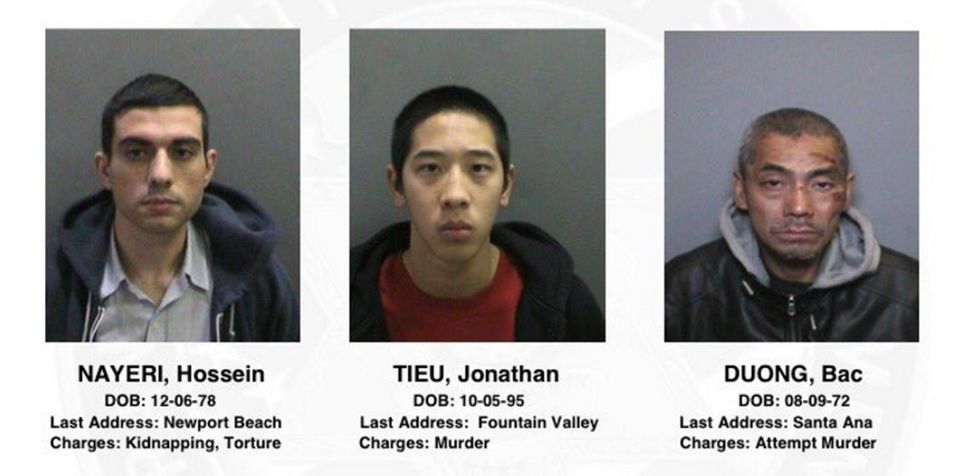 Orange County Sheriff's Department via AP
Long Hoang Ma, the cab driver who received a call from the inmates shortly after their escape, spoke to the L.A. Times Tuesday about living in their captivity.
Ma, 73, told the Times he picked up the three men outside a restaurant in Garden Grove, unaware that they had recently rappelled from the roof of the prison.
All three men had been jailed and were awaiting trial on charges in separate violent crimes. They were held in a dormitory with about 65 other men at the Men's Central Jail in Santa Ana.
For the next week, Ma was their captive and personal chauffeur — sharing sleeping quarters with them, driving them across the state, running errands with them and listening to them argue about whether to murder him.
Ma shared that he thought of his fiancee, in Vietnam, and whether he would ever see her again.
"Dead or alive--it's up to God," Ma said. "I know I have no control over what happens to me."
The driver said that the fugitives had him drive them to Walmart, Target and a strip mall, where they held a gun to his ribs and confiscated his phone and keys.
He said the men used his driver's license to rent a room at a motel, where the escapees watched TV for updates on the manhunt and "would laugh gleefully," he said.
By Sunday, the four were still staying in the motel room. Ma described a fight he witnessed between Nayeri, the man whom one prosecutor likened to fictional murderer Hannibal Lecter, and Duong.
Ma, who speaks only a few words of English and was not able to understand the argument entirely, said that Duong later told him it was about whether Ma should be killed.
"He really wants to get rid of you, but I'm trying to help you," the cab driver recalled the escapee saying. Duong told reportedly told Ma that Nayeri "wanted to toss him into the ocean."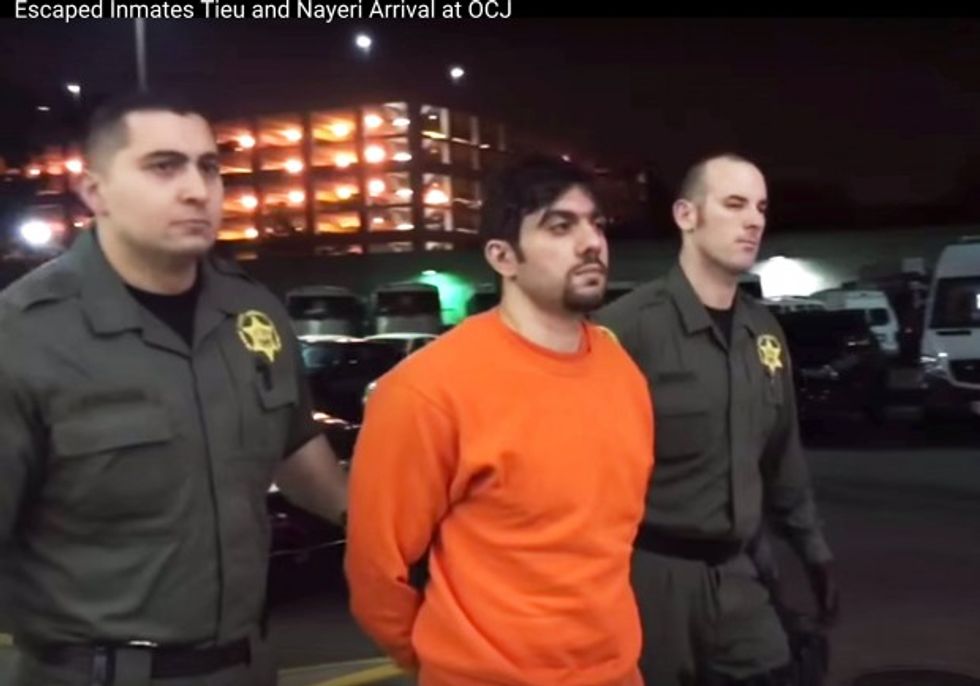 Deputies escort Hossein Nayeri back to the Central Men's jail in Santa Ana, California, in the early morning hours of Sunday, Jan. 31. (Orange County Sheriff's Department via AP)
Through it all, Ma said that Nayeri, the man he referred to as "the Iranian guy," was the clear leader of the pack.
Authorities have also suggested that Nayeri was the mastermind of the jailbreak. The 37-year-old is being charged for a 2012 attack in which he allegedly abducted a marijuana dispensary owner from a Newport Beach home and brought him to a dessert where he tortured and castrated him.
Ma said Duong looked after him and even called him "Uncle." "He would ask what I wanted to eat, he said he would buy it," Ma recalled.
Once the group stopped at a Ross store to buy clothes, and Ma touched a cotton shirt. Duong then bought it for him.
Duong also bought Capri cigarettes for Ma and Marlboros for himself. All four men smoked constantly, he said.
During his week as a captive, Ma would receive cell phone calls from clients asking to be picked up. His captors forced him answer and to lie about his whereabouts. "I would tell customers that I'm at the airport, I'm not available, or that I'm in Vegas and not coming back soon," he said.
On Tuesday, Jan. 26, four days after the jail break, the men drove to another motel in San Jose, where Ma said the fugitives drank beer and whiskey.
Ma said he slept on a twin bed while Nayeri claimed the other bed. Duong and Tieu slept on the floor, with Tieu stretched in front of the doorway to prevent Ma's escape.
Ma said Nayeri and Tieu left Thursday morning to tint the windows of a van Duong stole for them. With the two men away, the cab driver said Duong drove him back to Southern California on Friday and even allowed him to sit beside him with his hands unbound.
He said that Duong cried, worried that Nayeri would become violent, and discussed wanting to surrender.
Duong drove Ma to Auto Electric Rebuilders in Santa Ana, where Duong contacted a friend who summoned the authorities.
Nayeri and Tieu were captured Saturday in San Francisco.
Ma said he came to the United States in 1992 with his wife and four children after serving as a captain in the Vietnamese army. He now lives alone in a rented room in Garden Grove, with few friends nearby.
During his week in captivity, no one reported him missing. Ma, who returned to work Tuesday, said he has been driving a cab for about nine months and before that he begged on the street with a sign that read "Homeless."
(H/T: L.A. Times)