Former Secretary of State Hillary Clinton may have narrowly won over Iowa caucusgoers Monday night, but she didn't seem to win over the hearts of those on social media.
According to data compiled by social media monitoring company Brandwatch, Clinton came up short compared to her Democratic presidential counterparts in the hours before and after the Iowa caucuses in terms of positive mentions on social media. Vermont Sen. Bernie Sanders' and former Maryland Gov. Martin O'Malley's social media mentions were both more positive than Clinton's — Sanders' significantly so.
Yet while Clinton has racked in more negative mentions than positives in the past three months, she was mentioned more positively than negatively in the 24 hours surrounding the caucuses. According to Brandwatch's data, Clinton received 61.5 percent positive mentions and 38.5 percent negative mentions.
In comparison, Sanders received 73 percent positive mentions in those crucial 24 hours and only 27 percent negative mentions.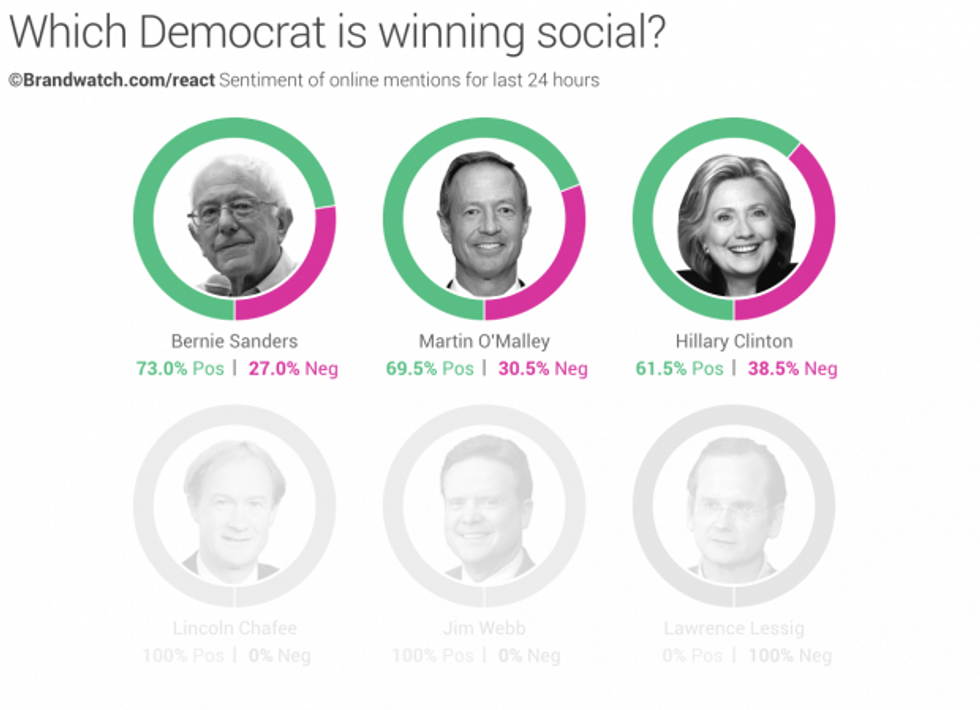 Image provided by Brandwatch.
Kellan Terry, a data analyst at Brandwatch, told TheBlaze that Clinton's third-place finish among positive social media posts could be indicative of Sanders' ability to bring more youth to his campaign compared to her.
"Bernie Sanders is a phenomenon in an of itself," Terry said. "His social media presence from the beginning has been extremely impressive and positive. Debates or caucuses, Sanders supporters really come out and make their voices heard."
"Sanders has a younger foundation who are more socially savvy than Hillary Clinton's supporters are," Terry continued.
And while former Arkansas Gov. Mike Huckabee ended yet another one of his presidential bids, he was the real GOP winner during the caucuses as far as social media is concerned.
Huckabee garnered a whopping 87.9 percent positive social media mentions and only 12.1 percent negative mentions. In comparison, Texas Sen. Ted Cruz, the winner of the Iowa Republican caucus received 71.8 percent positive mentions. Second-place finisher Donald Trump had 51.0 percent, and Florida Sen. Marco Rubio, who came in third, had 74.5 percent positive social media mentions.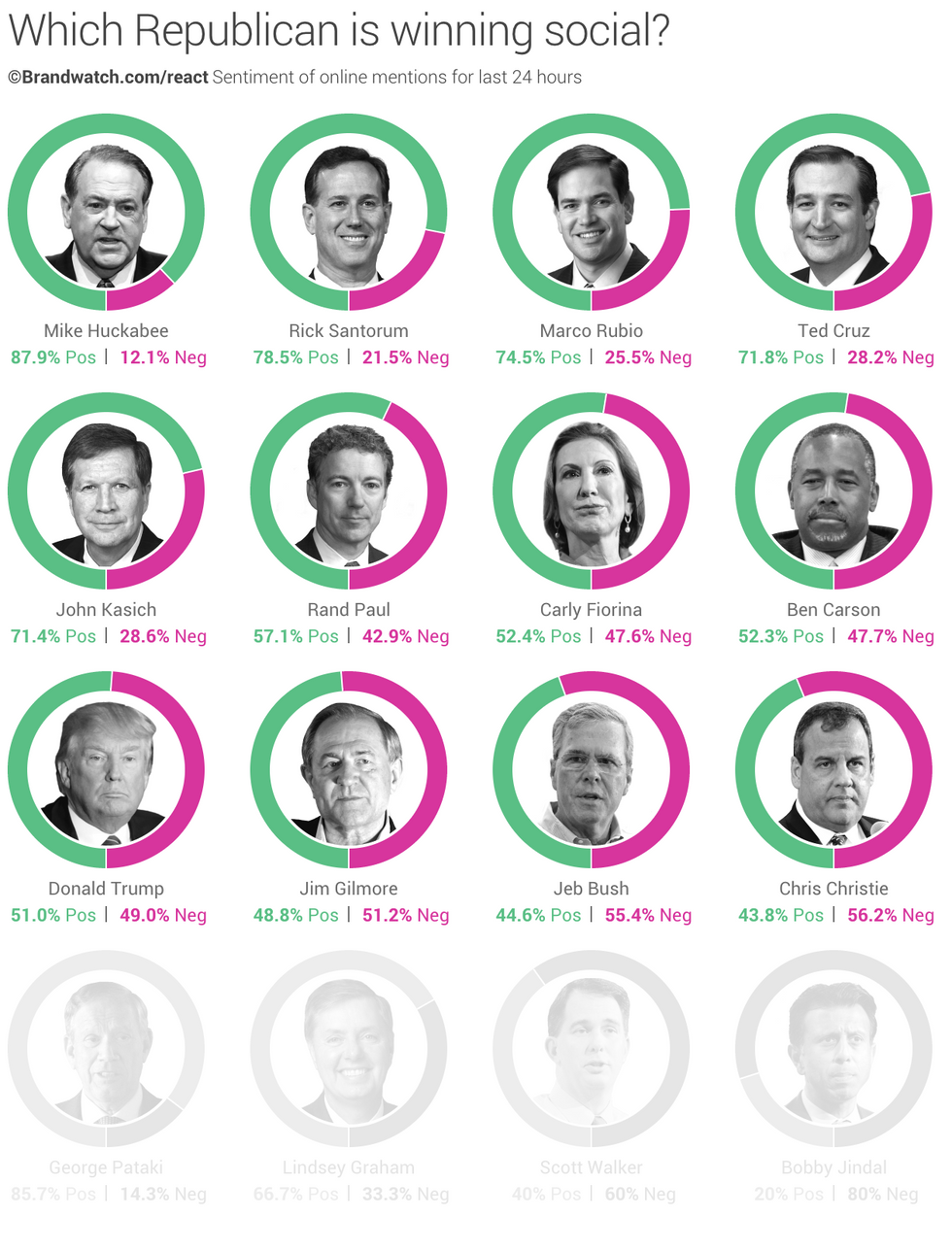 Image provided by Brandwatch.
Terry said that Huckabee's overwhelmingly positive mentions were in part because of his announcement that he was suspending his campaign, but the three GOP presidential frontrunners also had something to do with it. Cruz, Rubio and Trump all mentioned Huckabee in their speeches and included their regards.
"Once [candidates] suspend their campaigns, their conversations generally do turn toward the positive," Terry told TheBlaze. "They are not under such scrutiny anymore. People aren't trying to pick apart their perspective on issues anymore because they aren't running for president anymore."
Not only did Huckabee receive the most positive social media mentions, he received the fourth most mentions overall — a spot that is usually reserved for Dr. Ben Carson, former Florida Gov. Jeb Bush or Kentucky Sen. Rand Paul, Terry said.
TheBlaze looked at Brandwatch's data of presidential candidates prior to the Iowa caucuses and found that the underdogs in both parties — former Virginia Gov. Jim Gilmore (R) and O'Malley — dominated when it came to positive social media mentions over the past three months. Yet in the past 24 hours, Gilmore seemed to slip back down toward the bottom of GOP presidential candidates, forgotten; O'Malley, while still maintaining a majority positive responses on social media, was surpassed by Sanders.
"Lesser known candidates do so well because although their fan bases are small, they are extremely loyal to their candidates," Terry said. "Their mention volumes are considerably low compared to rock star candidates like Bernie Sanders and Donald Trump."
Cruz was also one of those "rock star candidates" as he had the most mentions on social media overall, according to data compiled by Brandwatch.

Image provided by Brandwatch.
 Terry said the social media reactions after the caucuses and primaries are different than when candidates debate or are on the campaign trail.
"There's not as much of an opportunity for a candidate to say something that isn't as polished, as is the case with debates," he said.
Check out more social media data on all of the presidential candidates at Brandwatch.