At least one New York City transit passenger was left "speechless" after allegedly hearing over an intercom a worker's reaction to someone who had jumped in front of her train Tuesday evening.
Miriam Ward tweeted that she heard the conductor say, "Someone got killed! I hope the motherf**ker suffered."
Conductor on our @MetroNorth train intercom hearing the news "Someone got killed! I hope the motherf**ker suffered." #metronorth #speechless

— Miriam Ward (@wardMG) February 1, 2016
Turns out the deceased male was a schoolmate of Owen Kelly, a 16-year-old Fordham Preparatory School student who apparently took his own life in the same manner Jan. 18.
"You know how sometimes conductors talk to each other but it's transmitted to the entire train?" one man texted his daughter, according to the New York Post. "I hear the mic key up followed by a train wide broadcast in the most Bronx accent 'yeah I think some guy got killed, I hope he suffered like a motha­f***er.'"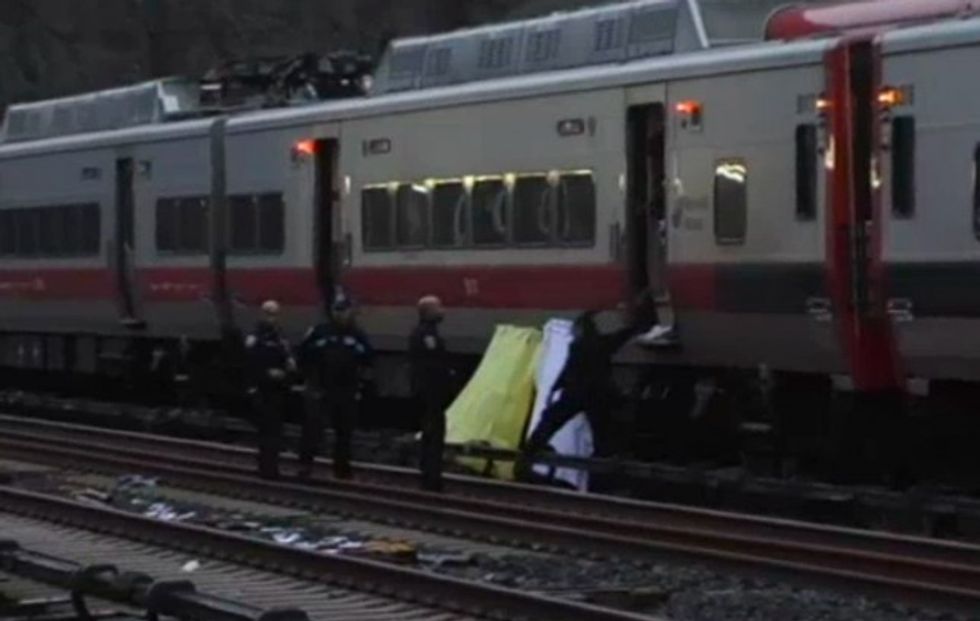 Image source: WNBC-TV
Transit officials said they're investigating the alleged comments.
"Such language and sentiment has no place on Metro-North Railroad," spokeswoman Meredith Daniels told the Post. "We are aware of these allegations and are looking into them."
A child psychologist told WNBC-TV the second student's apparent suicide may have been influenced by the first student's actions.
Dr. Moira Rynn, head of Child Psychiatry at Columbia University Medical Center, called it a possible case of "suicide contagion" — when those considering ending their lives do so after others commit suicide, the station said, adding some evidence suggests they may occur in "clusters" or "outbreaks" during media coverage.
Rynn said parents should discuss with their children if they've ever thought about taking their own lives.
"Sometimes parents are afraid to ask," she told WNBC. "They almost feel like if they ask those hard questions, that maybe it will cause something to happen or make something get worse. And we really know that it doesn't."
Claudio Cotza, a parent of a Fordham Prep student, told the station his son knew the two students who died.
"He knew the first kid very well," Cotza told WNBC. "He spoke to him that morning ... he's had a tough time."
The father added that two students apparently ending their lives in such a short time span is cause for concern: "... Something's not right. Maybe there's too much pressure on their activities ... I don't know."
Kelly was fatally struck after walking in front of a train and around 2 p.m. Jan. 18 in Westchester, a Metro-North spokesperson told the station. The train's engineer saw him but couldn't stop in time, News 12 reported.
The second Fordham Prep student apparently jumped in front of a train in the Bronx. Afterward officials shut down two lines, causing massive delays.
Fordham Prep told WNBC grief counselors would meet with students, faculty, staff and parents and that a parent meeting regarding the deaths was scheduled.
(H/T: Daily Mail)