Political analyst Arnold Steinberg's comments on President Barack Obama's first visit to a U.S. mosque as president are going viral – but you might be surprised by where.
The Huffington Post published an editorial by Steinberg on Wednesday, in which he writes there is "no national attack on Muslims." Instead, Steinberg argues, Obama, other Democrats and the mainstream media are giving credence to "a problem that doesn't exist."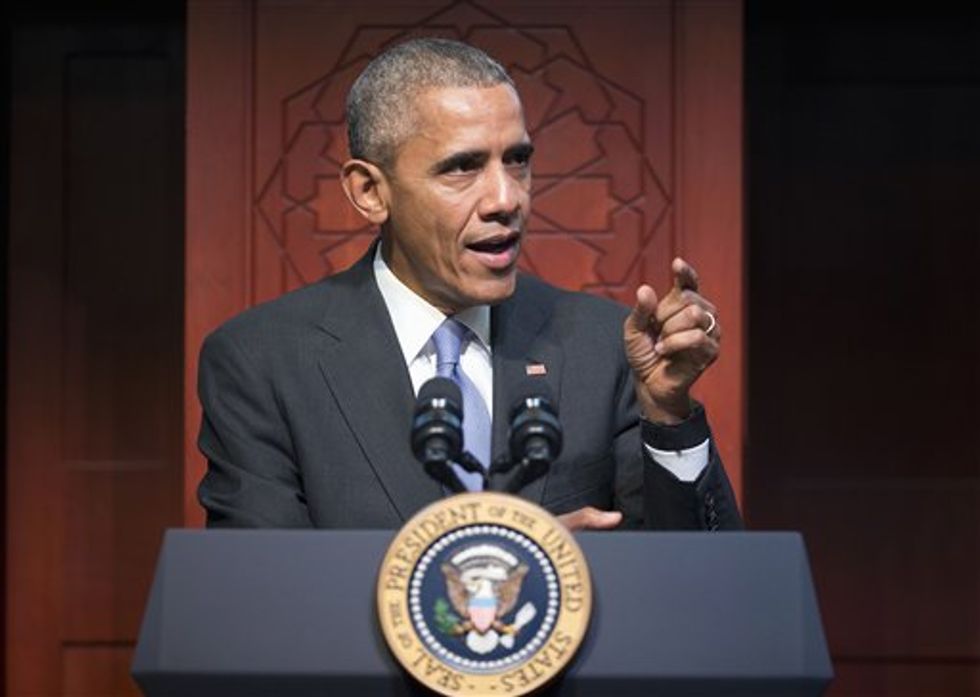 President Barack Obama spoke to members of the Muslim-American community Wednesday at the Islamic Society of Baltimore.(AP Photo/Pablo Martinez Monsivais)
"Just like Obama wants to make African-Americans or women or homosexuals or Native Americans or Latinos into victims, his strategy of division is to make Muslims into victims," Steinberg continued. "Newborn Muslim immigrants are treated more favorably than needy Americans — white, African-American or others — who have been left impoverished over time, for sure, but especially by the failed Obama economic policies."
Steinberg said that Muslims today are not like Muslims in the past, adding that Muslims in in the past came to the U.S. and Europe for a better life and were willing to assimilate.
"The immigrant demographics are different today," he added. "We have people coming to this country not for freedom or opportunity but for government aid — that's certainly what we see in Germany, a magnet for many seeking the highest welfare benefits within the European Union."
Steinberg went on to call out what he sees as the "ultimate hypocrisy" of the women's rights movement both in the U.S. and in Germany, and that "is its refusal to confront ... the attacks on women in Cologne, indicating that in Germany and (sadly) here in the U.S., multiculturalism takes precedence over women's rights."
Steinberg was referring to more than 1,000 men of "Arab or North African appearance" who stormed the German city on New Year's Eve "seemingly with the specific intention of carrying out attacks on women." Dozens of sexual assaults, robberies and at least one rape were reported, resulting in protests against "RAPEfugees."
"Everyone knows that America has patriotic and decent Muslims, including many who loyally serve in the military and law enforcement," Steinberg added. "And surely we need Muslim allies throughout the world to help against radical Muslim, Islamists, Jihadists, or whatever term you use, that Obama will not."
"But the Muslim leadership around the world and in this country is reluctant, at best, to take on the Islamist thugs that they say 'hijacked their religion.' Surely many Muslims left the keys in the pickup truck for the Islamist hijackers, or the house door unlocked for the Islamist home invasion. Why can't we allow some Muslims here and reject those who reject us?"
The Huffington Post column had more than 374,000 Facebook "likes" as of Thursday afternoon, a few hours after it was published on the liberal news website and one day after Obama's first visit as president to a U.S. mosque.
You can read the column in its entirety here.