DERRY, N.H. – In recent campaign appearances, former Florida Gov. Jeb Bush has frequently joked about his family legacy, saying that he's "part of the establishment because Barbara Bush is my mom."
On Thursday evening, Bush campaigned with his mother in the Granite State.
Join me — and a very special guest — tonight for our Derry town hall: https://t.co/Ge9StbsNkk https://t.co/G4Du6uzcuN

— Jeb Bush (@Jeb Bush) 1454617671.0
During brief remarks to those in attendance, the former first lady called her son "decent and honest and he's everything we need in a president."
"Jeb is the nicest, wisest, most caring loyal, disciplined – not by me," she joked. "He's not a braggart - we don't allow that."
"His dad and I are very, very proud of him," she said before introducing him as "the next president of the United States."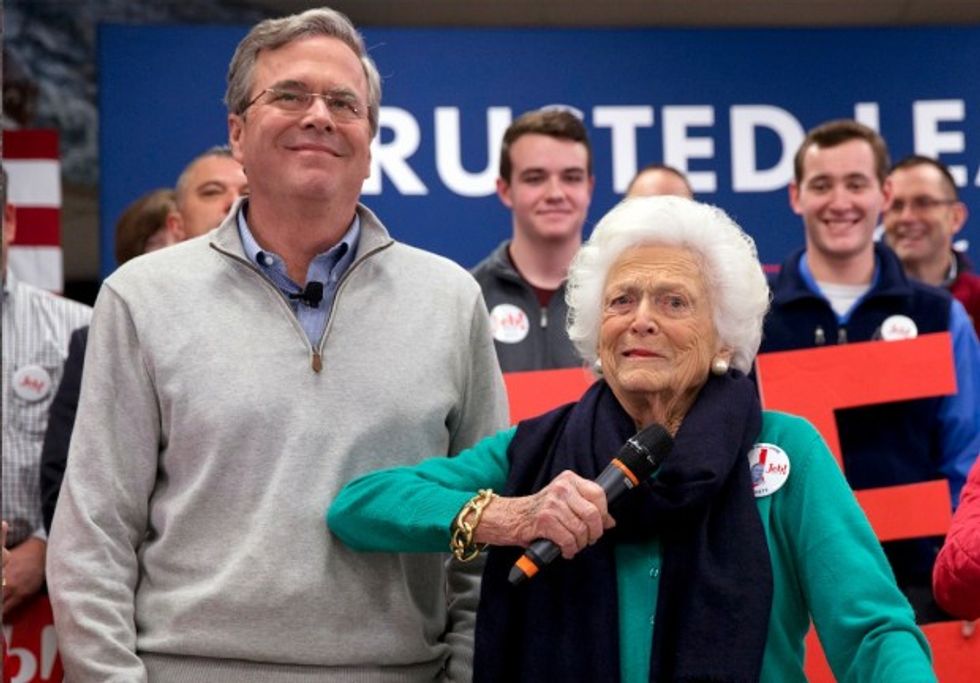 Barbara Bush, right, jokes with her son, Republican presidential candidate, former Florida Gov. Jeb Bush, while introducing him at a town hall meeting at West Running Brook Middle School in Derry, N.H., Thursday Feb. 4, 2016. (AP Photo/Jacquelyn Martin)
Bush thanked his mom for her remarks and called her an "inspiration."
"I cannot tell you at the probably 90 versions of town hall meetings I've done all across this state, how many times people came up and said 'your mother, I love your mother.'"
"I'm proud of my dad, I'm proud of my brother, I'm proud of being a Bush," he added.
Turning to the campaign, Bush called his Republican rivals Florida Sen. Marco Rubio and Texas Sen. Ted Cruz "freshmen senators" who aren't ready to be president.
"What in their background would suggest that they can make a tough decision?" Bush asked. "We need someone who has a proven record."
Bush said that Republicans must campaign "with joy in their heart, with a positive message" and reject "angry voices" in order to win.
According to a 7News/UMass Lowell New Hampshire tracking poll released Thursday, Bush is in fourth place in New Hampshire with eight percent support. He is trailing Republican rivals Donald Trump, Cruz and Rubio and is closely followed by Ohio Gov. John Kasich.
Bush said that he is confident about his campaign's prospects in the state, and that he is able to withstand scrutiny from Granite State voters even though "you frustratingly never commit when I ask."
—