Following former pharmaceutical executive Martin Shkreli's appearance Thursday at a House Oversight Committee hearing centered on accusations of price gouging, the now-famous "pharma bro" opened a live chat online using an app called Blab to discuss the day.
All was well until a reporter tried to reach Shkreli, who immediately ended the conversation once he learned that one of his callers was a media representative, telling his viewers that "the media kind of sucks" and that, compared to the tobacco industry, the media is the "second-worst industry."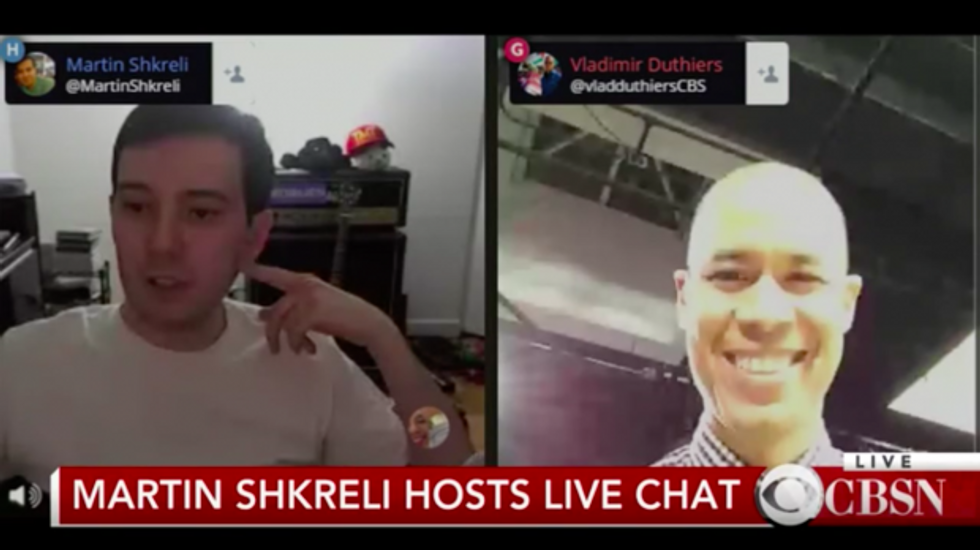 CBS News reporter Vladimir Duthiers, right, calling in to Martin Shkreli's live chat. (Image source: CBS News/Twitter)
CBS News reporter Vladimir Duthiers was attempting to call in to Shkreli's live video chat, but his conversation lasted only seconds. After the ex-pharmaceutical CEO asked Duthiers if he was with the media, the video feed was cut.
"Hey, are you with the media?" Shkreli asked Duthiers as soon as he connected to the feed.
"I am. I'm with CBS News," Duthiers responded with a grin.
As soon as the CBS correspondent admitted to being a reporter, Shkreli cut the feed, telling his listeners that he can't communicate with anyone in the media.
"So I can't really talk to any media representatives. You have to talk to my lawyer," the former executive told Duthiers.
He went on to say, "I don't trust the media. I think the media kind of sucks. In fact, on a list of industries, I think tobacco is probably the worst industry and the media is probably the second-worst industry."
In a comment to TheBlaze, Duthiers said he attempted to check in to Shkreli's chat feed on his iPad, hoping the former CEO "would be cocky enough to talk," but — as it turns out — he wasn't.
As for why he dislike the press so much: Shkreli says the media are all about advertisement.
"At the end of the day, the media is engineered and designed to sell advertisements," Shkreli says.
NEW: @vladduthiersCBS enters Martin Shkreli's live chat...until he's unceremoniously ejected https://t.co/XhR7vBwIJc https://t.co/SGBRZlmTtP

— CBSN (@CBSNLive) February 4, 2016
—
Follow the author of this story on Twitter: