Conservative firebrand Dana Loesch said Thursday that she has reached her "limit" with Republican presidential candidate Donald Trump, calling the billionaire the "Kardashian candidate" of the 2016 presidential election.
"I've kind of had that problem with his campaign now for some time. I've been incredibly cool about it, but now it's — I mean, we're at the point where it's at level ridiculous," Loesch said on The Glenn Beck Radio Program. "It's out of hand."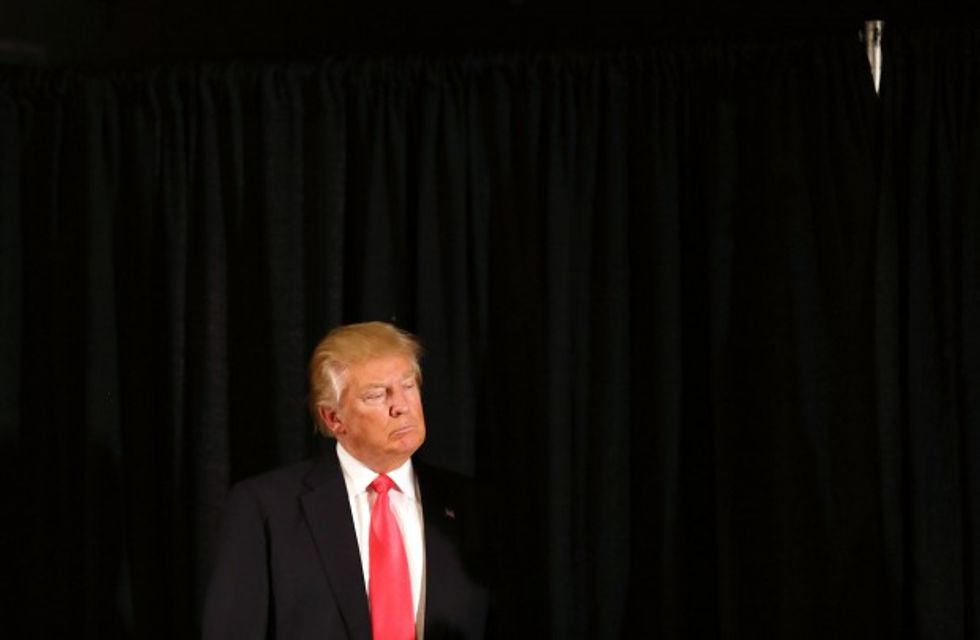 Donald Trump speaks to the media before a campaign event at Hampshire Hills Athletic Club Tuesday. (Getty Images/Joe Raedle)
Loesch went on to slam Trump for his attacks on Fox News anchor Megyn Kelly and his latest Twitter tirade calling for a "new election" in the Iowa Republican Caucus over claims that Republican presidential rival Ted Cruz committed "voter fraud."
"I just don't think calling someone a bimbo or suggesting that they're a bimbo or suggesting that they're sold out or suggesting that they've committed fraud is substitute for intelligent dissent," she said.
Loesch, who has endorsed Cruz for president, continued to unload on Trump, calling him a "chaos candidate" who has been "all over the board on every single issue."
But TheBlaze TV pundit didn't stop there. Loesch, who is known for her outspoken style, said the real estate mogul is the political "equivalent" to reality TV star Kim Kardashian, who is known for the hit E! reality show "Keeping Up With the Kardashians."
"He's the equivalent of Kim Kardashian in American politics. We're looking at the Kardashian candidate.  That's who this is. He's a chaos candidate who has been all over the board on every single issue," Loesch said.
"Anyone who tells themselves otherwise, they are lying to themselves," she added.
Complimentary Clip from TheBlaze TV The full episode of The Glenn Beck Program, along with many other live-streaming shows and thousands of hours of on-demand content, is available on just about any digital device. Click here to watch every Glenn Beck episode from the past 30 days for just $1!
—
Follow the author of this story on Twitter: