The Islamic State group has circulated a photo essay appearing to show a wheelchair bound jihadist somehow involved in the execution of captives.
The Site Intelligence Group research organization reported Wednesday that the series of still photos was posted by the Tripoli Province, a division of the Islamic State in Libya.
Photos seemed to show the execution and crucifixion of men accused of being spies against the jihadist group.
This photo gained special attention due to the appearance of the jihadist in a wheelchair.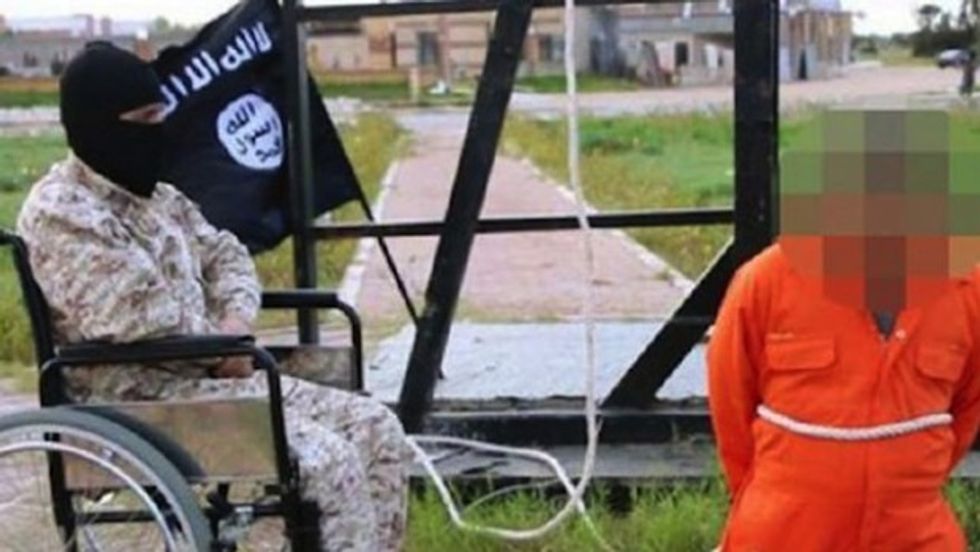 A photo released by the Islamic State group purported to show a wheelchair-bound militant taking part in the execution of accused spies. (Image source: Islamic State photo essay)
The accused spy in an orange jumpsuit and rope tied around his torso kneeled in front of the masked man in fatigues sitting in the wheelchair.
The militant's involvement in the mechanics of the killing and stringing up of the accused spy was not explained, and it was unclear if he was permanently disabled or temporarily recovering from an injury.
A second photo in the essay showed a man in orange jumpsuit strung up on a makeshift crucifix with a sign on him that included the Arabic word for spy.
The photo was captioned "the execution of spies in the city of Sirte," Britain's Sun newspaper reported.
TheBlaze is unable to independently authenticate the photos.